Scleritis, unlike episcleritis, is a severe destructive disease, sometimes leading to the loss of an eye from deteriorating vision, severe pain, or even (occasionally) perforation of the globe. Such changes, when they occur, are rapid, so early diagnosis and effective treatment are essential. Scleral disease can be diagnosed when the patient is first seen if one remembers that whereas episcleritis rarely, if ever, involves the scleral tissue, in scleritis the episclera is always involved. Therefore, attention must be diverted to the sclera to detect the early changes of scleral edema or necrosis.

The onset of scleritis is usually gradual, building up over several days. By the time patients seek advice, the clinical types can be distinguished as anterior or posterior, or occasionally both. Anterior scleritis may be further subdivided into diffuse, nodular, or necrotizing. The last condition may present with signs of inflammation or with few or no signs of inflammation (scleromalacia perforans). Long-term follow-up of patients with scleral disease showed that only 8% of patients changed from one type of disease to another during the course of this disease, so although differentiation into these types does not usually indicate an etiology, it does have a direct bearing on the prognosis and the type of treatment to be used.10

Scleritis is most common in the fourth to sixth decades of life and occurs more frequently in women than men (8:5). Necrotizing scleritis occurs later than the other varieties, the mean age being 61 years. Scleritis is bilateral in 52% of patients. In half of these, the condition starts in both eyes simultaneously, with the rest becoming bilateral in 5 or more years.

ASSOCIATED SYSTEMIC DISORDERS

In a review of 1200 patients with scleritis who have attended the Scleritis Clinic at Moorfields Eye Hospital in London, an associated systemic disorder was found in all patients with scleromalacia perforans, in half of those with nodular and necrotizing disease, in a third of those with diffuse anterior scleritis, and in only 10% of those with posterior scleritis. Severe polyarticular rheumatoid arthritis and a case of porphyria accounted for the patients with scleromalacia perforans.

Forty percent of the patients with necrotizing scleritis had other connective tissue disorders, but, surprisingly, only 21% of the patients with diffuse anterior or nodular scleritis had rheumatoid arthritis or other connective tissue disorders. This percentage is much lower than that reported by other authors,7,11–13 but this may be because patients with the less severe scleral disease are referred to us only if the etiology is in doubt, thus biasing the results. Twelve percent of the patients with diffuse anterior and nodular scleritis had ankylosing spondylitis, and in a further 15% the scleritis followed an attack of herpes zoster ophthalmicus. A variety of other conditions, including syphilis, tuberculosis, gout, Reiter's disease, IgA nephropathy, and erythema nodosum, were thought to be definite etiologic factors because with appropriate treatment the eye changes disappeared. Fowler investigated a random selection of the patients with scleritis at Moorfields Eye Hospital and found only 7%, all of whom were young males, who did not have any other detectable physical abnormality.14 Forty percent of these patients had hypertension, which in some cases required treatment. It was thought that the hypertension could have been a manifestation of a generalized arteritis, but this was convincingly demonstrated in only 19% of these patients.

PATHOLOGY

The pathology of scleritis has received much attention in the past.6,8,15–19 Although certain inferences can be drawn from pathologic specimens of eyes removed because of pain, perforation, or mistaken diagnosis, these eyes have been severely damaged from advanced disease. Unfortunately, biopsies of scleral lesions have proved to be unsatisfactory, at best yielding material of limited diagnostic value and at worst leaving an area of exposed choroid that will not heal. Consequently, they should not be performed.

Scleritis usually affects the anterior segment of the eye, possibly because this is the area with the best blood supply, but with sluggish flow through the vessels (Fig. 19). The sclera is thickened and roughened in the affected area, which appears to be sharply demarcated from the rest of the sclera. However, tissue obtained at surgery during the course of grafting of areas adjacent to necrotic tissue shows marked pathologic changes.20,21 The area of affected sclera may be swollen, excavated, or frankly ulcerated with undermined edges covered with a thin layer of fibrous tissue. However, spontaneous perforation is extremely unusual and, where seen in pathologic specimens, has usually occurred at the time of removal of the eye. A posterior scleritis often occurs as an extension of anterior disease; but, as in Figure 20, most of the inflammation (in some cases all of the inflammation) is in the posterior segment and the exudative detachments and subretinal granulomas can be mistaken for malignant melanoma.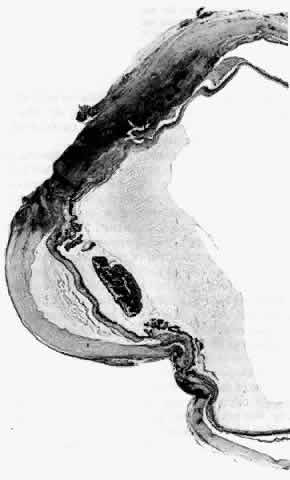 Fig. 19. Anterior necrotizing scleritis. The eye was removed because of loss of vision and intractable pain. No form of steroid was given to this patient because of a severe Pseudomonas infection of the chest. (Courtesy of Professor N. Ashton)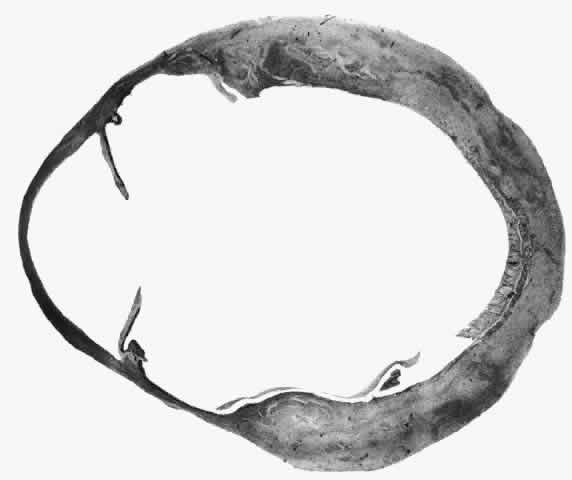 Fig. 20. Posterior scleritis. This eye was removed because of loss of vision and pain, mistakenly diagnosed as malignant melanoma. (Courtesy of Professor N. Ashton)
What is clinically represented solely by inflammation and edema is histopathologically a granulomatous lesion of the sclera, the center of which consists largely of plasma cells, lymphocytes, and mast cells (Figs. 21 through 23). Foster and colleagues have identified the cellular subsets and glycoproteins in both necrotizing and non-necrotizing scleritis.22 This shows an active T-cell inflammatory response with a high CD4/CD8 ratio and increased HLA/DR and CD14, indicating a macrophage-induced response that would lead to granuloma formation. Remote from the granuloma, the fibrocytes of the sclera become activated, the proteoglycan adjacent to them becomes altered, and the collagen fibrils of the sclera become unraveled (Figs. 23 and 24). These changes appear to take place prior to the invasion of the stroma by cells of the granuloma.20 The vessels in and around the necrotic area show medial necrosis and perivascular cuffing with lymphocytes, and endothelial swelling with microvascular occlusion. Ninety-six percent of the specimens examined by Foster and associates show a microangiopathy characterized by a neutrophil infiltrate in and around the vessel wall.22–23 This is most obvious at the center of the lesion where there may be occlusion of the vessel, thrombosis, or even aneurysm formation (Fig. 25). From these pathologic investigations, clinical observations, animal experiments, and the results of fluorescein angiography, it would appear that the scleral inflammation is initiated either by trauma (be it accidental or surgical)23–25 or by bacterial or viral infection. If circulating immune complexes are present because of the poor blood flow, they become precipitated in and around the vessel walls in the area of inflammation. In other patients, a persistence of tissue damage will lead to autoimmunization. Damage to the endothelial cells of the microvasculature leads to changes within the vessels detectable on angiography and to catabolic changes in the surrounding tissues. These changes, in turn, allow the granulomatous response that is seen in histopathologic sections, the first detectable change being in the scleral fibrocytes and the proteoglycan and collagen remote from the site of cellular infiltration.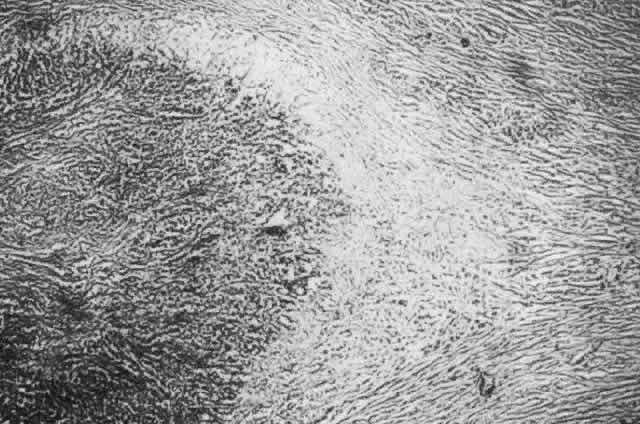 Fig. 21. Advancing edge of a granulomatous reaction. Scleral fibers are split and separated by edema and then disrupted when invaded by the granuloma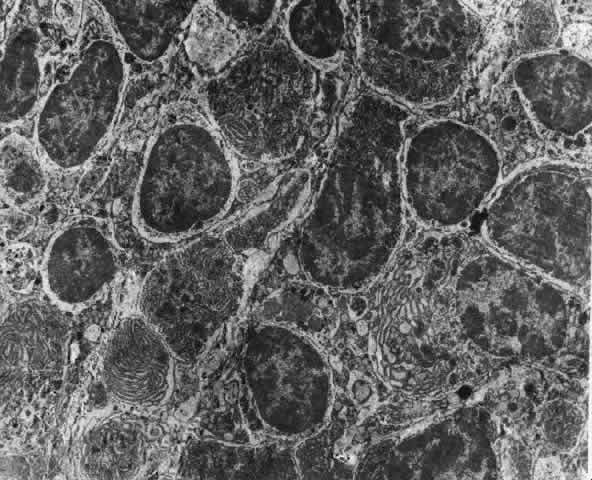 Fig. 22. Electron micrograph of an area of active scleritis showing the plasma cell infiltrate suggestive of an immune response. Note aggregated plasma cells, with the characteristic whorled rough endoplasmic reticulum, in the process of degeneration, releasing organelles and nuclear debris into the extracellular matrix. (Uranyl acetate and lead citrate. X3000) (Courtesy of Dr. R. Tripathi)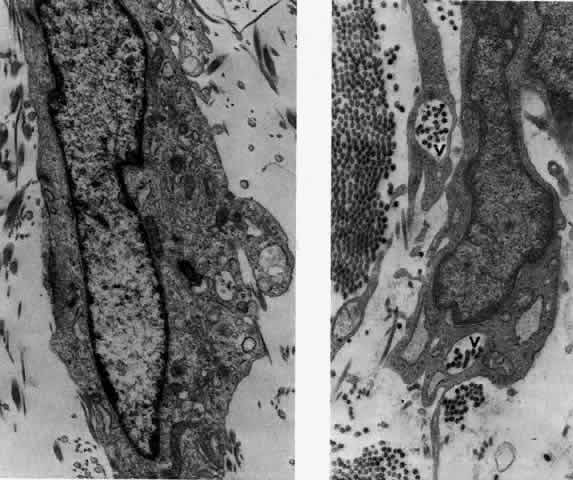 Fig. 23. Electron micrographs of scleral stroma at the periphery of an area of ulceration in a patient with necrotizing scleritis. The left shows an active fibroblastic cell, and the right shows collagen fibrils within intracellular vacuoles (V) in the fibroblastic cell. (Left X15,375; right X15,375) (Watson PG, Young RD: Changes at the periphery of a lesion necrotizing scleritis: Anterior segment fluorescein angiography correlated with electron microscopy. Br J Ophthalmol 68:781–789, 1984)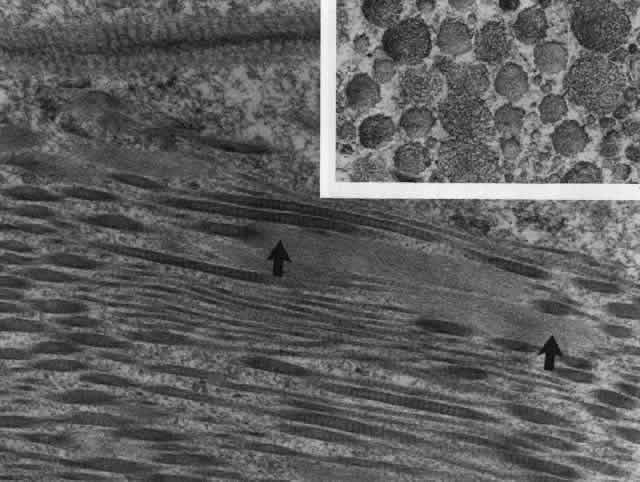 Fig. 24. Electron micrograph of scleral stroma at the periphery of an ulcer in necrotizing scleritis (same patient as in Figure 23) showing swelling and unraveling of collagen fibrils (arrows) in longitudinal section (X29,270) and in transverse section (inset, X44,000). Fibrils of all diameters are affected. (Watson PG, Young RD: Changes at the periphery of a lesion necrotizing scleritis: Anterior segment fluorescein angiography correlated with electron microscopy. Br J Ophthalmol 69:656–663, 1985)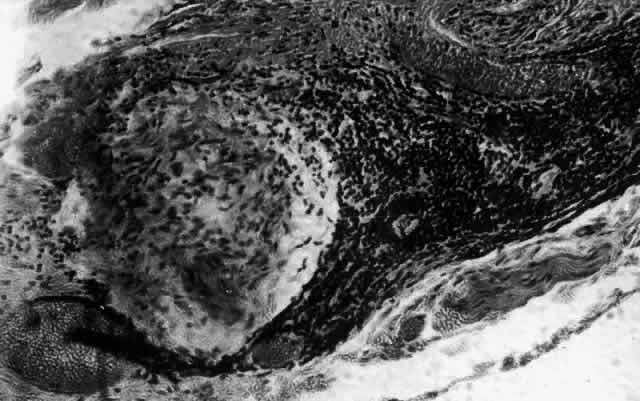 Fig. 25. Intense lymphocytic reaction and infiltration around a medium-sized arteriole and nerve.
CLINICAL MANIFESTATIONS
Lacrimation and photophobia are more common in scleritis than in episcleritis. However, they are not always clearly related to the severity of the scleritis or to the keratitis and uveitis that may accompany it.
The pain of scleritis is its most dominant feature and is the symptom that causes the patient to seek medical advice. The exception to this is scleromalacia perforans occurring in long-standing rheumatoid arthritis, which may be entirely pain free. Pain, when it occurs, may be localized to the eye, but in 66% of patients it is much more diffuse, radiating to the temple, the jaw, and the sinuses. It is boring in nature, severe enough to prevent sleep, accompanied by malaise, and only temporarily relieved by analgesics (Fig. 26). The pain is particularly severe in those patients suffering from progressive necrotizing scleritis with overlying inflammation; eyes have been removed for this reason alone. The pain can be a diagnostic problem, particularly in the early stages of posterior scleritis before the vision becomes affected. Patients with posterior scleritis are often referred to neurologists and others because of the severity of the headache or ophthalmoplegia. The pain is probably caused by distention of sensory nerve endings as a result of edema. In the necrotizing disease, the severity of the pain is increased by the destruction of the nerve endings that takes place.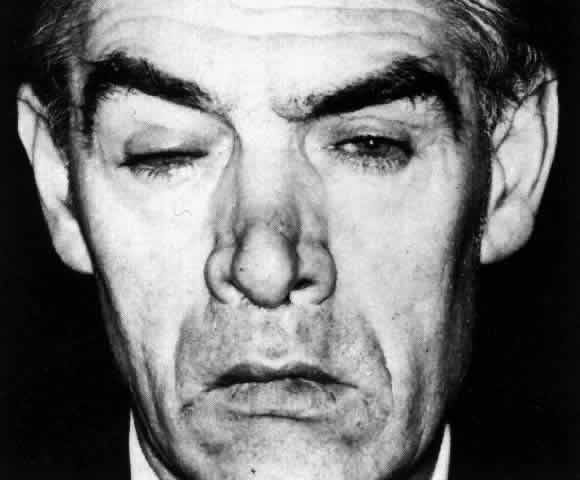 Fig. 26. Severe ptosis produced in a severe diffuse anterior scleritis. Pain radiated to temple and face and was severe enough to prevent sleep.
The inflammation of the eye is a prominent feature. The inflammation has a bluish-red hue in contrast to the brighter red of episcleritis and may be sectorial or diffuse. The severity of inflammation seems to depend on the amount of episcleral tissue present. Therefore, it is more prominent in younger people and is least prominent in those with rheumatoid arthritis in whom the episcleral tissue almost disappears.
Each of the various types of scleritis can be distinguished by its typical clinical appearance. Because the pathologic change is in the sclera, there is always edema and/or necrosis of that tissue. This gives rise to an overlying episcleral edema and to congestion that may be very severe and may need blanching with epinephrine 1:1000 or phenylephrine 10% to detect the underlying edema.
The sclera that is edematous is pushed forward, and the deep episcleral network is more congested than the superficial networks (Figs. 27 and 28). It is usually easy to ascertain by simple observation that the patient has scleritis and not episcleritis. However, it is not as easy to ascertain whether the patient has early necrotizing scleritis. It is in these patients that fluorescein angiography has considerable value, because the first changes are detectable in the ocular vasculature. Prompt and adequate treatment can prevent these changes from becoming irreversible.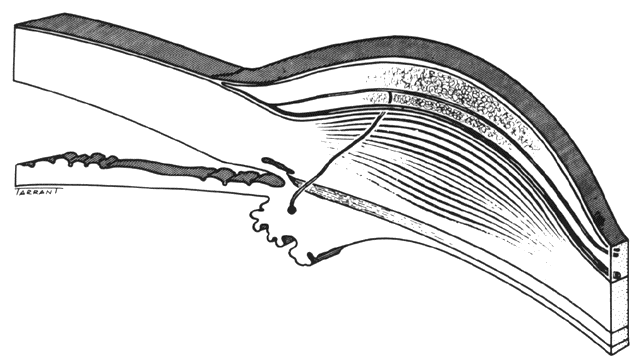 Fig. 27. In scleritis, maximum congestion occurs in deep episcleral plexus, which is bowed forward by underlying scleral edema. Episcleral tissue is slightly infiltrated and superficial plexus is slightly congested (see Fig. 14). (Watson PG, Hayreh S, Awdry P: Episcleritis and scleritis. Br J Ophthalmol 52:278–279, 1968)
Fig. 28. Nodular scleritis. Both the anterior conjunctival slit and the deep scleral slit are displaced forward by the scleral edema. There is little separation between these two beams, indicating that all the edema is in the sclera and not in the overlying episclera. (Watson PG, Hayreh S, Awdry P: Episcleritis and scleritis. Br J Ophthalmol 52:278–279, 1968)
Diffuse Anterior Scleritis
Diffuse anterior scleritis is the most common and least severe type of scleritis. The inflammation is widespread, and it may involve either a small segment or the whole of the anterior segment, sometimes with such severe overlying inflammation as to justify the name "brawny" scleritis (Fig. 29). On slit lamp examination, the vascular pattern of both deep and superficial layers may be distorted, so that the normal radial pattern of the vessels is lost; large anastomotic channels develop, leading to beading and tortuosity of the remaining vessels (Figs. 30 and 31; Color Plate 1C).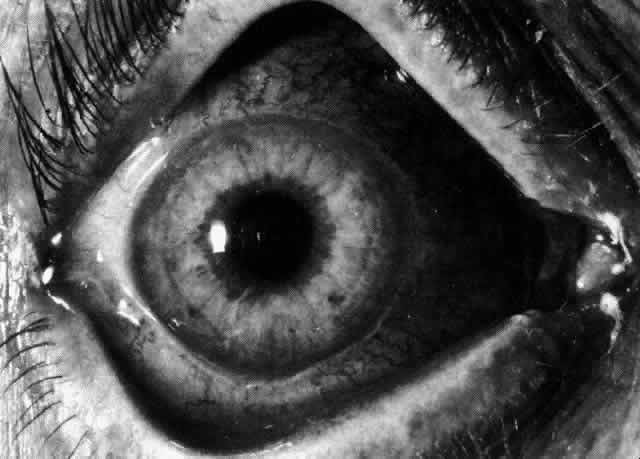 Fig. 29. Intense inflammation, edema, and conjunctival chemosis that accompany acute diffuse anterior scleritis.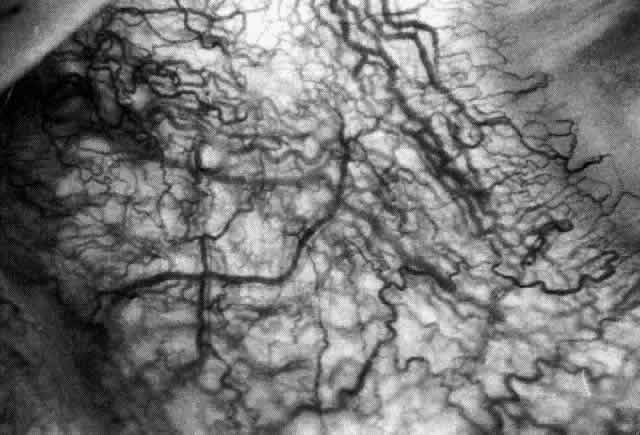 Fig. 30. Diffuse anterior scleritis. During the acute attack, the vessels are dilated and distorted. New vessels or large vessels not normally seen have appeared adjacent to the limbus.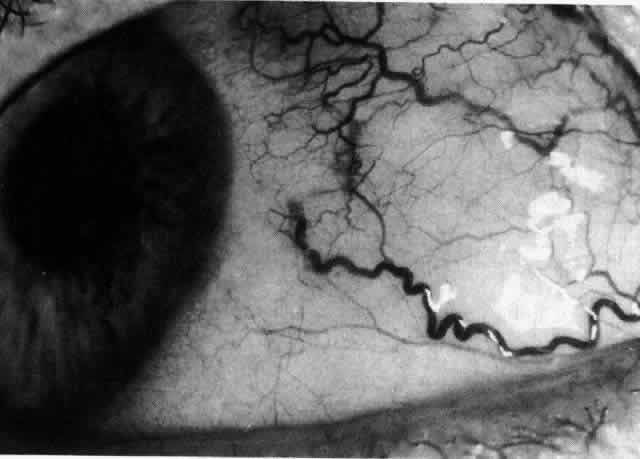 Fig. 31. Diffuse anterior scleritis after treatment. The dilated abnormal blood vessels remain even though no inflammation remains.
In this relatively benign form of scleral inflammation, the fluorescein angiogram reveals a rapid flow pattern in which the transit time of the dye is very rapid (as in episcleritis) (Figs. 32 and 33). Subtle changes occur in the capillary network, and abnormal leaking vessels appear after prolonged inflammation. These changes do not disappear after the inflammation subsides or is treated (see Fig. 31).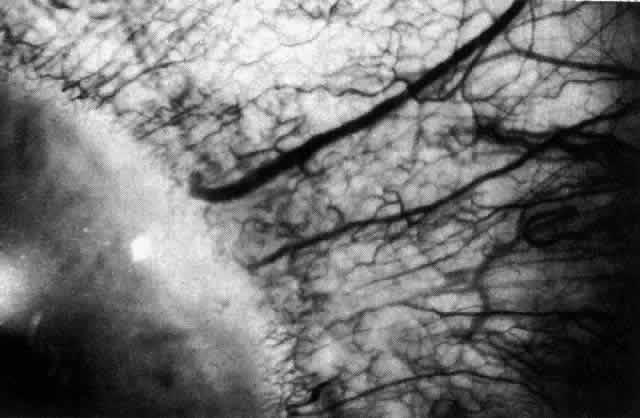 Fig. 32. Diffuse anterior scleritis associated with corneal edema. The limbal vessels are grossly dilated in association with generalized scleral edema. The cornea adjacent to these vessels is edematous.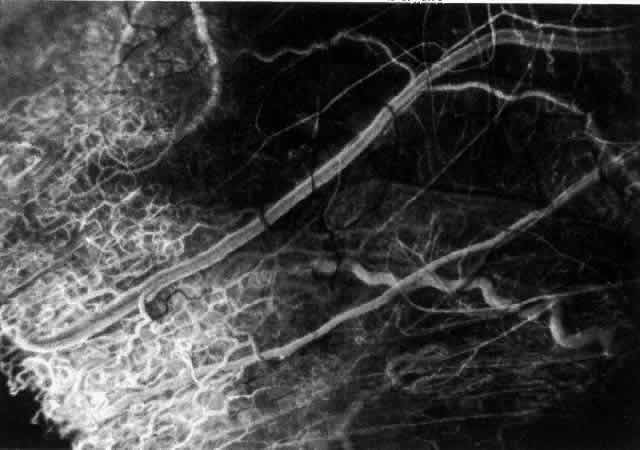 Fig. 33. Fluorescein angiogram of patient in Figure 32 four seconds after the appearance of the dye. This is a very rapid transit time. All the limbal capillaries are completely full, and all the major episcleral vessels contain fluorescein. Note that the very large vessel is a vein, and the narrow vessel below it is an artery. The deep vessels are distorted, and some are abnormal in configuration.
Nodular Anterior Scleritis
Although patients with nodular anterior scleritis resemble those with nodular episcleritis on cursory examination, detailed examination reveals marked differences. The nodule or nodules (they may be multiple) consist of scleral tissue that is immovable episclera is tightly adherent to the nodule, which is tender to the touch. Although the sclera sometimes becomes transparent below the nodule, it does not become necrotic, nor does the condition extend beyond the site of the nodule, as occurs in necrotizing scleral disease (Fig. 36).
(see Fig. 28; Figs. 34 and 35). The edematous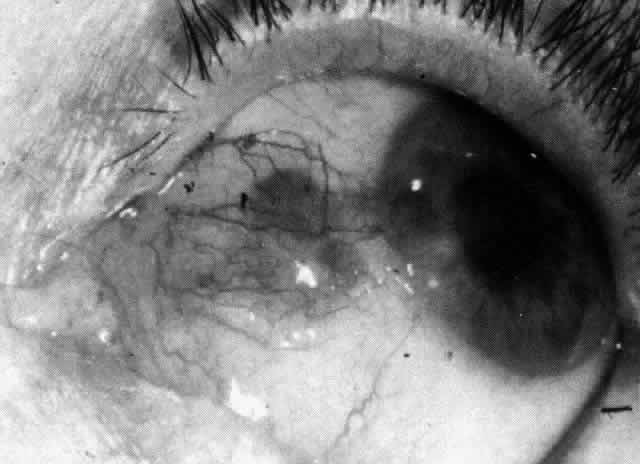 Fig. 36. Increased scleral transparency that occurred at the same site resulting from recurrent attacks of nodular scleritis after herpes zoster ophthalmicus.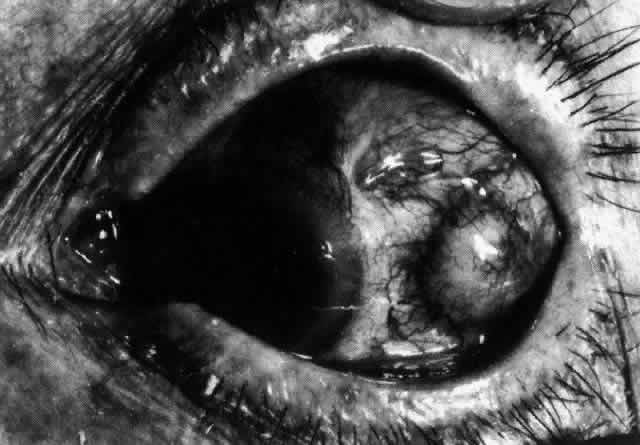 Fig. 34. Scleral edema has displaced all the vessel layers forward. Area surrounding the nodule is acutely inflamed.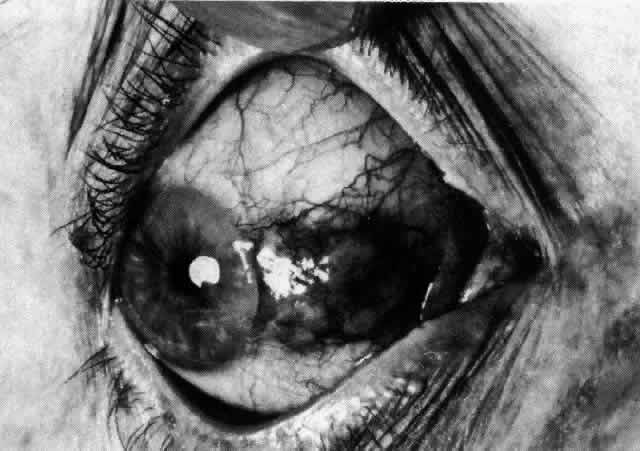 Fig. 35. Multiple scleral nodules. Surrounding inflammation is deep and intense. (Watson PG: Management of scleritis. In: Recent Advances in Ophthalmology, Vol 5. London, Churchill-Livingstone, 1975)
The angiogram is similar to that of diffuse anterior scleritis (i.e., there is a rapid filling pattern and deep scleral leakage of dye).26
Necrotizing Anterior Scleritis with Inflammation
Patients with necrotizing anterior scleritis with inflammation not only suffer extremes of discomfort but are in serious danger of losing an eye. Therefore, it is of great importance that the condition be detected early and treated adequately. (It is of equal importance that those varieties of scleral inflammation that are not destructive to the eye should not be treated with drugs that are themselves dangerous.) Accurate diagnosis is the key.
Necrotizing scleritis accompanied by inflammation is always painful, waking the patient at night, increasing in intensity day by day, and leading to severe distress. The sclera is swollen, and the overlying inflammation is localized to the center of a lesion or to either end of an extending lesion (Fig. 37; Color Plate 1D). After inflammation, the sclera becomes transparent so that the underlying choroidal pigment becomes visible when viewed in daylight (Fig. 38). These areas may be invisible with the slit lamp. The area of inflammation extends outward around the globe from the original site of inflammation, often joining with other areas of scleritis that have subsequently appeared. If the inflammation is not suppressed, the process will progress around the globe until the whole anterior segment is involved (Fig. 39).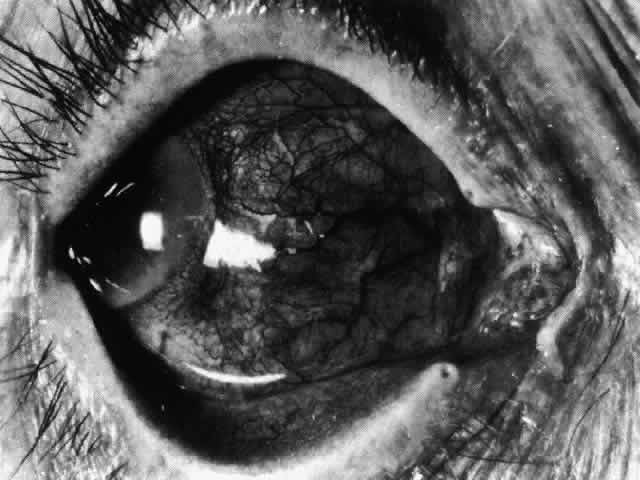 Fig. 37. Necrotizing anterior scleritis. Early stage in which there is diffuse, intense, scleral congestion in one segment of the globe, and anomalies of the vascular pattern. (Watson PG: Management of scleritis. In: Recent Advances in Ophthalmology, Vol 5, pp 77–87. London, Churchill-Livingstone, 1975)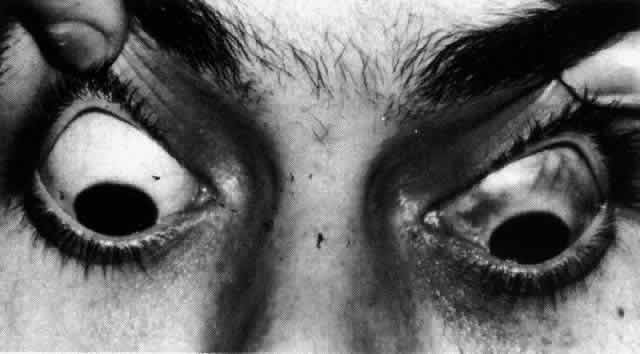 Fig. 38. Diffuse circumferential increased scleral pigmentation in left eye of a young patient after treatment of a necrotizing anterior scleritis. Subtle color changes of this type can be differentiated from similar changes of increased transparency only if the patient is examined in daylight.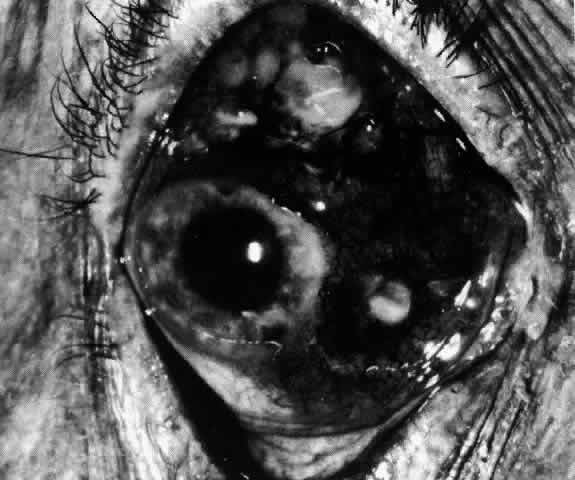 Fig. 39. Necrosis occurs in areas behind the advancing edge, which is at 4 o'clock. The sclera at 6 o'clock is so far not affected.
The characteristic features of necrotizing scleritis on fluorescein angiography are hypoperfusion and, eventually, nonperfusion of the vascular networks (Figs. 40 through 43).26 The initial changes are on the venous side of the capillary network; the transit time of the dye increases even if the eye is red and congested. If the disease process persists or has been present for a long time, thrombosis and permanent vaso-occlusive changes occur. These vessels (or the occluded capillary network) are bypassed by the opening of anastomotic channels. New vessels in a granuloma give rise to deep intrascleral leakage of dye (see Fig. 43). Conjunctival and episcleral involvement by the destructive change is late but is always preceded by vaso-occlusive changes that can sometimes be detected with use of the red-free light on the slit lamp (Figs. 44 and 45).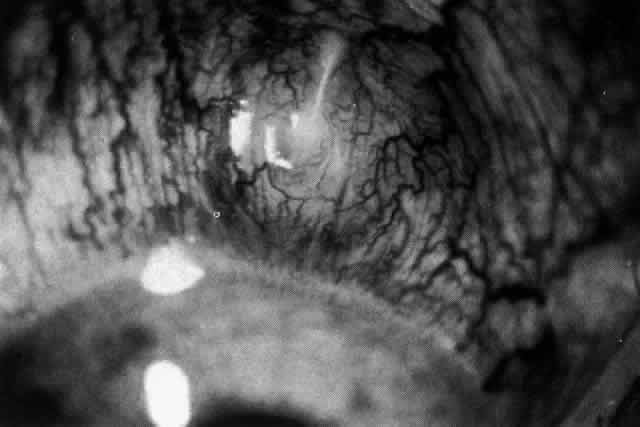 Fig. 40. Early necrotizing scleritis. There is characteristic yellow discoloration of the sclera underlying the conjunctiva at a point of necrosis. In this instance a small filament of tissue has penetrated the conjunctiva.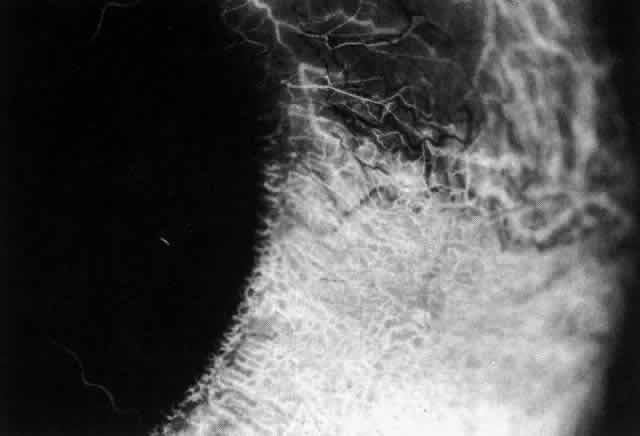 Fig. 41. Late stage of fluorescein angiogram adjacent to the site of necrosis in the same patient as in Figure 40. Although the eye is uniformly congested, the area near the necrosis shows vascular shutdown, whereas the rest of the conjunctiva and episclera is normally perfused.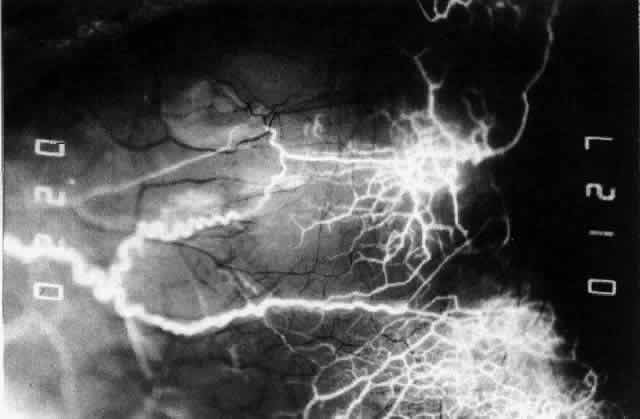 Fig. 42. Late arterial phase of fluorescein angiogram in a patient with necrotizing scleritis. All the vessels except the main trunk and the vessels around the limbal perforating vessels are occluded and remain unperfused throughout the angiogram.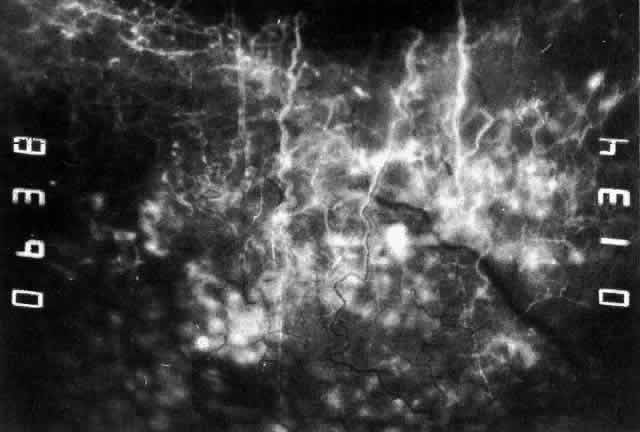 Fig. 43. Late venous phase of angiogram of a patient with necrotizing scleritis showing late deep leakage from vessels on the surface of the sclera and leakage of the capillary network at the limbus and the vessels draining it, together with poor or absent perfusion of the remaining vessels.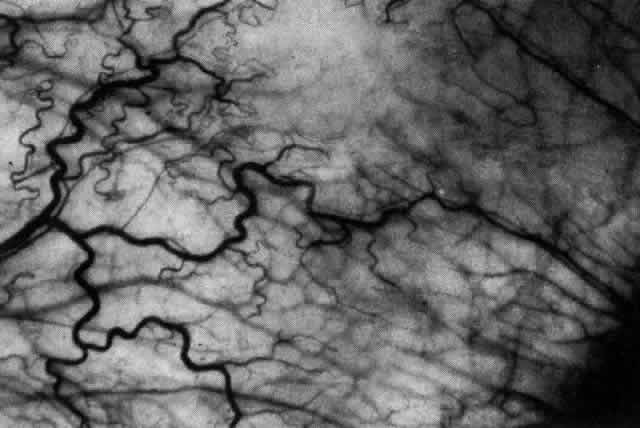 Fig. 44. Necrotizing scleritis. An avascular patch is seen in red-free light. If left untreated, this will progress to the situation found in Figure 45.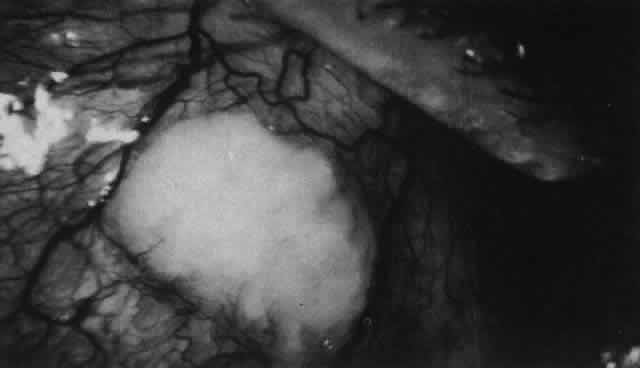 Fig. 45. Necrotizing scleritis. An area of necrosis is evident in the eye of this patient with localized Wegener's granulomatosis. The conjunctiva adjacent to the white necrotic tissue becomes adherent to the underlying episclera.
Uveitis, lens changes, glaucoma and other serious complications such as central vein occlusion do not seem to occur until the disease process affects the whole circumference of the eye.27 Sometimes scleral thinning, as well as increased transparency, occurs, but unless the intraocular pressure rises above 40 mm Hg, staphylomas are extremely rare. As the disease is brought under control, the necrotic areas are absorbed or sequestered, leaving an ectasia with the underlying uvea exposed or covered with a thin film of conjunctiva or episclera (Fig. 46). If the defect is small, new collagen will cover it (Figs. 47 and 48). If the defect is large or if it is thought to have been the source of a persisting antigenic stimulus, the necrotic tissue may need to be excised and then covered by scleral grafts. However, this procedure is usually performed for aesthetic reasons rather than because the vision is endangered. The underlying disease process is not affected by the presence of a scleral graft, which has to be covered by conjunctiva and, preferably, episclera if it is to survive. Surgery must never be undertaken until the disease process has been suppressed. Temporary gluing may be used in perforated eyes until this has been achieved.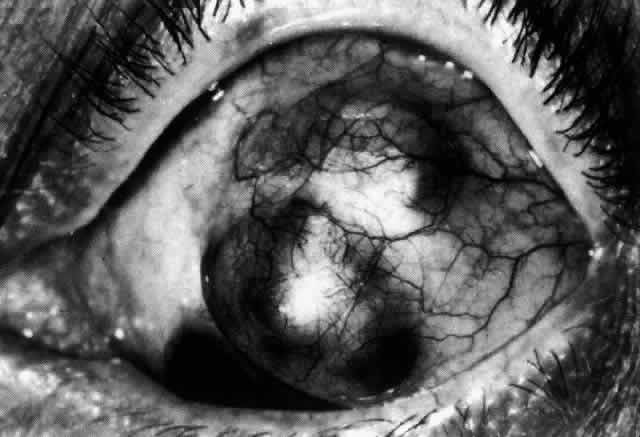 Fig. 46. Localized anterior staphyloma after necrotizing anterior scleritis and seconday glaucoma, during the acute phase of which the intraocular pressure rose to 50 mm Hg.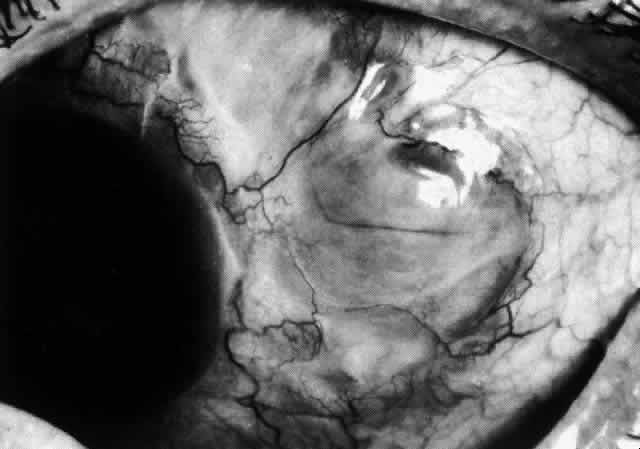 Fig. 47. Healing of a large scleral defect. Sclera is flat, without staphyloma formation. Newly formed fibers are thin and radially arranged but adequate to support a normal intraocular pressure. (Courtesy of Mr. HE Hobbs)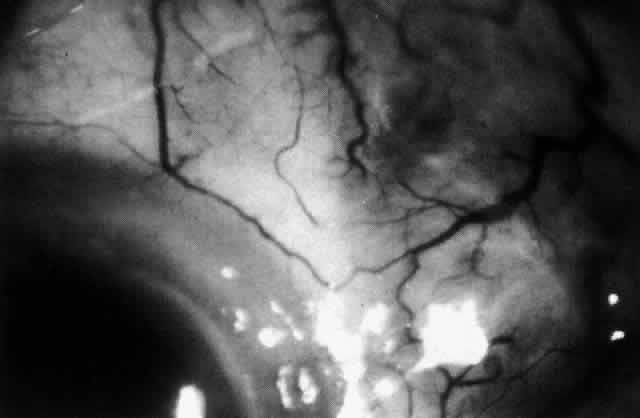 Fig. 48. Inactive necrotizing scleritis. The vessels have remained abnormal. The sclera has been absorbed, leaving the deep, blue-gray choroid visible beneath a very thin layer of conjunctiva. The adjacent cornea shows pitting and lipid deposition because of the impaired venous drainage in the adjacent episclera and conjunctiva.
Necrotizing Anterior ScleritisdWithout Adjacent Inflammationd(Scleromalacia Perforans)
Necrotizing anterior scleritis without adjacent inflammation appears to be a well-defined condition with little relation in clinical features to necrotizing scleral disease, even though the pathology is similar and the final result is the same. Scleromalacia perforans is characterized by the almost total lack of any symptoms. It occurs almost exclusively in patients with long-standing polyarticular rheumatoid arthritis, the majority of whom are female (Figs. 49 and 50; Color Plate 1E).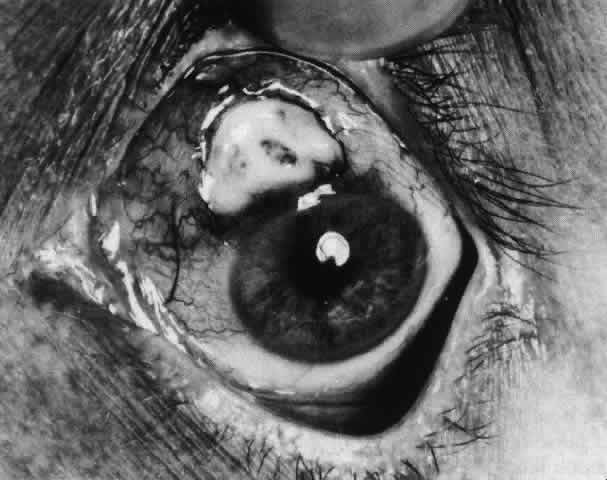 Fig. 49. A white necrotic plaque developing in an area of sclera with practically no surrounding inflammation in a 60-year-old woman who had had Crohn's disease for 17 years.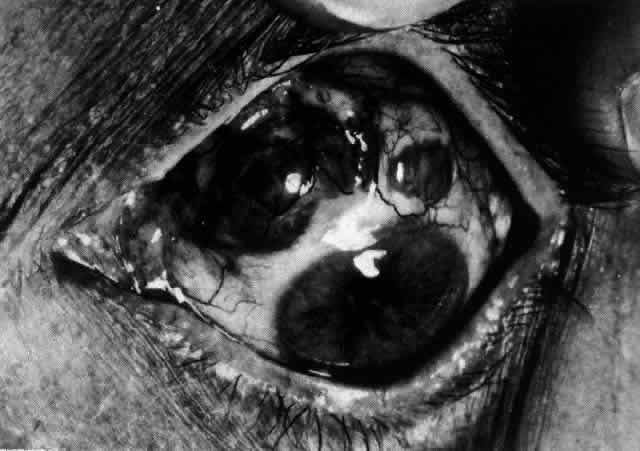 Fig. 50. Scleromalacia perforans after treatment. The very thin sclera is covered by conjunctiva only and a few remaining large blood vessels. (Courtesy of Mr. HE Hobbs)
The anterior sclera loses its covering of episclera and develops an area of yellow-white necrotic slough over many months; this eventually separates or is absorbed, leaving the underlying choroid covered by either conjunctiva or nothing at all. As with necrotizing disease, the choroid does not bulge into this ectatic area; but unlike necrotizing disease, spontaneous healing of even small perforations is very limited once the necrotic tissue has been removed (see Fig. 50).
Fluorescein angiography is not helpful, except to indicate areas of vascular closure in an otherwise extremely thin, atrophic episcleral tissue.4 The formation of a sequestrum appears to be caused by arteriolar closure as opposed to the venular disease seen in the other forms of necrotizing scleritis.
Posterior Scleritis
Because the posterior sclera is invisible, the diagnosis of posterior scleritis is made only if the anterior sclera is also involved or some other sign or symptom leads one to suspect it. Posterior scleritis is much more common than previously suspected, as recent clinical and pathologic studies have shown.19,28,29 There are two distinct forms of posterior scleritis. The first is usually associated with an anterior scleritis. This granulomatous disorder, like its anterior counterpart, can be diffuse, nodular, or necrotizing in character and is associated with the connective tissue diseases. The second form occurs in young patients of all races who are 9 to 40 years of age. It is always diffuse in character but is not associated with any systemic disorder. Both forms may cause uveitis if the inflammation affects the ciliary body, and in both forms the patient may develop exudative retinal detachments, choroidal folds, and swelling of the disc (Figs. 51 and 52). The granulomatous type may also involve the structures outside the globe, causing proptosis (Fig. 53), limitation of ocular muscle movement, and, uniquely, retraction of the lower lid on attempted elevation of the eye (Fig. 54). Diagnosis is with B-scan ultrasonography.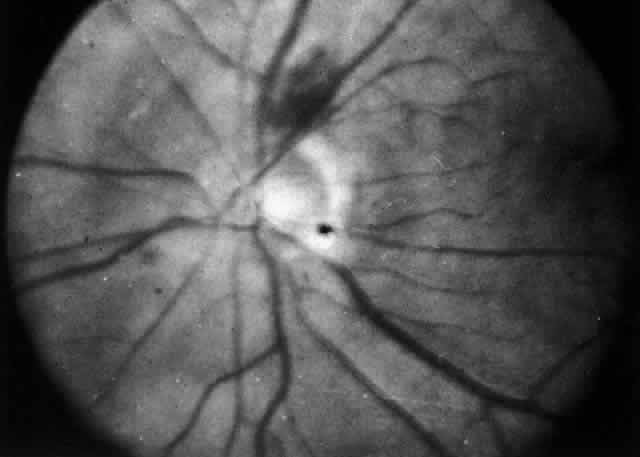 Fig. 51. Swelling of the optic nerve head and hemorrhage near the disc in a patient with posterior scleritis. The poor quality of the photograph is partly due to vitreous haze that accompanied the inflammation.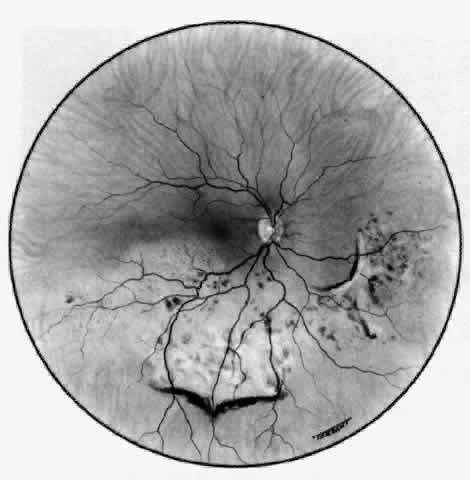 Fig. 52. Fundus appearance after resolution of exudative detachment in patient with severe posterior scleritis. Macula was affected and vision much impaired. (Watson PG: Management of scleritis. In: Recent Advances in Ophthalmology, Vol 5. London, Churchill-Livingstone, 1975)
TREATMENT
Scleritis is almost always accompanied by very severe pain that prevents sleep. A response to treatment is heralded by a dramatic relief of pain even though the condition might appear to be getting worse (Figs. 55 through 59). Treatment may be modified with confidence once the pain has disappeared.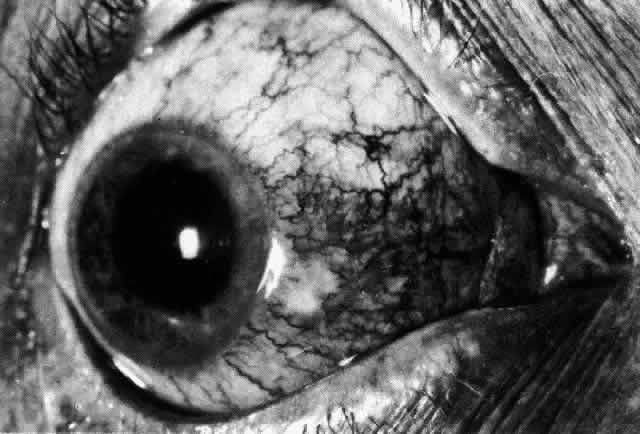 Fig. 55. Necrotizing scleritis 2 days after onset of severe pain in eye and temple. The eye was red, the sclera edematous, and the overlying episclera congested. A small paralimbal avascular area was noted. The patient was treated with 400 mg oxyphenbutazone for 7 days. (Watson PG: Contemporary Ophthalmology. Baltimore, Williams & Wilkins, 1972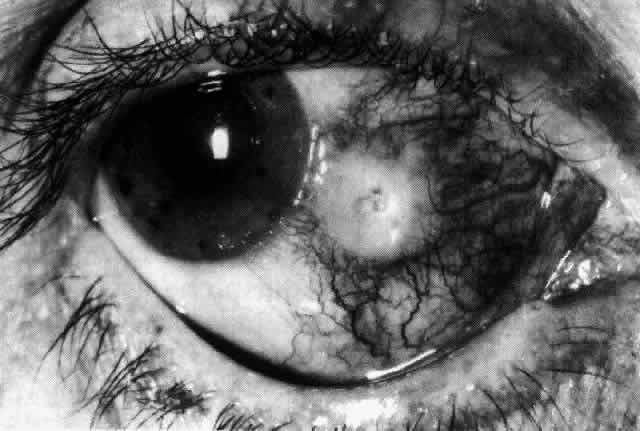 Fig. 56. Appearance of same eye as seen in Figure 55 one week later. The pain persisted, and the avascular patch was much enlarged with a necrotic center. Treatment was not altered, but the patient was admitted to the hospital. (Watson PG, Hayreh S, Awdry P: Episcleritis and scleritis. Br J Ophthalmol 52(3): 278–279, 1968)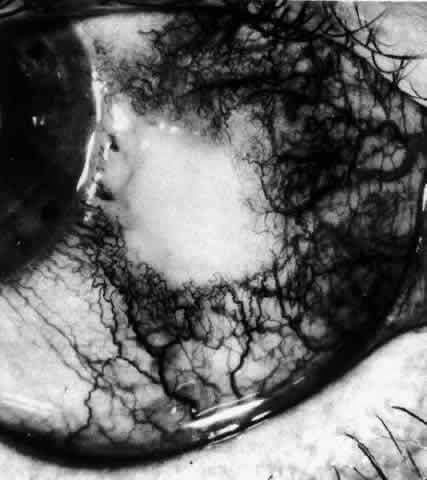 Fig. 57. Appearance of the same eye as seen in Figure 56 five days later. The area has increased in size, and the necrotic center is beginning to separate. Treatment was changed to 100 mg prednisolone daily. Within 24 hours, the severe ocular and facial pain had disappeared, but the appearance of the eye did not change.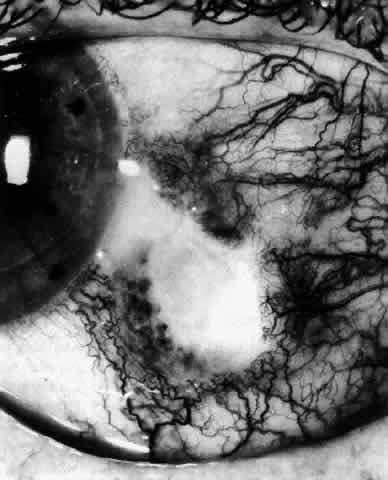 Fig. 58. Appearance of the same eye as in Figure 57. After 5 days' treatment with a high dosage of steroids, new vessels can be seen growing into the necrotic area both superficially and deep. The steroids were reduced to a maintenance level of 20 mg and continued for 6 weeks. (Watson PG: Contemporary Ophthalmology. Baltimore, Williams & Wilkins, 1972)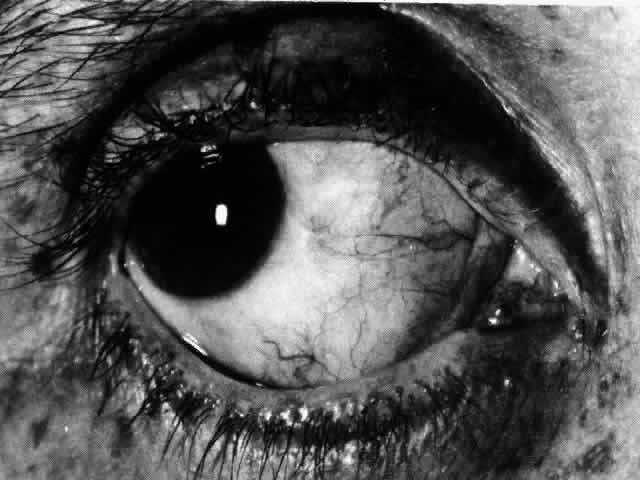 Fig. 59. Same eye as seen in Figures 55 through 58. Four months after the onset of disease, the ulcerated area has completely healed and filled in with new collagen material, which has assumed the usual radial pattern of scleral fibers. (Watson PE: Contemporary Ophthalmology. Baltimore, Williams & Wilkins, 1972)
Local Corticosteroids
Local steroid therapy increases the patient's comfort, but it is not effective in suppressing scleral inflammation. It is occasionally justified to use local steroid therapy alone when the inflammation is mild, the pain is slight, and corneal involvement is present, or very occasionally between attacks in the more severe forms of the disease to prevent remission. However, local steroids should be used only sparingly, if at all, in scleral disease because of the high chance of developing steroid-induced glaucoma or cataract.
Systemic Therapy
NONSTEROIDAL ANTI-INFLAMMATORY AGENTS.
Nonsteroidal anti-inflammatory agents are effective in suppressing the inflammatory response in the majority of patients with diffuse and nodular scleritis, especially if they exhibit a high flow pattern on fluorescein angiography. Dosage levels need to be high initially and, as a consequence, care must be taken to monitor the patients to ensure that no toxic side effects occur. Treatment must be continued until the inflammation subsides, after which it can be stopped abruptly.
In assessing the effect of treatment, pain, tenderness, episcleral and scleral injection, and corneal and intraocular involvement should be used as parameters of activity of the disease. In a series of double-blind controlled trials, the effects of different anti-inflammatory and immunosuppressive agents have been compared. The suggested routines of treatment are based on the results of these trials. Unfortunately, not all of the nonsteroidal anti-inflammatory agents are effective in controlling scleral inflammation. The current practice is to use flurbiprofen (Froben), 100 mg three times daily, for at least 1 week in all patients who present with scleritis of whatever type, provided there is no evidence of vascular closure or scleral destruction on slit lamp examination. The response, if it is going to occur, is immediate, with the pain disappearing within 48 hours. Within a week, the results of investigations are known, including those of the angiographic films if they have been done. If there is a poor response to flurbiprofen and the angiogram shows a high flow pattern, the drug is changed to another nonsteroidal anti-inflammatory agent, because there is an individual susceptibility among the patients. Only if there is no response in the progression of the disease or if there is evidence of vascular closure are systemic steroids or other immunosuppressive drugs used.
SYSTEMIC STEROID THERAPY.
If the scleritis is severe or necrotizing or if areas of vascular closure are detected with slit lamp examination or fluorescein angiography, then the use of systemic steroids is mandatory (see Figs. 40 through 44). Prednisone and prednisolone are most commonly used.
The principle of treatment with systemic steroids is that a sufficient amount must be given to suppress the condition; once this has occurred, the dosage may be rapidly reduced to a maintenance level, which may have to be continued until a natural remission occurs, or the steroid may be replaced by a nonsteroidal anti-inflammatory agent. Provided sufficient amounts are given and the patient can tolerate them, systemic steroids will control scleritis. The problem is deciding what dosage is appropriate. The following scheme has been found to be effective. If the angiogram shows early vascular shutdown and treatment with flurbiprofen has not been effective, oral prednisolone, 60 or 80 mg, is given for 2 days and is reduced over 1 week to 20 mg. The dose of prednisolone is then reduced by 2.5 mg every other day until the pain recurs or signs of inflammation begin to recur. This maintenance dose is continued for about 1 month, and then the dose is reduced by 1-mg steps. This final phase may be aided by the addition of a nonsteroidal anti-inflammatory drug. Pain relief is by far the most sensitive indicator of control of the disease.
If this course of treatment is not effective, intravenous pulse therapy of high doses of methylprednisolone, with or without the use of immunosuppressive therapy, should be considered (Fig. 60).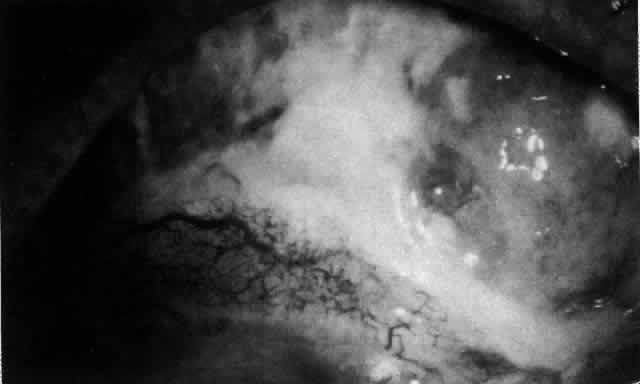 Fig. 60. Severe necrotizing scleritis. The surface of the necrotic sclera is covered with a thick, sticky, white mucus. The presence of such mucus is a sensitive indicator that the disease is active. This patient required two pulses of 1 g of methylprednisolone and 500 mg intravenous cyclophosphamide (5 days apart) to bring the condition under control. Thereafter, systemic low-dosage steroid (5 mg daily) and 50 mg of cyclophosphamide maintained control. The first sign of poor control was the reappearance of the mucus.
Pulsed Therapy With Methylprednisolone.
In very severe necrotizing scleritis or posterior scleritis when the vision is being threatened, it is important to suppress the inflammatory reaction completely. This is achieved by the use of intravenous methylprednisolone. The patient must be carefully monitored because this therapy inhibits all cellular transfer mechanisms, including the heart, and is therefore potentially dangerous. Methylprednisolone is administered by intravenous infusion as 500 mg or 1 g given over a period of 1 hour. The clinical response is observed. If this is unsatisfactory, then the dose may be repeated at 1- to 3-day intervals for three doses. It may be necessary to add other immunosuppressives to this regimen.
Immunosuppressive Therapy
The commonly used immunosuppression drugs used in the control of scleral disease are cyclophosphamide, cyclosporine, azathioprine, methotrexate or chlorambucil. Cyclophosphamide is the drug of choice in patients with systemic vasculitis, periarteritis nodosa, and Wegener's granulomatosis if they are not of child-bearing age. In severe cases of these disorders, cyclophosphamide is given with methylprednisolone as a bolus of 500 mg. A high fluid intake is essential to prevent hemorrhagic cystitis. Cyclophosphamide is then given orally at a dose of 50 mg three times per day. This treatment has a profound effect on the lymphocyte count, which must be monitored at weekly intervals for the first few months of treatment. Azathioprine can also be used as an adjunct to steroid therapy in those patients who require an unacceptably high maintenance dose of steroid (i.e., 15 mg prednisolone or more) to control their disease and in those with known immune complex disease (Fig. 61). Cyclosporine is helpful sometimes. Considering that pathologically there is always evidence of T-cell activation, it might be expected that cyclosporine would be the drug of choice in these diseases. Experience shows that this is not the case (in sharp contrast to the treatment of uveitis). Cyclosporine should therefore remain a second-line treatment and should be reserved for recalcitrant cases. It is strongly recommended that ophthalmologists always work in close cooperation with internists or other physicians when undertaking immunosuppressive therapy.
Fig. 61. The course of treatment in a patient who had lost the sight in one eye from posterior scleritis and who had developed a severe posterior scleritis in the other eye. She had extremely high circulating immune complexes, but eliminating these alone was not sufficient to control the scleral disease. Control was maintained for 3 years after the episode, using 7.5 mg prednisolone and 50 mg cyclophosphamide daily. Two exacerbations required treatment with short 7-day courses of oral prednisolone. (Watson PG: The nature and treatment of scleral inflammation [Doyne Memorial Lecture]. Trans Ophthalmol Soc UK 102:257–281, 1982)
SUBCONJUNCTIVAL AND ORBITAL FLOOR STEROIDS.
Treatment with subconjunctival steroids is contraindicated in scleritis. Perforation can occur at the site of subconjunctival injections (Fig. 62). Depot steroids should not be used because the particulate matter may induce or perpetuate the inflammatory reaction in the sclera. Orbital floor steroids are occasionally helpful in patients with necrotizing disease who are unable to take systemic steroids. The effects unfortunately tend to be transient, and the injections often need to be repeated at 7- to 10-day intervals. In this situation, intravenous pulse therapy should be considered as an alternative.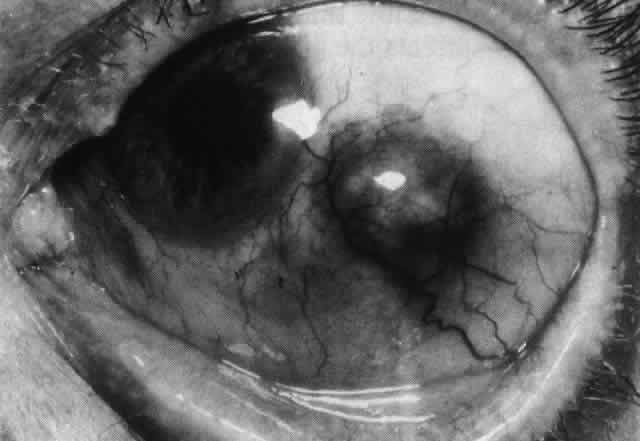 Fig. 62. Extreme scleral thinning in nasal and inferior quadrants surrounding a deposit of hyodrocortisone given for suppression of scleral disease. All sclera in the area later disappeared, and the eye threatened to perforate.
Surgery
Surgical treatment for defects in the sclera is rarely necessary. Adequate medical therapy allows the base of all small scleral defects to be covered by newly formed collagen, rendering them safe from perforation (see Fig. 59).
However, very large defects may have to be covered with sclera or cornea. Provided these grafts can be covered by conjunctiva, they usually remain in place, apparently viable. Scleral grafts ensure the comfort of the patient but do not prevent progressive necrotizing disease in the host sclera or even the graft (Figs. 63 and 64). Scleral replacement should be performed with the use of cornea rather than scleral tissue. Sclera rapidly resorbs, whereas corneal tissue is attacked only if there is a recurrence of the original disease.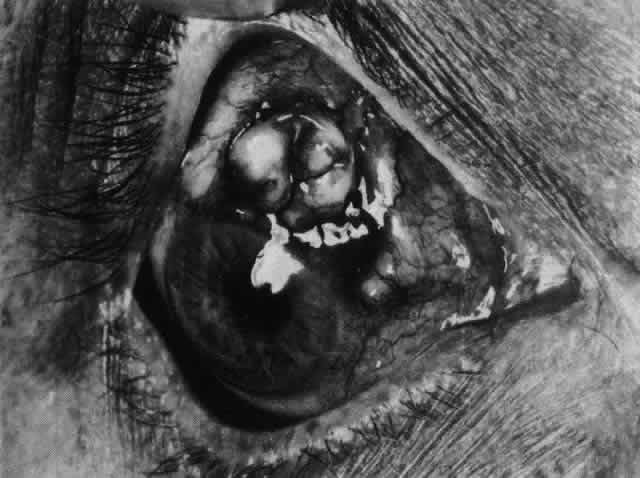 Fig. 63. Severe necrotizing scleritis.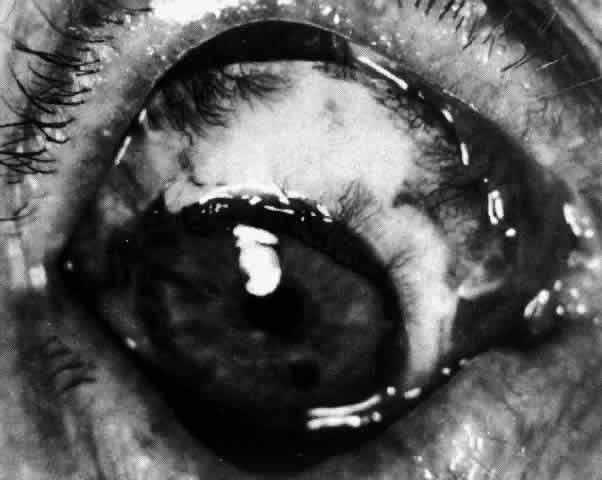 Fig. 64. Scleral graft in eye shown in Figure 63. Three months later the scleritis was still being treated with steroids. New vessels invaded the graft, which later took on the appearance of normal sclera.
Keratolysis or progressive peripheral corneal thinning sometimes requires lamellar corneal grafting (Figs. 65 and 66). Penetrating keratoplasty should be avoided if possible. The endothelium always remains normal in sclerokeratitis, and because of the proximity of the grafts to the limbus, larger penetrating grafts do less well. Under no circumstances should surgery be attempted until the systemic disease and ocular inflammation are brought under control. If necessary, cyanacrylate glue can be used to seal a perforation until immunosuppression is achieved. Methylprednisolone 500 mg should be given during the operation and, if required, after surgery.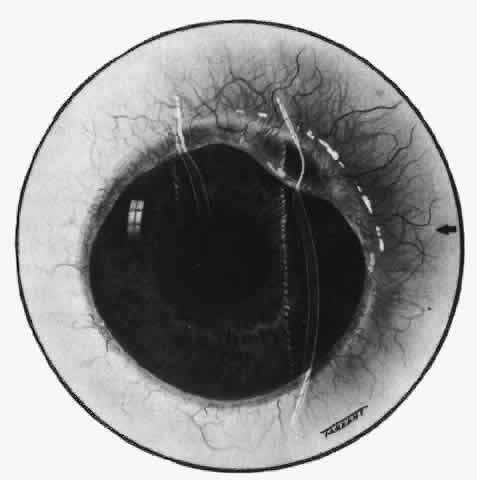 Fig. 65. Sclerokeratitis. Terrien-like ulcer at site of long-standing scleritis. The eye began to expand in this area after 6 years. (Watson PG: Contemporary Ophthalmology. Baltimore, Williams & Wilkins, 1972)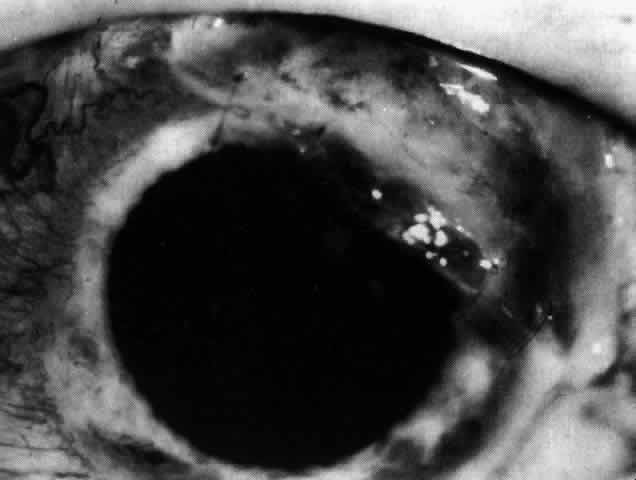 Fig. 66. The affected area of cornea seen in Figure 65 covered by a corneal graft. The scleritis has since settled and no longer requires treament.
COMPLICATIONS
Complications occur late in the disease and vary with the severity of inflammation. They occur most frequently in posterior scleritis and in severe necrotizing disease, particularly when the condition has become circumferential and when the inflammation is so severe as to produce secondary intraocular inflammation.
Visual Acuity
The object of early diagnosis and treatment is to prevent a decrease in visual acuity. The treatment must not produce iatrogenic changes that cause decreased acuity.
Over a 3-year period, approximately 27% of the patients who develop this disease will experience a decrease in visual acuity of two or more lines, which can be the result of cataracts and keratitis developing in patients with severe diffuse anterior scleritis. However, over a 25-year period, only 3% have lost useful vision.
Increased Scleral Transparency and Thinning
Alteration in the collagen and ground substance results in increased scleral transparency. Scleral thinning occurred, particularly in necrotizing disease or scleromalacia perforans. Of these patients, 22% showed increased scleral transparency after the first attack; however, only 6% developed a scleral defect. If scleral defects are small, they will refill with new collagen after treatment; but if they are very large, they may have to be covered with a graft (see Figs. 63 and 64).
Uveitis
Although roughly 35% of patients with scleral disease show some evidence of cellular activity in either the anterior or the posterior segment, a severe uveitis with a marked flare and heavy cellular response is very unusual. If it does occur, it is a serious sign, and intensive treatment must be instituted at once with systemic steroids. In posterior scleritis, if the granuloma is behind the equator, there may be little or no intravitreal cellular reaction, even though there is a visible granuloma and a retinal detachment. Scleritis occurring between the pars plana and the equator affects the ciliary body, so some inflammatory response occurs. Unless patients with this form of inflammation are treated rapidly, the intraocular pressure sometimes rises disastrously. Most patients with posterior scleritis have high intraocular pressures at some stage in the disease.
As the scleral disease is brought under control, the uveitis resolves, leaving anterior and posterior synechiae unless care is taken to prevent them. The inflammation of the pars plana sometimes leads to massive pigment migration at the retinal periphery, leaving a reaction rather like a diathermy or cryotherapy reaction in retinal detachment surgery (see Fig. 52).
Glaucoma
The intraocular pressure may become raised at any stage of the disease because of an acute congestion of the outflow channels,27 raised episcleral venous pressure, angle closure, or a steroid-induced rise. Therefore, it is important that the intraocular pressure be monitored; 13.5% of all patients with nodular or necrotizing scleritis had a pressure rise, albeit transient, during the course of the disease. Permanent field changes occurred in 5%. Patients with posterior scleritis are particularly prone to develop rises of intraocular pressure.
The treatment of the glaucoma is the treatment of the scleritis. Once the scleritis is controlled, the pressure will fall to normal. While the eye is inflamed, particularly if there is a limbitis, acetazolamide should be used to control the intraocular pressure. Should the pressure remain high after the attack, topical timolol can often help to control the intraocular pressure. If control fails, trabeculectomy can be performed successfully in an area of normal sclera and conjunctiva.
Cataract
Involutional changes that are already present will be increased by the presence of a severe inflammation. However, there is no doubt that the transparency of the lens can be affected directly in patients who have had previously normal lenses and who have developed severe necrotizing scleral disease.
If a cataract advances to the extent that it requires removal, the extraction can be performed with use of a corneal section in spite of the presence of scleritis. Healing is a little delayed in some cases, but no operative or postoperative complications have occurred.
Cataract extraction and, for that matter, any other surgical procedure can precipitate scleral inflammation in a patient who is predisposed, usually because of circulating immune complex disease. These patients usually have necrotizing scleritis and require vigorous therapy (Fig. 67).23–25,30–33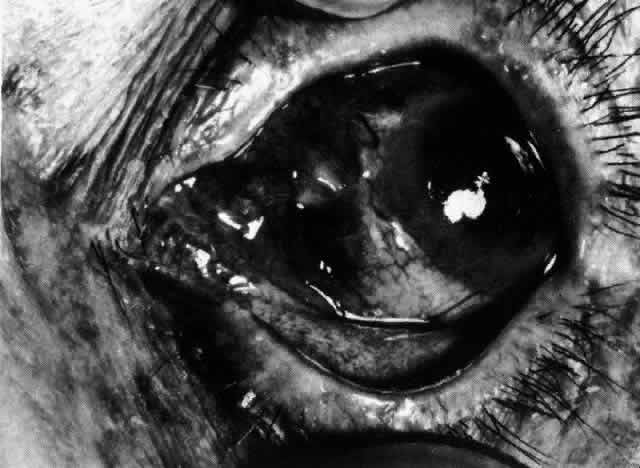 Fig. 67. Severe necrotizing scleritis that started in the wound edges 3 weeks after cataract extraction. The patient had no previous history of eye disease other than involutional cataract. Ill-advised subconjunctival depot steroid led to tissue loss at 8 o'clock. (Watson PG: Management of scleritis. In: Recent Advances in Ophthalmology, Vol 5. London, Churchill-Livingstone, 1975)
Retinal Detachment
Exudative retinal detachment occurs in patients who have posterior scleritis, and it may, indeed, be the only sign in a very painful eye. The detachment is poorly mobile. A pale gray granuloma can be seen extending from the choroid beneath the retina and is accompanied by a poorly mobile serous detachment that may become total. The scleral granuloma sometimes leaves a permanent, inward indentation of the retina and a subretinal mass, although this does not always occur. An increasing hypermetropia has also been noted; it is of rapid onset (over a period of 1 week) and is caused by the diffuse scleral edema in the early stages of the disease before the detachment of the retina occurs.
The exudative detachment usually resolves completely with treatment of the scleritis. However, if the inflammatory changes have affected the macular area, vision will be severely and permanently affected. After resolution, the retina shows a diffuse, heavy pigmentation of the affected area with a "high-water mark" at the edge (see Fig. 52). Patchy changes outside this area do not seem to occur. Surgery is not indicated.
Optic Nerve Swelling
Granulomatous processes inside the muscle cone or affecting the optic nerve sheaths may be accompanied by edema of the optic nerve (see Fig. 51). Although it is not possible to make a diagnosis of posterior scleritis on the basis of this sign alone, should there be severe pain, proptosis, limitation of movement, and a retinal detachment, a presumptive diagnosis is permissible; however, it can be confirmed only if the anterior sclera becomes involved later in the disease. B-scan ultrasonography is very helpful in defining granulomas involving the sclera and the optic nerve. Swelling of the disc in patients who have presented with anterior scleritis is unusual, but it has occurred in patients in whom it was known that the process had advanced to involve the posterior segment.