We prefer simultaneous B-scan and A-scan imaging, relying on both B-scan gray scale and A-scan amplitude interpretation for ultrasound tissue characterization. Tumor height is usually calculated from A-scan images; this is an important measurement for initial and follow-up examination.10

TUMORS

A-scan tumor characterization is often extremely helpful to the clinician. A thorough understanding of ophthalmic pathology is critical to interpretation and often predictive of typical A-scan tumor patterns.

Choroidal malignant melanoma, perhaps the most widely studied intraocular mass lesion, has the most reproducible and reliable A-scan pattern. Usually, the initial echo seen in A-scan is a high-amplitude spike secondary to the strong vitreoretinal surface echo overlying the tumor mass. Once the examining sonic beam has passed into the tumor tissue, a rapidly declining amplitude cadence is noted, a consequence of increasing ultrasonic tissue homogeneity. Clinical knowledge of the typical microscopic tumor pattern of tightly packed, homogeneous small cells makes anticipation of relatively low reflectivity possible (Fig. 10). This same low-amplitude reflectivity in B-scan imaging produces a picture that makes the melanoma mass appear hollow. Often, tumor-infiltrated choroid also appears dark (Fig. 11). This change in the normally highly reflective choroidal tissue is widely but inaccurately called choroidal excavation. The terms "hollowing" and "choroidal excavation" are misleading because these tumors are not hollow and the choroid is not excavated. Nevertheless, these terms have been used so frequently in past literature that any change in vocabulary is unlikely.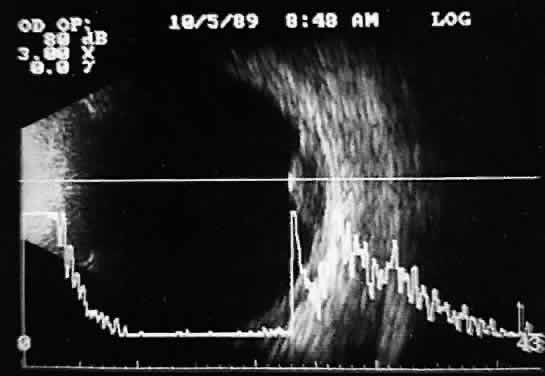 Fig. 10. Contact B-scan and simultaneous A-scan: choroidal malignant melanoma. Note the strong initial echo from the overlying retinal tissue, followed by a rapid decline in A-scan echo amplitude within the deeper tumor tissue, a consequence of increasingly homogeneous tissue. High reflectivity is again seen at the level of the sclera and orbit.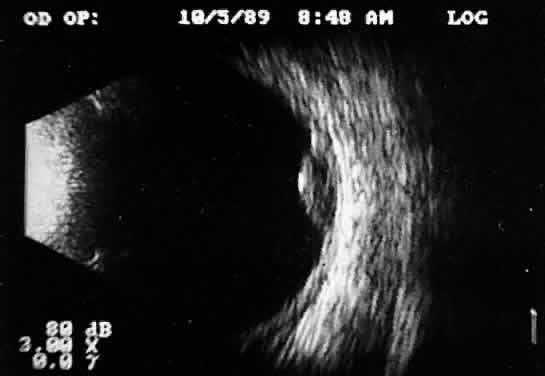 Fig. 11. Contact B-scan: malignant melanoma, demonstrating hollowing and choroidal excavation.
Tumors with great acoustic heterogeneity, such as choroidal hemangiomas, where adjoining cell and tissue layers have marked differences in acoustic impedance, create large echo amplitudes at each interface. These tumor types have typical high internal reflections at each major interface. These high internal reflections make the lesions appear solid white in B-scan displays and produce highamplitude spikes during A-scan imaging (Fig. 12).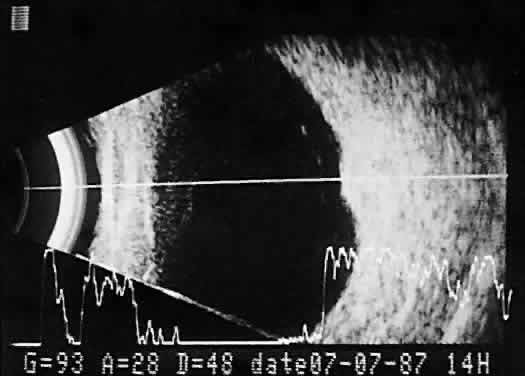 Fig. 12. Contact B-scan and simultaneous A-scan: choroidal hemangioma. Ultrasonically heterogeneous tissue shows strong reflectivity at all levels, appearing white in B-scan gray scale.
Calcification in any type of tumor tissue creates a strong acoustic interface, resulting in high-amplitude A-scan patterns as well as white echoes in B-scan imaging. Behind the area of calcification, there is usually partial or complete shadowing of the sclera and orbital fat. Bony tumors of the choroid, some retinoblastomas, and drusen of the optic nerve head are typical examples where calcification may be found (Fig. 13).

Fig. 13. Contact B-scans. A. Choroidal osteoma, demonstrating orbital tissue shadowing. B. Dislocated lens. Note shadowing of orbital tissues directly behind the highly reflective lens.
Unfortunately, there are far more tumor types than there are different ultrasound patterns, and many mass lesions, both benign and malignant, have similar ultrasound appearances. Further, the echo patterns change from one area to another within the same mass lesion. Although much rhetoric swirls in the ophthalmic literature concerning the quality of a variety of instruments, the techniques used, and the expertise of the examiner, the ultrasonic patterns of many tumors simply do not demonstrate differentiating features. In such situations, the ultrasound examiner must hedge the diagnosis, compiling a list of possibilities rather than one. On occasion, interpretation is simply not possible with any degree of reliability.
Some ultrasonographers prefer to use A-scan alone without simultaneous B-scan imaging for their tissue pattern interpretation.11 Separate A-scan units, some of which are packaged as an additional module housed in a simultaneous B-scan and A-scan instrument, are available. The separate units use modified amplifiers and are standardized against special test phantoms to permit comparison of results from one device to another.12,13
TRAUMA AND FOREIGN BODY EVALUATIONS
Ultrasound examinations for ocular trauma and intraocular foreign bodies are among the most difficult, for a variety of reasons (Figs. 14 and 15). The examiner is often presented with recently injured, unstable, or open globes with multiple complex injuries. Extreme care is necessary to avoid undue pressure during ultrasound evaluation, and concerns for contamination are significant. Understandably, probe contact is often minimized, and unless additional sterile methylcellulose solution is used to improve signal transfer, less-than-optimal images result. These poor-quality images are difficult or impossible to interpret, especially in opaque media situations with multiple abnormalities. Further, patient noncompliance and the examiner's inexperience frequently lead to incomplete examination, limiting 3D analysis.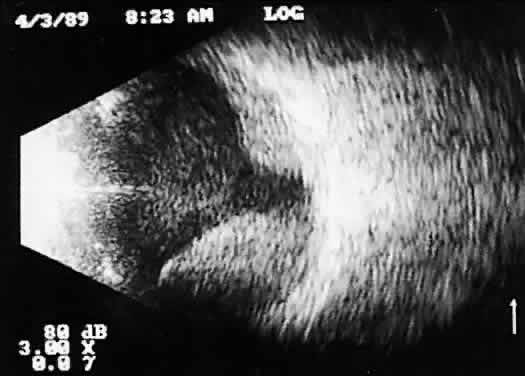 Fig. 14. Contact B-scan: choroidal hemorrhage/vitreous hemorrhage secondary to blunt trauma.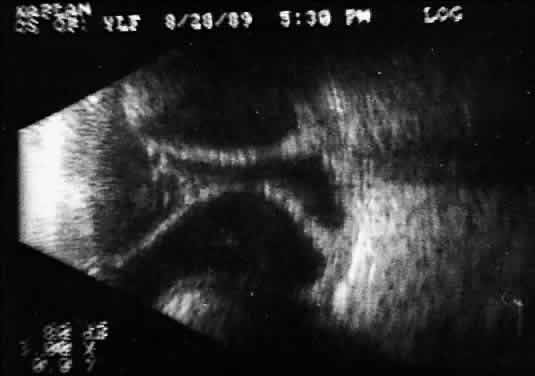 Fig. 15. Contact B-scan: large choroids (anteroposterior view) and portion of scleral implant (at bottom of display screen).
Despite the difficulties, there are several helpful concepts that aid in the examination of trauma cases:
Always examine the globe visually (by slit-lamp technique preferably before ultrasonography) to determine if ocular integrity has been disrupted anteriorly. The possibility of a posterior nonvisible ocular wall rupture must also be considered.

Clean the examining probe with soap, water, and alcohol, and use skin contact rather than scleral contact whenever possible.

Ultrasonically examine the normal globe first to gain patient confidence.

Use sterile methylcellulose solution to permit good signal transfer with less probe contact pressure.

Take your time and be extremely gentle.

Consider every trauma patient a potential foreign body patient.

Radiography for foreign bodies should be part of every evaluation of ocular trauma resulting in opaque media and preferably should be done before ultrasonography.

Ocular and orbital foreign body patients require the most careful ultrasonic evaluation, as well as multiple ancillary tests, to provide sufficient diagnostic information. Like ocular trauma, these injuries usually occur unexpectedly and involve high-velocity projectiles. Patient histories are understandably poor or intentionally misleading. Because most foreign bodies are metallic and visible radiographically, appropriate head position for anteroposterior and lateral x-rays of the involved eye and orbit is critical. Routine radiographic imaging quickly supplies information concerning the number, size, and shape of metallic foreign bodies, as well as the presence of any intraocular air. Small bubbles that enter the globe at the time of injury and remain within the vitreous can be confused ultrasonically with small metallic foreign bodies. The large acoustic impedance mismatch between vitreous and air is similar to that between vitreous and metal.
Computed tomography scans are extremely helpful in foreign body localization, although it is often difficult to pinpoint the exact intraocular or extraocular position of metallic foreign bodies close to the ocular wall. Metal detection devices add information about the magnetic or nonmagnetic properties of intraocular metallic foreign bodies. Until the magnetic qualities of any potential intraocular foreign bodies are determined, magnetic resonance imaging should not be performed.
Ultrasound evaluation in patients with intraocular foreign bodies provides extremely useful additional information concerning associated ocular injuries and another method for localization, especially with nonmetallic intraocular foreign bodies not visible using x-ray techniques. Ultrasonically, foreign bodies have great reflectivity once the examining beam is placed perpendicular to a reflective surface of the foreign body. These abnormalities remain visible even with extreme attenuation of the examining signal (Fig. 16). Many metallic foreign bodies, especially those that are round or spherical, demonstrate "ringing," a string of reflections that extend posterior to the foreign body in the form of a cometlike tail. Ringing is an ultrasound artifact produced by multiple "ping-pong" reflections of sound pulses within the foreign body before they return to the examining probe. The string of returning echoes produces an unusual display image.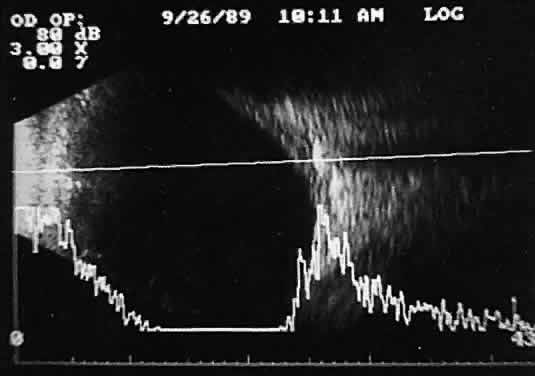 Fig. 16. Contact B-scan and simultaneous A-scan: "buried" choroidal metallic foreign body. Note strong B-scan gray-scale image and high A-scan echo amplitude.
When combined with radiographic information and metal localization technique, ultrasonically derived information aids enormously in the clinical evaluation of the patient with an intraocular foreign object. However, ultrasound alone is not sufficient to rule out a foreign object.
PHTHISIS
Once the globe has become small and shrunken, ultrasound evaluation becomes nearly impossible. Often, calcifications of a variety of ocular tissues make signal transfer difficult. General landmarks become obscure, and interpretation is unreliable. Small tumor identification in such situations is usually beyond the scope of reason.
ORBITAL ULTRASONOGRAPHY
Orbital ultrasonography is far more complex than ocular evaluation for a number of reasons. The shape and depth of the orbit make access for diagnostic ultrasound techniques more difficult. Ocular examinations are usually performed with 10-megacycle probes or higher frequencies. Lower ultrasound frequencies (5 to 8 megacycles) are often used to penetrate to orbital tissue depths. Lower-frequency probes have less resolution capability. Further, recognition of abnormalities within orbital tissues is more difficult because orbital tissues are highly reflective, making the appearance of subtle gray-scale changes in B-scan or amplitude changes in A-scan more difficult to appreciate against highly reflective tissues. Nevertheless, a vast quantity of literature is available concerning orbital technique and tissue characterization.8,9,14,15
In general, orbital ultrasonography is most useful in the evaluation of patients with exophthalmos related to a number of diseases, including primary and secondary tumors of the orbit, inflammatory diseases, and changes secondary to thyroid disease.
The displacement of orbital fat by more homogeneous tumor tissue is appreciated more readily in B-scan imaging. Tissue differentiation is better appreciated with simultaneous A-scan or standardized A-scan techniques. Two caveats are important: orbital interpretation is not for the novice, and examination of the deeper portions of the orbit, including the orbital apex, is usually best performed by other techniques, such as computed tomography or magnetic resonance imaging. Inflammatory conditions such as pseudotumor can involve a variety of orbital tissues, causing infiltration and thickening of the extraocular muscles, as well as space-occupying lesions within the orbital fat. Frequently, inflammatory exudate accumulates in the potential space between Tenon's capsule and the sclera. Such accumulations are easily detected during ultrasonography as dark, relatively echo-free spaces just outside the strong scleral echo.
Thyroid orbitopathy and exophthalmos are also frequently associated with thickening of the extraocular muscles, as well as other changes of the orbital contents.
POSTERIOR VITREORETINAL INTERFACE EVALUATION
Recent improvements in image quality and fused, real-time display have made ultrasound image interpretation easier for every ultrasonographer. Visualization of subtle changes such as movement and recognition of the posterior formed vitreous hyaloid are now possible, even in clear media situations. These clear vitreous structures, which are often exceedingly difficult to appreciate optically, can be recognized ultrasonically after a relatively short period of training (Fig. 17). Clinically, establishing the position of the posterior hyaloid is important in evaluating a variety of vitreous retinal disorders, such as macular holes, tractional detachments, and partial or complete vitreous separations.16,17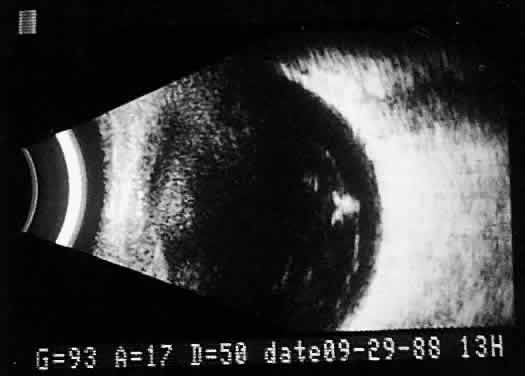 Fig. 17. Contact B-scan: posterior formed vitreous face separation, with prominent Weiss ring evident.