Assuming other significant systemic, neurologic, and ocular injuries have been addressed adequately, the primary consideration in the management of orbital fractures is to determine which fractures require surgery and when such intervention should be undertaken. It should be kept in mind that the range of severity of orbital fractures can vary from simple linear or circular blow-out fractures to more complex injuries in which several orbital walls and the orbital rims are involved as part of a more widespread craniofacial injury. Clearly not all isolated internal orbital fractures require surgical treatment; however, more severe orbital fractures, particularly those that are a component of more widespread craniofacial injury, benefit from repair as soon as possible (provided the patient is otherwise stable) in order to achieve the most satisfactory aesthetic and functional results. Surgery itself carries some risks, including failure of the procedure to correct the deformity, the possibility of worsening diplopia, the rare risk of visual loss, and the systemic complications of general anesthesia.36 Therefore, in the group of patients with relatively less severe orbital fractures, the risk-benefit ratio of surgery must be weighed against the corresponding risk-benefit ratio of more conservative treatment.

Controversy has surrounded the management of orbital blow-out fractures. Throughout the past 50 years, opinions have ranged from suggestions that all orbital blow-out fractures should be repaired to the suggestion that none should be repaired primarily. The historical perspective on the management of blow-out fractures has been concisely summarized in a recent review.1 With the improved assessment of orbital injuries afforded by CT scanning, greater consensus has developed regarding the indications for early surgery (i.e., surgery performed within the first 2 weeks after injury).1,2 There is widespread agreement that early repair of blow-out fractures is indicated for the following:

Symptomatic, clinically significant diplopia with positive forced duction test and/or CT evidence of muscle entrapment showing no improvement over 1 to 2 weeks

  Early enophthalmos of at least 3 mm or significant hypo-ophthalmos
  A large (greater than 50%) orbital wall defect likely to produce late enophthalmos
  Associated displaced orbital rim or facial fractures


Observation (conservative treatment) is indicated for patients demonstrating the following:

  Minimal diplopia with good motility that shows evidence of clinical improvement over several weeks and no CT evidence of muscle entrapment
  Absence of significant clinical enophthalmos or hypo-ophthalmos and small orbital wall fractures that are not likely to produce late enophthalmos


Even with this general consensus, it is obvious that gray areas invariably occur. In such situations, informed discussion with the patient is particularly important regarding the relative merits and risks of primary surgical intervention versus a more protracted period of observation.

It is clear that as soon as appropriate indications for surgery are confirmed, it is appropriate to proceed. Early surgery is technically easier before soft tissue scarring and bony malunion progress. In cases with obvious clinical and CT evidence of frank muscle entrapment, expeditious repair is advised (within 48 hours if possible) to minimize ischemic muscle injury and fibrosis, which may otherwise limit final outcome. Similarly, in cases where early enophthalmos is clinically obvious, a large (greater than 50%) orbital blow-out fracture is noted on CT scan (which is likely to result in late enophthalmos), or displaced orbital rim fractures or more complex orbital/craniofacial fractures are present, surgery can be scheduled within several days after the injury if the patient is otherwise stable. Nonophthalmic indications for repair of orbital fractures involving other parts of the craniofacial skeleton include facial deformity, malocclusion or trismus due to bony impingement on the muscles of mastication, or an unstable facial skeleton (which can be seen with panfacial fractures). In such cases, the internal orbital fractures can be explored in the same operative setting when necessary. In cases of small or isolated blow-out fractures causing diplopia, but without frank extraocular muscle entrapment on CT scan, a period of observation (1 to 2 weeks) is appropriate, during which time serial examination and quantitation of diplopia and extraocular muscle limitation is performed. Forced duction and force-generation testing may be performed during this time to assess the etiology and severity of strabismus. However, the previously mentioned caveat holds: forced duction testing may be positive after the initial injury as a result of edema or hemorrhage, thus limiting the utility of this test early on. In this subset of patients, ocular motility is assessed more reliably after the orbital edema subsides.

Some authors have recommended a short course of corticosteroids to speed resolution of edema,37 but this practice is not widely followed. A course of oral antibiotics (e.g., amoxicillin/clavulanate [Augmentin] or cefaclor) and nasal decongestants (e.g., pseudoephedrine) is recommended by some to minimize the risk of sinusitis. This is certainly most useful for those cases in which the maxillary sinus is completely opacified or when the patient is immunocompromised. During this period, all patients are instructed to refrain from strenuous activities and sports and to avoid nose-blowing, which may cause orbital emphysema. If restrictive strabismus causing diplopia or clinically significant enophthalmos or hypo-ophthalmos is noted after orbital edema subsides, it is preferable to proceed with surgery while one still has an early "window of opportunity." The decision to perform surgery will obviously be based on the patient's functional and occupational needs and aesthetic concerns. Based on review of the literature, it is reasonable to tell the patient that diplopia will typically stay the same or improve with time, whereas enophthalmos will stay the same or worsen with time (i.e., 3 to 6 months). Although secondary orbital, eyelid, or strabismus surgery can be performed many months after the initial injury, there is widespread agreement that the results of such surgery are not as successful as primary orbital fracture repair.

SURGICAL REPAIR: OVERVIEW

The surgical approach to orbital fracture repair is dictated by anatomic location and severity of the orbital fractures and associated injuries. Most orbital fracture repairs are performed under general anesthesia. Isolated fractures of the internal orbit may be directly repaired, whereas fractures of the orbital rims should be repaired before those involving the internal orbit in order to establish proper spatial relations and provide anterior support. Orbital fractures are usually repaired in conjunction with other associated fractures of the craniofacial skeleton. Subperiosteal exposure is required for all fractures requiring repair.38 The inferior and lower medial orbit can be approached via an eyelid incision (infraciliary or transconjunctival approach). In cases where additional exposure of the more superior medial orbit is required, this can be facilitated by extension of the conjunctival incision through the caruncle (taking care to avoid injury to the lacrimal apparatus and inferior oblique muscle) or through a skin incision (Lynch's incision) in the medial canthus. Exposure of the medial orbit may also be accomplished via a coronal approach. The lateral orbit can be exposed by extension of the lower eyelid incision (either transcutaneous or transconjunctival) into the lateral canthus. This incision is usually angled slightly inferiorly along a "crow's foot" pattern. Lateral cantholysis, which consists of lysis of the inferior crus (and occasionally also the superior crus) of the lateral canthal tendon, is helpful to improve exposure. Isolated exposure of a fracture at the zygomatico-frontal suture can also be performed via an upper eyelid crease incision or small incision paralleling the orbital rim. The superior orbit can be approached extracranially via an extended upper eyelid crease incision, an incision just below the eyebrow cilia or via a coronal approach. When necessary, the orbital roof may also be exposed intracranially (via craniotomy) with the assistance of a neurosurgeon. In complex orbital fractures involving the maxilla or zygoma, a buccal sulcus incision can be used to expose fractures involving the maxillary buttresses and lower nasoethmoid-orbital region, if necessary.

Internal Orbital Fractures

Internal orbital fractures may involve any wall of the orbit, but most typically they involve the orbital floor (79%) and medial wall (30%).39 Repair of internal orbital fractures necessitates that they be completely exposed and that all herniated or entrapped orbital soft tissues be liberated. Reduction of displaced segments of the orbital walls is occasionally possible; however, because the walls of the internal orbit are thin and frequently comminuted, it is usually necessary to reconstruct the internal orbital defect with an orbital implant to prevent orbital volume deficiencies and recurrent herniation of the orbital soft tissues. The options for orbital implants include autogenous grafts (e.g., bone, cartilage, fascia) and alloplastic materials (either permanent or absorbable). The relative merits of these materials are widely debated.40 Among autogenous implants, bone grafts are most typically used. These offer the advantage of excellent biocompatibility but require a second procedure to harvest the graft, with attendant donor-site morbidity and increased operating time. Variable resorption (or conversely graft take) may produce late undercorrection of enophthalmos/hypo-ophthalmos. The typical sites for harvesting bone grafts include the cranium, rib, and iliac crest. Cranial bone is favored by many because it is membranous bone and undergoes relatively less resorption than endochondral bone (e.g., rib, iliac crest). The anterior wall of the maxillary antrum is also a source of membranous bone, but the amount of bone available for grafting is limited to only about 1 × 1.5 cm in adults.

Numerous types of alloplastic implants are available for orbital reconstruction and can be categorized as nonporous, porous, and absorbable. Nonporous implants include metallic implants (usually composed of titanium or vitallium) such as miniplates, microplates, and grids or mesh. Additional nonporous orbital implants include silicone, Supramid, and Teflon, among many others. Recent interest has increased in the use of porous implants that allow fibrous ingrowth. Fibrovascular ingrowth has at least two potential advantages: (1) it anchors the implant to the surrounding orbital tissues, rendering the implant less likely to migrate or extrude; and (2) it is able to resist late infection. Commercially available porous orbital implants include hydroxyapatite and high-density porous polyethylene. Hydroxyapatite is hard and brittle, limiting its usefulness as an orbital floor implant. High-density polyethylene (Medpor) can be fabricated to be thin and malleable enough to be fitted into the orbit while still providing good structural support. Absorbable implants, such as Gelfilm and polygalactin (Vicryl) as well as newer compounds are also available for orbital fractures, but they are generally limited to smaller fractures that do not require a great deal of rigid support.

The advantages of alloplastic orbital implants include decreased operating time, lack of donor-site morbidity, absence of early resorption, and increased ease of handling and contouring. Complications associated with alloplastic implants have recently been reviewed and include infection and complications related to migration or extrusion. The exact incidence of such complications is difficult to determine, but overall it is believed to be low.41 Complications associated with orbital implants depend not just on the type of implant, but also on the surgical technique employed. Proper positioning and stable fixation of alloplastic orbital implants can be expected to decrease complications markedly.41,42 Ultimately the choice of implant material is determined by the experience of the surgeon.

ORBITAL BLOW-OUT FRACTURE. Repair of the typical orbital blow-out fracture involving the orbital floor (with or without involvement of the lower medial wall) proceeds as follows. Forced-duction testing is performed immediately before the start of surgery to assess the degree of restriction. The inferior orbital rim can be approached via a transcutaneous eyelid incision placed just below the eyelashes (infraciliary), the lower eyelid crease, or the orbital margin. In these cases, dissection proceeds in a submuscular plane, just anterior to the orbital septum down to the inferior orbital rim. Alternatively, a transconjunctival approach may be used. This approach is believed to reduce the risk of postoperative eyelid retraction or ectropion.43,44 If a transconjunctival approach is used, it is helpful to perform a lateral canthotomy and cantholysis to improve exposure. The incision through the conjunctiva and lower lid retractors can be made through the deeper fornix, going through the orbital fat to the inferior orbital rim. Alternatively, an incision can be made through the conjunctiva and lower lid retractors approximately 3 to 4 mm below the inferior tarsal border, continuing the dissection in a plane anterior to the orbital septum down to the orbital rim. This latter approach has the advantage of minimizing fat prolapse into the field.

Once the inferior orbital rim is reached, an incision is made in the periosteum with a scalpel or sharp edge of a periosteal elevator. It is important that this periosteal incision remain at the edge of the orbital rim rather than deviating posteriorly, particularly near the medial aspect of the inferior orbital rim where the inferior oblique muscle is located. Once the periosteum is incised, it can then be bluntly elevated with the periosteal elevator extending the dissection in a sweeping fashion more posteriorly to expose the anterior edge of the fracture. It is helpful to expose as much of the more anterior portion of the fracture as possible before attempting to extract the orbital soft tissues from within the fracture itself. The orbital soft tissues should be handled with blunt dissection and gently removed from within the fracture using blunt periosteal elevators and malleable retractors in a hand-over-hand technique (Fig. 5). In some cases, fibrosis (occurring even within 1 to 2 weeks after injury) can make release of the entrapped orbital soft tissues difficult. The temptation to use sharp dissection should be avoided, however. In some cases, it is helpful to remove a small amount of the more anterior orbital floor using rongeurs to allow better leverage to get beneath and elevate the prolapsed tissues.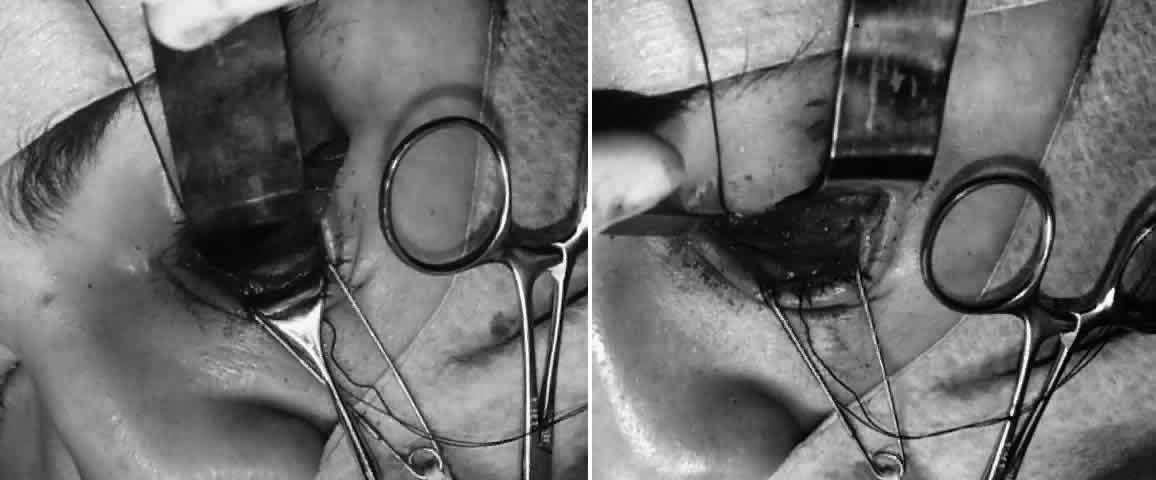 Fig. 5. Orbital floor blow-out fracture repair via a transconjunctival approach with lateral cantholysis. A. The periosteum is incised and then blunt dissection used to expose the fracture site, thus releasing all entrapped orbital soft tissues. B. After the 360° perimeter of fracture is exposed and all prolapsed tissue placed back in the orbit, the orbital implant is placed. In this case, a porous polyethylene sheet was used to cover the defect and was secured with two microscrews.
The location of the infraorbital neurovascular bundle should be determined during the course of dissection. The typical blow-out fracture is usually medial to the course of the infraorbital neurovascular bundle. The neurovascular bundle can be seen as a faint shadow extending beneath the thin bone of the orbital floor, or it may be directly visible within the fracture. A small blood vessel is frequently seen extending superiorly from the infraorbital artery into the orbit. It is frequently necessary to lyse this small branch during dissection. The infraorbital neurovascular bundle itself should be preserved. In some cases, the orbital soft tissues are adherent to the infraorbital neurovascular bundle, and they must be gently teased off in order to reposit the tissues and allow placement of an orbital implant. The entire 360° perimeter of the fracture should be exposed and all prolapsed tissue replaced back into the orbit. It is particularly important that the posterior extent of the fracture be established. Usually the more posterior bone of the orbital floor remains intact. This posterior ledge can be used to support the orbital implant.
Once all entrapped tissues are released and the fracture site has been completely isolated, a decision is made regarding placement of an orbital implant. If the fracture is relatively small, no orbital implant may be needed once the entrapped tissues are released. Alternatively, a thin, absorbable implant (e.g., Gelfilm) may be placed over the small fracture site as an added precaution against recurrent entrapment. For larger defects, an autogenous graft or alloplastic implant is necessary. The implant must be sufficiently sized to bridge the entire defect on all sides, and it must be able to support the orbital soft tissues. If the implant is sufficiently malleable, it can be contoured for optimal coverage of the defect and reconstitution of the orbital shape. After the orbital implant is placed, forced-duction testing should be repeated to ensure that all entrapment has been released.
The implant should be well supported and stable to prevent migration or slippage, which can result in undercorrection of enophthalmos or other sequelae related to orbital implant malposition. Fixation of the orbital implant to an intact orbital rim by various means can reduce the potential for implant migration and takes little additional operating time. Methods to secure the implant include gluing, placing a "tab" at the anterior edge (for thin, synthetic implants), or direct fixation to the rim with a suture, wire, screws, or miniplates. Direct fixation is probably the most reliable technique. To fixate the implant with a suture or wire, two holes are drilled through the inferior orbital rim, and then the suture or wire is passed in a mattress fashion through two corresponding holes placed in the implant and tied. The knot should be placed in a location where it will not be palpable or irritate the globe. Usually the knot can be buried near the junction between the implant and the orbital floor. The orbital implant may also be secured relatively easily with metallic screws (from a miniplate or microplate set; see Orbital Rim Fractures section), placed through the implant just inside the orbital rim (see Fig. 5). It is important that the implant not project anteriorly past the orbital rim so that it will not be palpable. Synthetic implants and bone grafts of sufficient thickness and tensile strength can also be secured with a miniplate cantilevered over the orbital rim and into the internal orbit. This technique of fixation can be particularly helpful for large internal fractures, where the miniplate provides additional support and rigid fixation.
When more extensive disruption of two or more walls is present within the internal orbit, rigid fixation is essential. Metallic grids or mesh implants are available, which can be custom shaped to span a large portion or the entire defect and then fixed to the orbital rim (Fig. 6). This type of implant can then be used as a platform for additional alloplastic implants or bone grafts to augment the internal orbital reconstruction and volume. Many surgeons routinely place a bone graft or other implant over these metallic grid or mesh implants, whereas others report that placement of the metallic orbital implant alone can be successful. After the orbital implant is secured, the periosteum is closed. After this, the eyelid incisions (either conjunctival or transcutaneous) are closed, usually in a single layer. It is important to avoid catching the orbital septum in the closure because this places the patient at risk of postoperative lower eyelid malposition. If a lateral canthotomy and cantholysis has been performed, the lateral canthus should be reconstituted by aligning the natural eyelid margin landmarks (lash line). The lateral canthal tendon may be reapproximated with absorbable suture (e.g., 5-0 Vicryl) just inside the lateral rim to the periosteum. Care should be taken to avoid overtightening this lateral canthal suture or placing the suture too anteriorly, which can result in an unnatural, acutely angled appearance.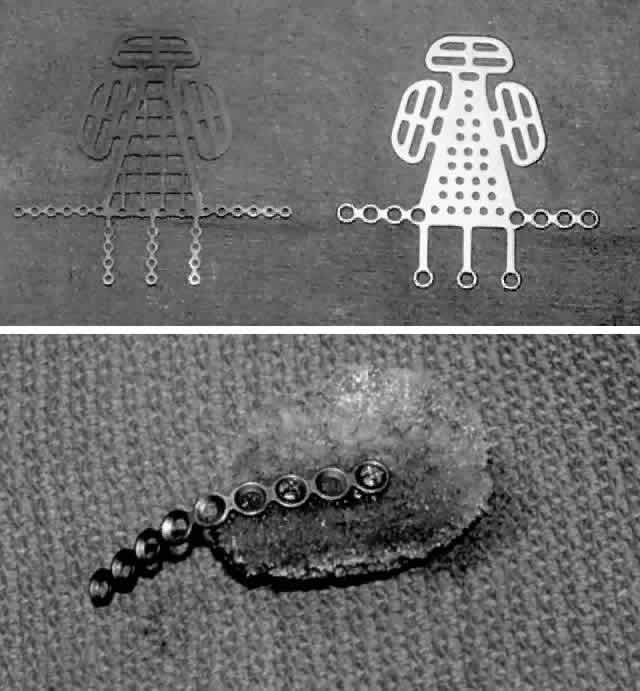 Fig. 6. A. Metallic grid implants are used for rigid internal orbital fixation when extensive disruption of two or more walls is present. B. Synthetic implants or bone grafts may also be rigidly fixed with a miniplate, which is then "cantilevered" over the orbital rim.
Postoperative care includes light (or no) dressings and ice, as tolerated, for 12 to 24 hours after surgery. If a synthetic orbital implant is used, prophylactic antibiotics (e.g., IV cefazolin [Ancef]) are given perioperatively and a course of oral antibiotics (e.g., Augmentin, cefaclor) can be continued for 7 to 10 days after surgery. Pressure patching of the operative eye is avoided during the immediate postoperative period so that any change in the orbital status can be detected (e.g., visual loss, orbital hemorrhage). The patient should be instructed to contact the physician should they notice any such signs. A transient increase in orbital edema as a result of surgery can be expected in the immediate postoperative period. Some generalized limitation of ocular motility can be expected when orbital edema is prominent. In the absence of any contraindications, some surgeons advocate the use of parenteral or oral corticosteroids perioperatively in order to minimize postoperative edema. The postoperative result is appreciated after resolution of edema (Fig. 7).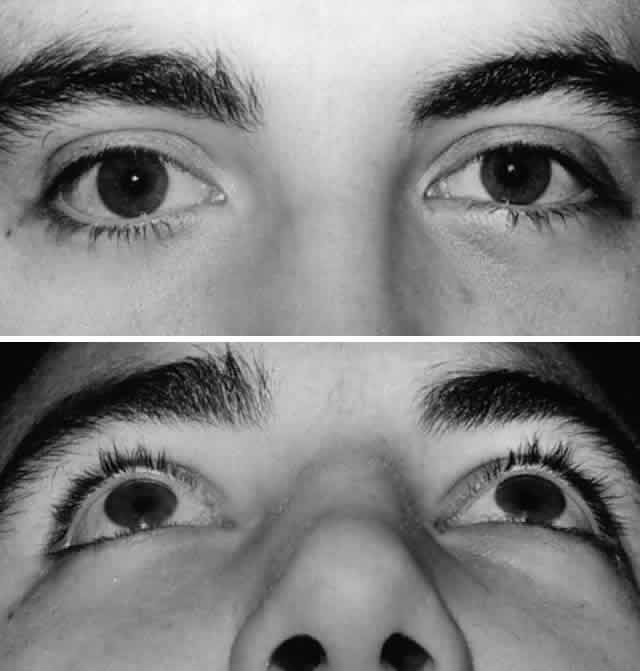 Fig. 7. A. Postoperative appearance of patient in Figure 3 one month after left orbital blow-out fracture repair. B. Note good globe position with no evidence of enophthalmos. Ocular motility returned to normal.
Orbital Rim Fractures
Orbital rim fractures occur with various degrees of displacement and comminution, typically proportional to the direction and energy of the impact. Extensive orbital rim fractures almost invariably include damage to the internal walls of the orbit. Reduction and fixation of unstable orbital rim fractures should precede repair of the internal orbit. The aim of orbital reconstruction is to restore normal orbital anatomy by accurately repositioning the displaced fracture segments followed by stable fixation.1–3,38,39 The orbital rims determine the circumference of the orbital aperture and provide a supportive anterior framework for the walls of the orbit as well as the attachment of the canthal tendons. Although repair of isolated nondisplaced rim fractures is not required, open reduction with fixation is indicated for rim fractures with significant displacement, comminution, or bone loss. Orbital rim fractures may be a component of a more complex craniofacial fracture pattern, including nasoethmoid orbital fractures,45–47 zygomatico-orbital (tripod or trimalar fractures),48–54 cra-nio-fron-tal fractures and maxillary fractures including Le Fort II and III fractures (see Classification section).38,39 When multiple orbital rims are disrupted, the order of reconstruction depends on the nature of associated craniofacial fractures. When severe panfacial fractures are present, the order of repair in the orbital region (after reduction and fixation of the lower face and mandible) generally begins superiorly with the cranial base/frontal region (which includes the superior orbital rim and orbital roof), followed by reconstruction of the medial nasoethmoid-orbital region and the lateral orbit/zygoma, followed by repair of the inferior orbital rim and maxillary buttresses. Because these repairs frequently involve a multidisciplinary team, it is essential that a clear surgical plan be established beforehand, including the order in which repair of the involved anatomic regions will proceed.
Methods of stabilization include interosseous wiring and miniplate fixation. Interosseous wiring is generally sufficient for repair of isolated orbital fractures resulting from low-energy injuries. Higher energy injuries, which result in multiple orbital rim fractures and comminution, benefit from rigid miniplate fixation to maintain a stable three-dimensional reconstruction and improve osteosynthesis (Figs. 8, 9, and 10). Miniplate fixation allows bridging of areas of extensive comminution. Miniplates come in various sizes (i.e., plate thickness ["profile"] and screw size) and shape. Miniplates generally have a profile of at least 1 mm and utilize screws equal to or greater than 1.5 mm, whereas microplates have profiles on the order of 0.5 mm and screw sizes of approximately 1 mm. Plates and screws of intermediate size are also available, and these appear to be ideal for orbital reconstruction. Most miniplates (and screws) are composed of corrosion-resistant metals, such as titanium or vitallium (an alloy of cobalt, chromium, and molybdenum). Because these metals are nonmagnetic, postoperative MRI is not contraindicated after reconstruction with these materials. These materials do produce some artifact on CT scan; however, this artifact is less than that noted with stainless steel, with titanium having the least artifact.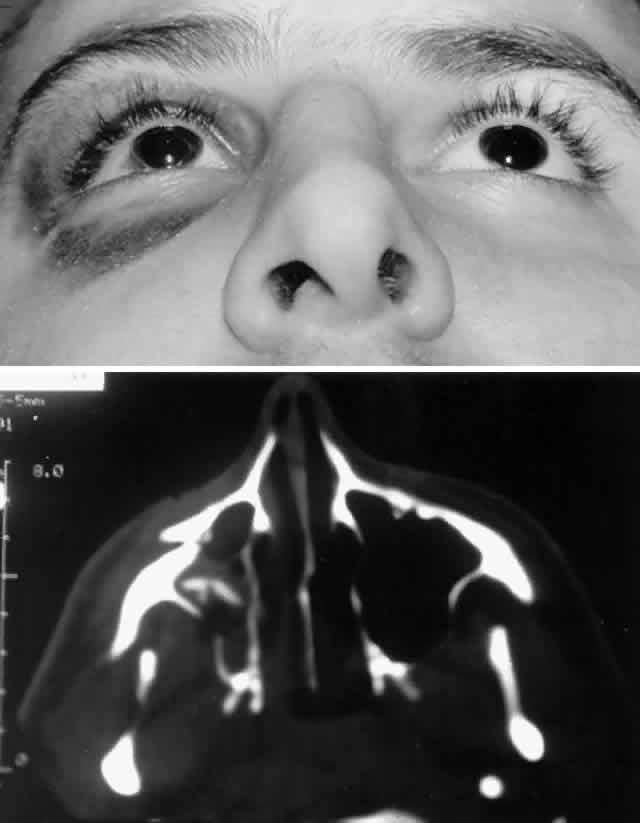 Fig. 8. A. Patient with right zygomatico-orbital fracture. Note flattening of right malar eminence and slight right lateral canthal dystopia. B. Axial CT scan shows displaced right zygomatico-orbital fracture.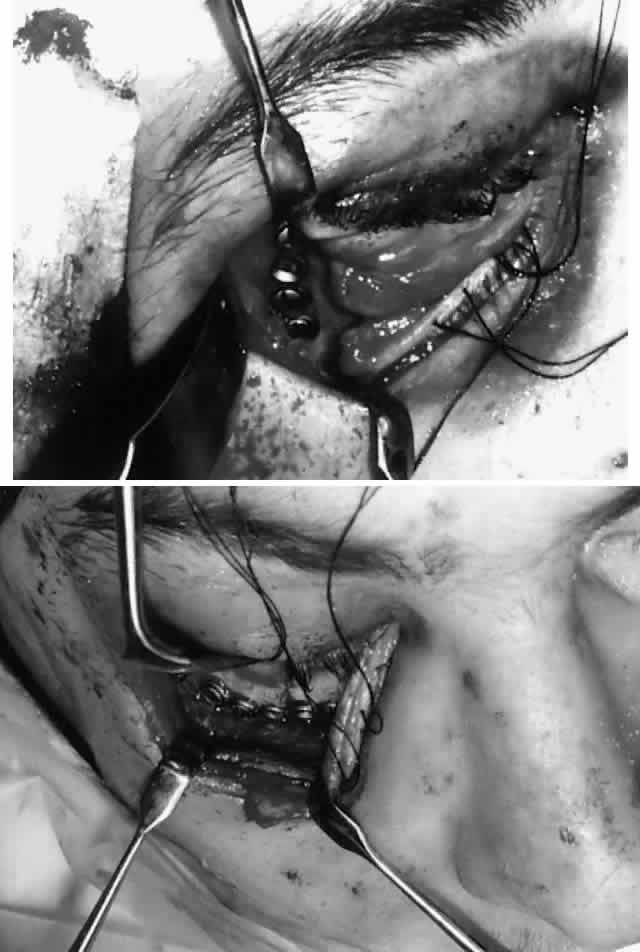 Fig. 9. Repair of zygomatico-orbital fracture with rigid miniplate fixation, approached via a single transconjunctival incision with extended lateral canthotomy/cantholysis. A. Exposure and fixation of lateral (frontozygomatic) orbital rim fracture. B. Reduction and fixation of inferior orbital rim fracture. Orbital floor can also be explored via the same approach.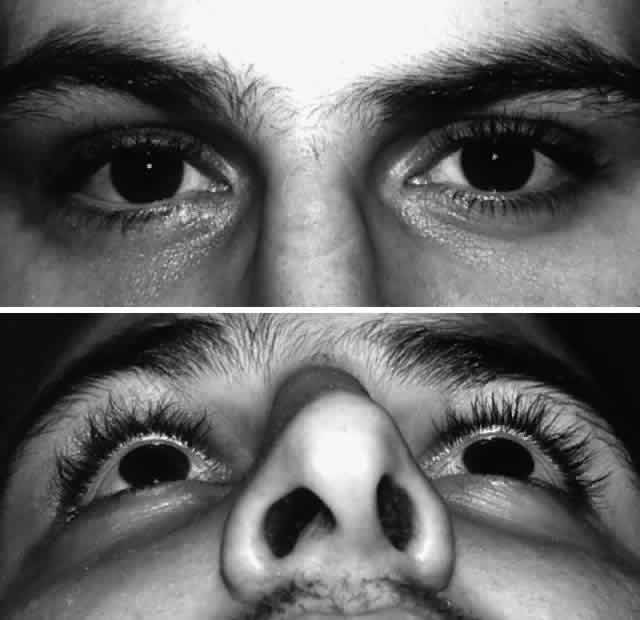 Fig. 10. A. Postoperative appearance of patient in Figure 8 showing excellent position of the globe and eyelid. B. Normal malar contour has been re-established.
The general application of these devices is relatively straightforward. Reduction and alignment of the displaced bone fragments is performed first. In some cases, particularly when multiple fracture sites are present within a given anatomic region, initial alignment using interosseous wiring may be helpful to link the segments together before the miniplates are applied. A miniplate is then sized and contoured to span the fracture. Using special instruments provided in the set, the miniplate can be customized to fit. The miniplate should be placed in such a manner that will be virtually impalpable while still affording stable alignment and fixation. With the typical straight or curved miniplate, at least two screws are placed on either side of the fracture line to prevent late rotation of the fracture segments. Low-speed drills with continuous cooling are used to minimize bony necrosis. Most sets now supply self-taping screws. Emergency screws, which have a slightly larger diameter shaft, are available if stripping occurs during placement of the standard screw. Miniplates have revolutionized the management of orbital/craniofacial fractures, but it is important to remember that they are alloplastic devices and may be associated with complications such as infection, soft tissue irritation, and exposure. Fortunately these complications appear to be relatively uncommon in the orbital region. The following sections include special considerations that apply to the management of specific regional orbital rim fractures.
SUPERIOR ORBITAL RIM. The superior orbital rim is contiguous with the frontal bone and cranium. This portion of the cranium is divided into a central (frontal sinus) area and two lateral (frontotemporal orbital) areas. Most fractures involving the superior orbital rim and frontal skull are linear fractures with little displacement.18–20,38,39 Extensive frontal bone injuries usually produce stellate fracture patterns extending within one or two areas of the frontal portion of the skull frequently involving the superior orbit. Open reduction and stabilization is required for these displaced fractures. Rigid fixation of the supraorbital regions ("frontal bar") stabilizes forehead projection. The temporal bones and anterior cranial base can be used to confirm anatomic alignment in cases of more extensive fractures. Usually a single curved miniplate can be used to repair a fracture of the superior orbital rim itself. Bony defects are repaired with placement of carefully contoured bone grafts.
Fractures in this region may involve the frontal sinus, including the anterior or posterior wall, or both. Simple fractures of the anterior wall can be managed by direct reduction and fixation with preservation of the sinus. Fractures involving the posterior wall and nasofrontal duct require a more complex repair. The potential for dural laceration in displaced posterior wall fractures necessitates either obliteration or cranialization of the frontal sinus, usually with the assistance of a neurosurgeon or otolaryngologist.
Severe disruption of the orbital roof requires stabilization with bone grafts or alloplastic implants with rigid intracranial fixation to the frontal bar. Reconstruction of the superorbital rim (frontal bar) establishes the proper width of the orbit as well as a stable reference point for realignment of the nasal ethmoid and lateral orbit in the case of more extensive upper midfacial and panfacial fractures. When exposing the superior orbital rim and orbital roof, caution should be observed medially to avoid injury to the trochlea and the supraorbital neurovascular bundle.
MEDIAL ORBITAL RIM (NASOETHMOID-ORBITAL REGION). The bones of the medial orbital rim represent the lateral aspect of the nasoethmoid complex, and fractures of the medial orbital rim are most typically the component of a more generalized nasoethmoid orbital injury. Nasoethmoid orbital fractures may be isolated or associated with other more extensive craniofacial fractures (e.g., Le Fort II and III). Successful management of nasoethmoid orbital injury requires consideration of both the bony and soft tissue injury.38,39,45–47 The most important soft tissue structure in the nasoethmoid-orbital region is the medial canthal tendon. The medial canthal tendon has medial and posterior insertions to the anterior and posterior lacrimal crest in the anterior portion of the medial orbit.16 Disruption of the medial canthal tendon or the bony segment containing the insertion of the medial canthal tendon can result in telecanthus. Because the lacrimal drainage system is closely tied with this area, it is at risk for injury from the original trauma as well as during surgical repair.
Nasoethmoid orbital injuries may also be associated with fracture extension into the anterior cranial fossa (adjacent to the cribriform plate), which may result in cerebrospinal fluid rhinorrhea, pneumocephalus, olfactory nerve disruption, and potential frontal lobe injury. Markowitz and colleagues45 have proposed a classification scheme for nasoethmoid orbital fractures that is related to the condition and position of what they term the central fragment (the portion of the frontal process of the maxilla providing the bony insertion of the medial canthal tendon). Three types of fractures are outlined:
  Type 1: A nasoethmoid orbital fracture that results in the central fragment's being fractured as a single segment (either nondisplaced or displaced)
  Type 2: A fracture involving comminution of the bony central fragment, but not involving insertion of the medial canthal tendon
  Type 3: A fracture involving comminution of the central fragment extending through the insertion of the medial canthal tendon

Reconstruction is based on the degree of disruption of the central fragment of the medial orbital rim. Displaced type 1 injuries can be repaired by direct reduction and fixation of the central fragment using microplates or miniplates, with superior fixation to the frontal bone, and inferior fixation to the adjacent inferior orbital rim/maxillary buttress. It is important that the medial canthal tendon be left attached to the central fragment; thus, subperiosteal dissection underlying the medial canthal tendon insertion is avoided.
Type 2 fractures, because of bony comminution, generally require transnasal wiring to stabilize the central fracture segment containing the medial canthal tendon and to minimize the risk of postoperative telecanthus. The canthal tendon-bearing portion of the central fragment is isolated by subperiosteal dissection, except for the area of medial canthal tendon insertion, which is not detached. Transnasal (28-gauge) wires are passed through drill holes placed superior and posterior to the lacrimal fossa (and medial canthal tendon) and on the central fragment. These wires are then passed across the nose in a trans-septal fashion. If a bilateral nasoethmoid fracture is present, the two central fragments can be linked together. With unilateral fractures, the transnasal wire extends to the intact contralateral nasal dorsal bone. All other nasal and orbital bone segments are first linked by wires and then fixed to the frontal bone and inferior orbital rim/maxillary buttress with junctional plate and screw fixation. Tightening of the transnasal wires produces central fragment reduction and creates proper intercanthal dimensions. The intercanthal soft tissue distance is rarely overcorrected, and it is more frequently undercorrected. Therefore, transnasal reduction should deliberately minimize the bony interorbital distance between the medial orbital rims to obtain a satisfactory result.
Type 3 comminuted fractures rarely avulse the medial canthal tendon; however, the central fragment is frequently too small in such fractures to utilize in reconstruction. In such cases, the medial canthal tendon is detached and transnasal reduction of the medial orbital rim segments is performed, followed by direct transnasal wiring of the medial canthal tendon itself. The medial canthal tendon may be attached to the transnasal wire with a smaller permanent monofilament or braided suture. It is important to pass the transnasal wire posterior and slightly superior to the lacrimal sac fossa in order to achieve proper eyelid-globe apposition and impart a natural appearance to the medial canthus. Care should be taken to preserve the lacrimal system during transnasal wiring; this can be facilitated by placement of lacrimal probes within the canaliculi.
Other techniques for securing the medial canthal tendon in the setting of nasoethmoid orbital fractures have been described. Shore and associates47 described repair of telecanthus using a miniplate cantilevered from the lateral aspect of the nose and directed posteriorly into the orbit to provide a stable fixation point for the medial canthal tendon. This technique is probably most applicable for cases of unilateral traumatic telecanthus, in which poor bony support for transnasal wires is suggested on preoperative CT. After fracture reduction with transnasal wiring or medial canthal tendon fixation, soft padded nasal bolsters may be placed to help minimize edema and hematoma as well as to adapt the skin to the nasal bones. Although these external bolsters play no role in the reduction or stabilization of the medial orbital rims, some authors believe they may help mold the bones of the nose and may minimize the scarring and thickening of the medial canthal tissues. These bolsters are secured with an additional transnasal wire, which is removed 7 to 10 days after surgery. Adequate aesthetic repair of extensive fractures in this region can be challenging.
LATERAL ORBITAL RIM (ZYGOMATICO-ORBITAL). The lateral orbital rim is composed primary of zygomatic bone. The large zygomatic bone (zygoma) also establishes the malar projection and midfacial width, thus playing a prominent role in facial aesthetics. The zygoma has articulations with the temporal, frontal, maxillary, and sphenoid bones oriented in three different planes. Isolated lateral rim fractures are uncommon, more typically occurring with disruption of the zygoma as a unit.48–54 As previously noted, various names have been used to describe zygomatic bone fracture, including "tripod" and "trimalar" fracture. More recently there has been a trend to refer to such fractures as zygomatico-orbital fractures (or conversely "orbitozygomatic" fractures), which more accurately reflects the prominent orbital component of such fractures.48 Indeed, the main sequelae of zygomatico-orbital fractures are ophthalmic in nature and include enophthalmos, diplopia, infraorbital nerve dysfunction, and lateral canthal dystopia.
In the pathogenesis of a zygomatico-orbital fracture, disruption occurs with various degrees of displacement at each of the articulations of the zygomatic bone. Unlike other portions of the orbit, significant dynamic forces act on the zygoma, primarily due to the masseter and to a lesser extent the temporalis muscle. Significant displacement of the zygomatic segment of the orbit can occur. The zygoma may be rotated inwardly toward the orbit, causing direct damage or functional impairment of the globe, extraocular muscles, or optic nerve. More typically, however, it rotates outward, creating orbital volume expansion and the potential for enophthalmos.
Classification schemes focusing on the different possible anatomic positions (rotations) of the displaced zygoma have been described, but these have not proved particularly helpful for guiding fracture management.51 A classification scheme based on the degree of comminution and displacement is more useful for guiding the intensity of treatment. The classification scheme of Manson and co-workers6 (see the Classification section) is particularly applicable to zygomatic fractures. Low-energy zygomatico-orbital fractures demonstrate little or no displacement. Frequently the fracture is incomplete through at least one articulation with stability provided at this point (typically the zygomaticofrontal suture). Zygomatico-orbital fractures with minimal degrees of displacement do not require reduction. Conservative treatment consists of a soft diet and protection of the malar eminence for several weeks. These patients should nevertheless be followed closely in the initial weeks after injury in order to detect any early zygomatic displacement due to dynamic traction. Zygomatico-orbital fractures with significant displacement are best managed with open reduction and internal fixation (see Figs. 8, 9, and 10). The number of fracture sites requiring fixation varies with the severity of the injury. For middle-energy zygomatico-orbital fractures, which constitute the vast majority of such injuries, mild to moderate displacement is seen, with a range of comminution.
For simple, displaced zygomatico-orbital fractures with no major comminution, a diversity of opinion exists as to the ideal approach and number and location of points requiring direct visual alignment and fixation. In the era in which interosseous wires were the primary means of fixation, experimental and clinical studies suggested that two-point interfragmentary wiring of the lateral and inferior orbital rims, while the most common method of internal fixation, still permitted rotational displacement of the zygoma about an axis between these two fixation points caused by the continuous traction and force of the masseter muscle. Three-point wire fixation was subsequently advocated by many surgeons, even for simple displaced, noncomminuted zygomatico-orbital fractures. The application of osteosynthesis technology (i.e., rigid miniplates and screws) has led to an evolution in the management of zygomatico-orbital fractures. Miniplates provide greater stability and are more resistant to rotational forces. Most authorities now agree that two-point miniplate application (at two of the following locations: zygomatico frontal suture, inferior orbital rim, or zygomaticomaxillary buttress) provides stable fixation of most noncomminuted displaced zygomatico-orbital fractures.48,49 Indeed, some surgeons have even suggested that one-point miniplate fixation of zygomatic fractures may be sufficient, provided that appropriate measures be taken to ensure three-point alignment.51,52 Advocates of one-point fixation caution that such techniques are appropriate only for simple, noncomminuted zygomatico-orbital fractures as assessed by preoperative CT.
For middle-energy zygomatico-orbital fractures with comminution, however, at least a two-point fixation is clearly recommended. The surgical approach to middle-energy zygomatico-orbital fractures is dictated by the degree of exposure and number of fixation points required. The inferior orbital rim fracture site and lateral orbital rim (i.e., zygomaticofrontal suture) fracture sites can be approached quite practically by a single eyelid incision (either transcutaneous or transconjunctival/lateral cantholysis), by extending the incision laterally from the lateral canthal angle. This approach also allows exploration of the orbital floor and confirmation of an adequate reduction by direct inspection of the articulation of the zygomatic bone with the more posterior sphenoid bone, which helps ensure adequate anatomic alignment. Further exposure of the zygomaticomaxillary buttress, if desired, can be obtained via a gingivobuccal sulcus incision. Reduction of the zygoma can be accomplished with an elevator or towel clip. A Girard screw, placed in the malar eminence, may also facilitate reduction. After reduction is performed, the articulation sites at the lateral and inferior orbital rims (and lateral and inferior orbital walls) should be checked to ensure that no soft tissue entrapment is present. Miniplate fixation is performed; after this, any additional repair of the internal orbit can be accomplished.
High-energy zygomatico-orbital fractures are characterized by associated comminution of the greater wing of the sphenoid (in the lateral orbit) and by lateral displacement and posterior segmentation of the zygomatic arch. The external angular process of the frontal bone is also frequently comminuted. These more severe types of zygomatico-orbital fractures are infrequently observed as isolated injuries, being associated more typically with Le Fort and panfacial fractures. The extensive lateral and posterior displacement of the arch results in loss of support for the malar eminence, causing the cheek to be depressed posteriorly and inferiorly. Midfacial width and orbital volume are significantly increased. These high-energy zygomatico-orbital fractures require (1) coronal exposure with reduction and fixation of the zygomatic arch in order to correct facial width and to align and stabilize the forward projection of the malar eminence6,38,53,54; and (2) rigid fixation of at least two other points of zygomatic articulation, as previously discussed.
INFERIOR ORBITAL RIM. Isolated fractures of the inferior orbital rim are relatively uncommon. Forces sufficient to fracture the inferior orbital rim usually result in internal orbital fractures as well. An inferior orbital rim fracture may be a component of a zygomatico-orbital fracture or a nasoethmoid orbital fracture. With high-energy injuries, extensive comminution of the inferior orbital rim with bone loss may occur, typically as a component of a panfacial fracture. In this setting, inferior orbital rim fracture repair is facilitated by initial reconstruction of the superior, medial, and lateral orbital rims to establish the vertical and horizontal dimensions of the orbital aperture and to allow stabilization of the inferior orbital rim segment(s) by rigid fixation to the zygoma laterally and the nasomaxillary buttress medially. If bone loss (greater than 5 mm) has occurred, bone grafts can be used to fill the defect and are secured by rigid fixation. Inferior orbital rim fractures may extend farther inferiorly through the maxilla. In such cases, attention is directed toward stabilization and rigid fixation of the maxillary buttresses. The thinner bone of the anterior maxillary antrum may be comminuted; in most cases, however, primary repair of this portion of the maxilla is not necessary.
Postoperative Complications
Complications after orbital fracture repair can of course be minimized by good surgical technique. However, because of the severity of such injuries, including the associated soft tissue damage, postoperative complications certainly occur, and the physician should be familiar with their management. Some complications are common to all types of orbital surgery, some are specific to malposition of the orbital rims, and others are related to disruption of the internal orbital walls.36 The most serious complication of orbital surgery is visual loss, which fortunately is rare. Visual loss may be caused by intraoperative manipulation of the globe or optic nerve or by a postoperative orbital hemorrhage that produces central retinal artery occlusion or compressive optic neuropathy. Early detection of visual loss is essential, which is why occlusive dressings are avoided and the patient is followed closely after surgery. Pupil examination to check for an afferent pupillary defect is a reliable, simple way to detect optic neuropathy. Orbital hemorrhage in such cases is usually obvious; when it is found to be causing impairment, it is treated as previously discussed with lateral canthotomy, cantholysis, and other adjunctive medical and surgical treatment.2 Repeat orbital CT scanning is appropriate, provided that treatment is not significantly delayed.
The following are among the complications related to malposition of the orbital rims: persistent step-off fracture, bony malunion or resorption creating contour deformity, and frank dislocation of a portion of the orbital rim in the early postoperative period, which is caused by improper alignment or fixation and in late cases by tractional forces acting on an inadequately fixated segment. These complications are more common with fractures of the inferior lateral orbital rims (i.e., zygomatico-orbital fractures) because of the tractional forces of the masseter muscle. If early dislocation is noted, prompt repositioning and stabilization (fixation) should be performed. In cases where this complication is noted later, treatment may consist of onlay bone grafts or synthetic implants (e.g., malar eminence). In more severe cases, however, osteotomy with repositioning and fixation of the dislocated segment is necessary.
Soft tissue disruption associated with orbital rim fractures may also produce late postoperative sequelae, primarily consisting of displacement of the lateral canthus (inferior dystopia) and medial canthus (typically producing telecanthus). Mild lateral canthal dystopia may be managed by lateral canthoplasty with repositioning of the lateral canthus using a tarsal strip procedure, provided that the bony rim/malar position is not significantly displaced. More severe forms of dystopia usually necessitate osteotomy and repositioning of the displaced lateral orbital rim/zygoma. Persistent telecanthus unfortunately is a frequent complication of nasoethmoid orbital fractures (Fig. 11). Treatment is usually performed with medial canthopexy using transnasal wiring or other medial canthal fixation techniques (Fig. 12). Excess scar tissue and displaced bone fragments should be removed from the medial canthal region in order to achieve a satisfactory result. Damage to the nasolacrimal drainage system may also be a sequela of a nasoethmoid orbital or midfacial fracture. If injury to the nasolacrimal drainage system is obvious at the patient's initial presentation, primary repair can be performed. In most cases, the nasolacrimal injury is not noted until later, typically manifesting as nasolacrimal duct obstruction producing epiphora, with or without dacryocystitis. Treatment is accomplished with dacryocystorhinostomy.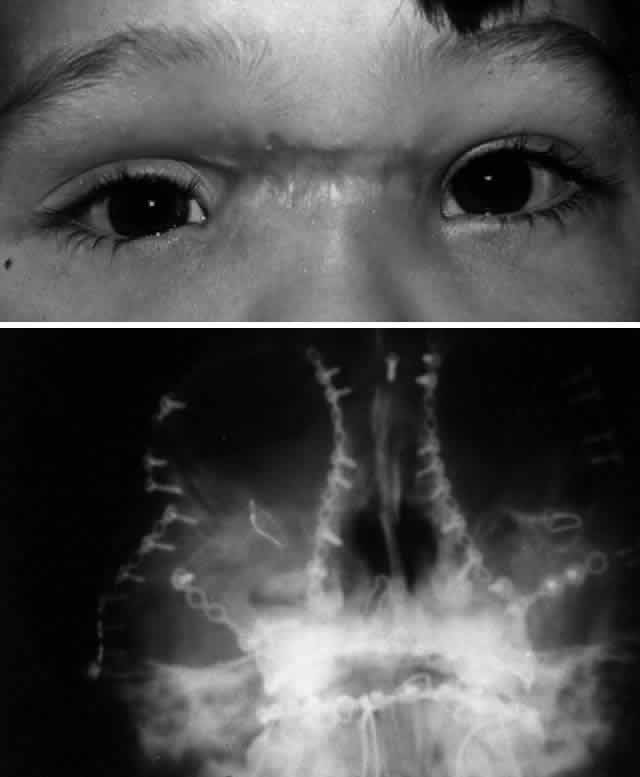 Fig. 11. Young boy shown after repair of panfacial fractures. A. Bilateral telecanthus and inferior medial canthal dystopia is noted, along with a wide band of scar tissues across the nasal bridge. The patient also had epiphora secondary to nasolacrimal duct obstruction. B. Postoperative facial x-ray shows extensive nature of injury and repair with rigid miniplate fixation.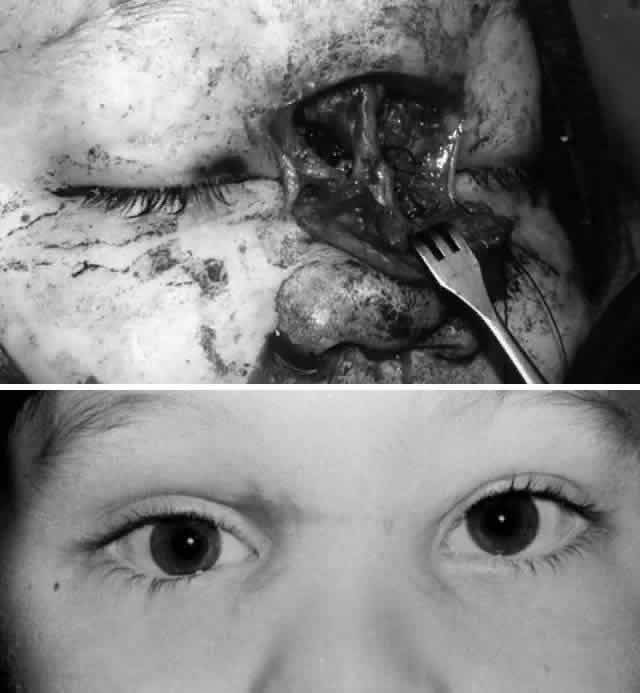 Fig. 12. A. Secondary, bilateral medial canthopexy was performed on the patient in Figure 11 with transnasal wiring. In this case an "open-sky technique" was used and combined with scar revision. Bilateral dacryocystorhinostomy was also performed in the same setting to treat coexistent nasolacrimal duct obstruction. B. Postoperative appearance showing improved medial canthal position. Epiphora was also successfully relieved.
Complications related to repair of internal orbital wall fractures include predominantly persistent enophthalmos/hypo-ophthalmos and diplopia, as well as those related to synthetic orbital implants or bone grafts per se. Several of the potential postoperative complications related to alloplastic implants and bone grafts (see Internal Orbital Fractures section) include migration, extrusion, and infection. Such complications are possible with alloplastic implants or bone grafts, but are more common with alloplastic implants. Bone grafts have the potential complication of variable degrees of resorption, which is believed to be greater with endochondral bone compared with membranous bone grafts. Infection or extrusion generally requires removal of the implant or bone graft if prompt improvement with antibiotic therapy is not seen. In the setting of infection, the implant should not be replaced. In many cases, fibrous tissue forms around alloplastic implants after several weeks or months, which may allow enough orbital soft tissue support so that a replacement implant is not required. In other cases, secondary repair with a suitable alloplastic implant or graft must be performed after the infection is adequately controlled. Migration of an alloplastic implant or bone graft, if minor and not causing significant sequelae, may be observed. More marked implant migration causing functional impairment necessitates removal of the alloplastic implant or bone graft.
Globe malpositions after blow-out fracture repair usually are caused by failure of surgery to reconstruct the normal anatomic boundaries (walls) of the orbit. Soft tissue scarring (and perhaps in a small number of cases, fat atrophy) may also contribute to late enophthalmos. Enophthalmos may be corrected by repositioning the implant or by adding additional alloplastic implant or bone graft to augment the volume deficiency. Camouflage techniques such as blepharoplasty of the contralateral upper eyelid or ptosis repair of the ipsilateral eyelid may also be considered. Diplopia after blow-out fracture repair may be due to persistent orbital soft tissue entrapment, but it may also be due to coincident extraocular muscle injury or neurologic injury. Postoperative orbital edema may also be associated with generalized limitation of ocular motility; therefore, ocular motility is most appropriately reassessed after the edema resolves (usually in 2 to 3 weeks). Repeat CT scanning may also be helpful. If the clinical examination and CT findings are suggestive of persistent extraocular muscle entrapment in a patient with functionally significant diplopia, then early orbital re-exploration is indicated.
Persistent ocular motility deficits that are not amenable to orbital surgery generally require strabismus surgery. Usually a period of 6 months or more is allowed for spontaneous improvement, during which time serial orthoptic measurements are taken. Within this waiting period, diplopia may be symptomatically treated with Fresnel prisms, fogging (partial occlusion), or patching (complete occlusion) of one eye. Young children at risk for amblyopia require closer follow-up and appropriate treatment should amblyopia develop. Most authorities consider blow-out fracture repair successful if diplopia is relieved within the functional (30°) fields of gaze. Reoperation is usually not indicated for diplopia occurring in more eccentric fields of gaze, although each case must be individualized.