JACK D. LANGE, MD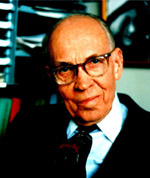 Dr. Jack Lange can truly be called a pioneer in the field of medical publishing. In 1936 as an ambitious first year medical student he began selling mimeographed lecture notes at $2 per copy to help support him and his wife during those depression-choked times. This shoestring lecture note business eventually grew into the world-renowned publishing venture known as Lange Medical Publications.
By 1983, four of his company's texts had sold more than a million copies each and to say he had a worldwide impact on health science education would understate his achievements. Jack's wife and life-time partner Deloris, who originally handled the typing and mimeographing chores, eventually became Lange Medical Publication's Chief Financial Officer.
Dr. Lange always considered himself as much a medical educator as a publisher and his goal was to provide clearly written, up-to-date books at affordable prices for students and practitioners the world over. "We weren't trying to be fancy," Lange explained years later. "We had the best-illustrated books, the simplest books, and the least expensive books." Combined with outstanding authors, a fair royalty system, and an unparalleled in-house editorial department spearheaded by Dr. James Ransom ("He made the difference between a well-written book by a top author and a superb book."), this proved to be Dr. Lange's formula for success.
The Lange books also had a well-deserved reputation for always being the most current references available. The time between receipt of manuscript from the author to availability of printed books was usually an amazingly quick six months or less. The books were kept timely by frequent revisions on a two or three-year edition cycle. The Biochemistry, Microbiology, Physiology, and Pharmacology books were on two-year cycles and the flagship title Current Medical Diagnosis & Treatment was revised annually. Adding Current titles in the fields of Surgery, Pediatrics, and Obstetrics/Gynecology established Lange as a leader in the four core clinical departments in every medical school in America.
Worldwide distribution of Lange titles was achieved by licensing of reprints and translations as well as the generous donation of books to medical schools, particularly those in developing countries. "We were not interested in how much money we could make - we wanted to be educators. This was our basic philosophy," Dr. Lange said in 1992. By the time Dr. Lange sold the company in 1986, Lange Medical Publications had books in print in nineteen languages.
Dr. Lange died in 1999 at the age of 92 and his achievements transcend publishing. He served in the Air Force during World War II, was a devoted husband and father, a world traveler, a great humanitarian, a skilled doctor, and much more. Dr. James Ransom, who joined Lange Medical Publishing as an Editor in 1951 and still edits some of the Lange titles for McGraw-Hill, perhaps summed him up best when he said, "Dr. Lange was a very good doctor as well as a very good man to work for."
William F. Ganong, MD