In 1901, the Austrian monk Gregor Mendel described autosomal-dominant and autosomal-recessive inheritance of traits in pea plants.7 Since then, these patterns—as well as X-linked dominant and recessive, mitochondrial, and polygenic inheritance—have been described in human disease transmission. A careful pedigree should elucidate the mode of inheritance in a given family.

AUTOSOMAL DOMINANT DISORDERS

In dominant disorders, the disease trait is manifested when only one copy of the gene is abnormal. These disorders often are passed directly from parent to child through several generations, with examples of transmission to children of both sexes from parents of either sex, including male-to-male transmission (Fig. 7). The risk of having affected offspring is 50% for each offspring. Many parents interpret this to mean that one half of an affected person's children will be affected and half unaffected, and thus believe they are "safe" after having one or two affected children. It is important to clarify to these parents at the outset of the discussion that there is a 50/50 chance for each offspring to be affected. For example, each flip of a coin has a 50% chance of being "heads" and a 50% chance of being "tails," but the order is random: only the final result after an infinite number of tosses results in one half of the tosses being heads and the other half tails. If neither parent is affected, the risk of each future child's being affected is usually very small, often not greater than the population risk. It should be noted, however, that some dominant disorders, such as coloboma or neurofibromatosis, have such variable expressivity that affected persons may not know they are affected.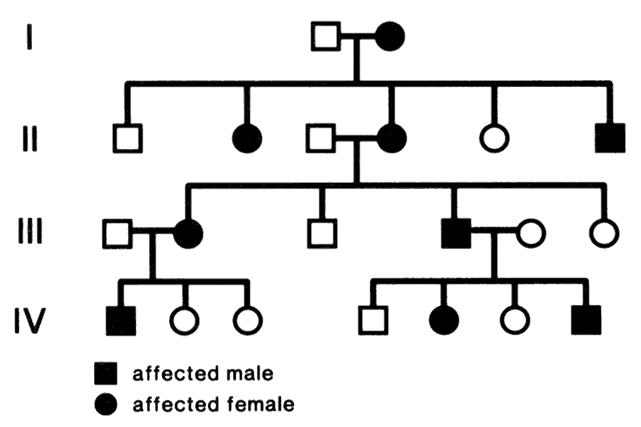 Fig. 7. Autosomal-dominant inheritance. There is vertical transmission through at least three generations in this pedigree. Only affected persons transmit the condition, and there is a 50% chance that each offspring of an affected person will be affected. Both sexes are affected in approximately equal numbers, and there is male-to-male transmission.
Dominant disorders often are caused by genes that code for structural proteins such that specific tissues are affected: for example, Stickler's syndrome in which mutations of COL2A1 make structurally abnormal collagen leading to abnormalities of the joint, palate, and face as well as abnormal vitreous, which predisposes the affected patient to myopia and retinal detachment.13,14 Often there is no family history. Remember: someone has to be the first to have a new mutation producing a dominant disorder and subsequently a pedigree. This person's father may have been advanced in age, which increases the risk of occurrence of a new dominant mutation.
Dominant disorders often show great variability in expressivity of the trait. For example, coloboma may be autosomal dominant in 22% of cases15, but some members of the family may have only a small chorioretinal "scar" as their manifestation, whereas others may have coloboma of the iris, lens, retina, and choroid, causing microphthalmia and blindness. Some dominant disorders appear to skip generations; this is often dependent on the means used to diagnose the disorder. For example, Best's macular dystrophy may appear to be absent in the young children of a large pedigree with many affected members when diagnosed by ophthalmoscopy. But if an electro-oculogram is used as the diagnostic test, more affected patients, often young children, will be found who do not yet have visible retinal changes.
In pedigrees with retinoblastoma, an abnormal copy of the Rb gene is transmitted as a dominant; however, for a person to be affected, a second somatic mutation must occur in that person. This second mutation occurs in approximately 90% of patients, but in 10% it does not, and no retinoblastoma develops. For example, a seemingly normal person who has an affected parent and an affected child is deemed "unaffected" by ophthalmoscopy, but DNA testing reveals the presence of the Rb mutation. What appeared to be a "skipped generation" was actually a fortunate lack of the second mutation needed for manifestation of the disease, although the inheritance pattern of the gene is dominant.
In some autosomal-dominant and X-linked recessive disorders, there is a phenomenon called anticipation. This means the manifestations of the disease seem to worsen in succeeding generations. An example of this is olivopontocerebellar atrophy, in which a parent may have late-onset, mild cerebellar symptoms and slowly progressive macular degeneration, while his or her child develops complete blindness and becomes wheelchair-bound at an early age. Some cases of apparent anticipation may be due to ascertainment. That is, once it is known that an inherited disorder runs in the family, everyone is more aware of symptoms, children are diagnosed at an earlier age, and they are diagnosed correctly. In some cases, however, anticipation is due to expansion of abnormal sequences of DNA; once these sequences are already longer than normal, they are likely to become more mutated with succeeding generations. This phenomenon has been well described in the Fragile X Syndrome, an important cause of inherited mental retardation in males.
X-linked dominant disorders are very rare, but do exist. In these disorders the genetic abnormality in a gene on the X chromosome is so severe that even the presence of a normal X in females cannot protect from its effects and females are severely affected. Males, who have no normal activity of these presumably vital genes, cannot survive and usually die in utero (Fig. 10). Examples which may be seen in ophthalmologic practice include incontinentia pigmenti (IP) and perhaps Aicardi's syndrome. Patients with Aicardi syndrome usually represent new mutations, while IP is not infrequently present in the family, often with variable expressivity.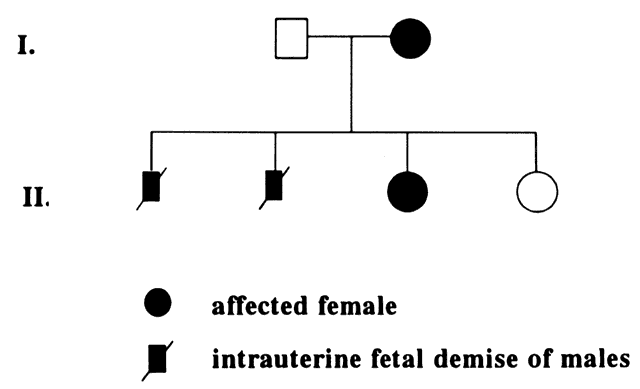 Fig. 10. X-linked dominant inheritance. Male offspring of an affected female die in utero. Female offspring have a 50% chance of being affected.
AUTOSOMAL RECESSIVE DISORDERS
Autosomal-recessive inheritance means that two copies of an abnormal gene are required to produce a trait or manifest a disease. Both parents can be normal but can have one or more children of either sex who are affected. Once parents have a child with a recessive disorder, the risk of their having another affected child is one in four (25%) for each new offspring (Fig. 8). Recessive disorders usually result from gene mutations that affect the structure of an enzyme. There is a dose effect, heterozygotes having some normal enzyme function (usually enough to be asymptomatic) but homozygotes having little or no normal enzyme function. Biochemical testing is available to determine carrier versus affected status for many such disorders, including galactosemia, homocystinuria, gyrate atrophy, and Tay-Sachs disease. Recessive disorders are, on average, more severe than dominant ones. This may be partly because dominant disorders persist in the population only if affected persons are healthy enough to reproduce and pass them on, whereas recessive genes are "hidden" in healthy heterozygotes, and therefore persist for generations, finally causing disease so severe that the affected person cannot reproduce.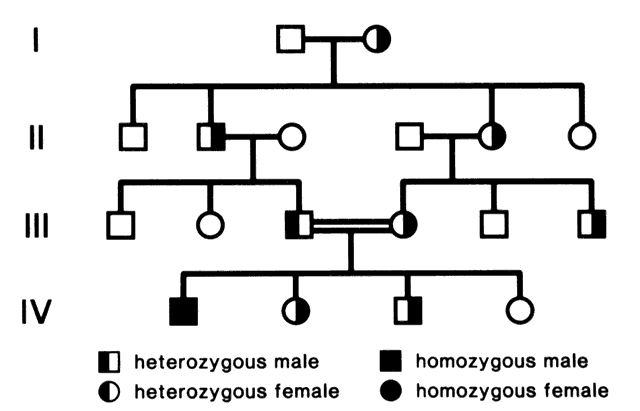 Fig. 8. Autosomal-recessive inheritance. Normal siblings of an affected (homozygous) person have a 2/3 chance of being carriers (heterozygotes). The double line indicates a consanguineous union, which increases the risk of recessive mutations coming together in an offspring.
The likelihood of manifestation of a recessive disorder increases dramatically with consanguinity, inbreeding, or geographically isolated populations. When persons who have an unusually large number of genes in common marry, recessive disorders increase in frequency. Populations in which this is known to occur include Ashkenazi Jews, especially those with ancestors who lived in the Pale; Bedouins; the Amish; and other groups that frequently marry within a small group. If autosomal-recessive inheritance is suspected, information on ethnicity of both parents and even review of family names on both sides often suggests shared ancestry.
X-LINKED DISORDERS
The key to diagnosing an X-linked recessive disorder is recognizing a pedigree in which only males are affected and all carrier females have an affected father (Fig. 9). There is never male-to-male transmission. Rarely, a woman may manifest some or all signs of the disorder, in which case she would be diagnosed as a manifesting carrier. Because men have only one X chromosome, defects in genes on X that do not have a counterpart on Y cannot be mitigated by the normal homologous gene as it can in women, who have two X chromosomes.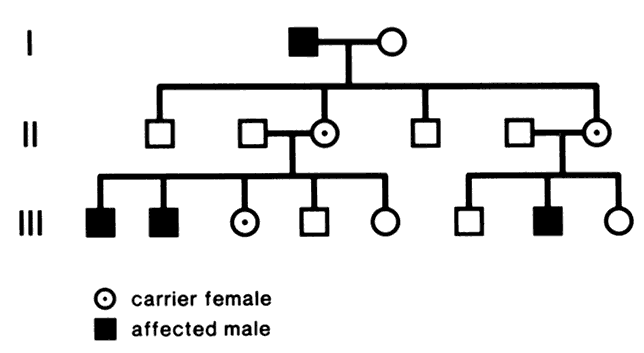 Fig. 9. X-linked recessive inheritance. There is never male-to-male transmission. All of an affected male's daughters will be carriers. A carrier female has a 50% chance of each son's being affected and of each daughter's being a carrier.
NON-MENDELIAN INHERITANCE
Mitochondrial Disorders
Some disorders clearly run in families, but just as clearly do not follow simple Mendelian patterns. An example of this is mitochondrial inheritance. Mitochondria are organelles within human cells. Mitochondria have their own circular DNA, which replicates with and is passed on like the chromosomes already described for nuclear DNA, but is physically separate, residing in the cytoplasm rather than in the nucleus of cells. These mitochondrial genes encode 13 proteins. A fascinating fact about mitochondria is that although in both men and women these genes encode protein subunits in the respiratory chain enzyme complexes and transfer and ribosomal RNAs, all of a person's mitochondria are inherited from his or her mother only. Because mitochondrial DNA is contained in the cytoplasm of cells, including that of egg and sperm, and because only the nuclear DNA of the sperm unites with the nuclear DNA of the egg, the zygote receives only the mitochondrial DNA present in the cytoplasm of the egg (i.e., from the mother).
Thus, only the mother transmits mitochondrial DNA to offspring, and only her daughters pass it on. The inheritance pattern therefore is not Mendelian. Disorders run in families through the maternal lineage, but affected women or women carriers never have affected fathers. Men are affected more frequently than women (for unknown reasons), but more females are affected than in a typical X-linked disorder (Fig. 11). The two most common mitochondrial disorders seen in ophthalmologic practice are Leber's hereditary optic neuropathy and chronic progressive external ophthalmoplegia.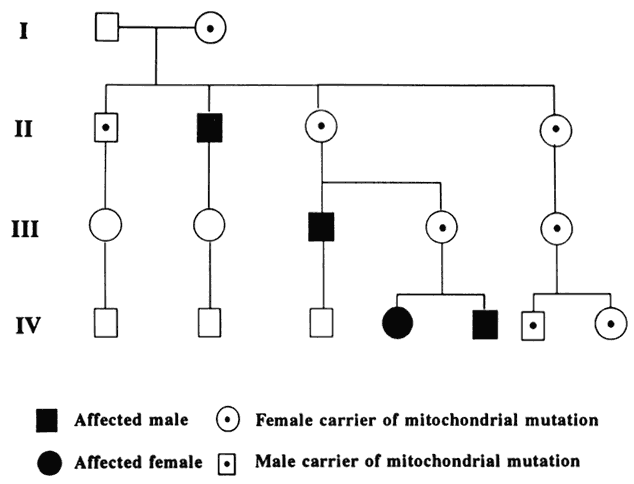 Fig. 11. Mitochondrial inheritance. Women with the mutation pass it on to 100% of their offspring, but not all are affected. Males never pass it on, whether affected or unaffected. Males with the mutation are much more likely to be affected than females with the mutation.
Polygenic Disorders
Mitochondrial disorders are quite rare; more common causes of non-Mendelian inheritance are polygenic or multifactorial disorders. Polygenic disorders obviously have a heritable component, but when rates of affected status are calculated and pedigrees examined, there is not a perfect fit with any of the known modes of inheritance; this may be due to an environmental component. A good example is refractive error. In myopia, for example, children of myopic parents are more likely to be myopic than are children of emmetropic or hyperopic parents,16 but many exceptions occur and frequencies do not strictly fit a dominant, recessive, or X-linked model. This may be because refraction depends on the interplay of axial length, lens shape, and corneal shape, each of which may be inherited separately, as well as a proposed emmetropization factor. Thus, refractive error also may be considered a multifactorial disorder because the conditions that combine to form the disorder are partially determined by one or more genetic factors (i.e., are inherited) but are also modified by environment. Certainly a predisposition for myopia is inherited; however, many studies have shown an effect of the amount of time spent reading on the development of myopia17 as well as the effect of environmental factors on myopia development in animal models.18 The combination of genetic and environmental factors makes evaluation of the genetic component especially complex.
Chromosomal Abnormalities
Chromosomal abnormalities are obviously genetic, but they may or may not be inherited or heritable. Down syndrome, which often has significant ocular morbidity, is a common chromosomal abnormality present in all populations. It is most commonly caused by trisomy 21, a disorder in which the affected person has an extra chromosome 21 that did not separate properly during meiosis. In some cases, however, a translocation occurs, causing some extra chromosome 21 material to adhere to another chromosome. This type of Down syndrome may be inherited: a parent may be carrying a balanced translocation, in which the total amount of DNA is correct but packaged asymmetrically, leading to a chromosomal imbalance in the offspring. Trisomy 13, Turner's syndrome, and many other congenital syndromes have a genetic basis, but are usually sporadic and non-Mendelian.