General anesthesia is a state of unconsciousness that includes analgesia and amnesia with or without muscle relaxation. The process of anesthesia may begin with premedication. Vital signs are monitored from the time of administration of depressant medication until recovery of consciousness. The anesthesiologist evaluates the patient postoperatively to ensure no complications have occurred.

PREMEDICATION

Premedication is given to decrease the child's anxiety, provide sedation, and facilitate both separation from parents and acceptance of mask or intravenous induction of anesthesia. Premedication should not be given to every child. Children younger than 6 months of age should not routinely receive premedication, nor should any child with upper airway obstruction (e.g., large tonsils, a history of long respiratory pauses while asleep), because sedation may easily depress spontaneous ventilation in these patients. In addition, patients with intracranial pathology (increased intracranial pressure) or end-stage liver or renal disease may experience an excessive degree of sedation. However, the anxious 1- to 5-year-old child will most likely benefit from sedation before coming to the operating room.

Midazolam administered intranasally (0.2 to0.3 mg/kg) or orally as elixer (0.3 to 0.5 mg/kg with maximum of 20 mg) has largely replaced oral diazepam (0.1 to 0.2 mg/kg) as the preferred agent for sedation in outpatient pediatric surgery. The onset of maximum effect of intranasal midazolam is rapid (10 to 15 minutes), and postoperative sedation is minimal. However, there is significant potentiation of the respiratory depressant effects of narcotics by midazolam. Fentanyl (1 to 2 μg/kg) may be given intravenously immediately before induction because of the rapid onset of its sedative and analgesic effects if an IV is present.

Preoperatively, antibiotics may be administered as prophylaxis against infection, especially for SBE in a child with congenital heart disease. Antibiotics may be administered intravenously immediately after induction of anesthesia and placement of the intravenous catheter and before intubation and start of surgery. Ampicillin, 50 mg/kg, is recommended; if an allergy to penicillin or cephalosporin antibi-otics exists, clindamycin (20 mg/kg) or vancomycin(20 mg/kg) is prescribed. Vancomycin can cause hypotension, so it must be administered over a 1-hour period (see Table 2).

REGIONAL ANESTHESIA

Some children may undergo ocular surgery with regional nerve blocks and sedation, but most young patients require a general anesthetic. If regional nerve blocks and supplementary sedation are administered, an anesthetist should always monitor the child throughout the procedure because sedation may produce complete loss of consciousness and airway reflexes. The same preoperative evaluation and fasting requirements, use of monitoring equipment, and written documentation are required for a procedure that is performed with intravenous sedation instead of general anesthesia.8

EQUIPMENT

Noninvasive continuous intraoperative monitoring includes auscultation with a precordial stethoscope, pulse oximetry, and an electrocardiogram, as well as noninvasive blood pressure and temperature determinations. End-tidal carbon dioxide and concentrations of potent inhalation agents are also monitored continuously when an endotracheal tube or LMA is in place. A peripheral nerve stimulator should be used to monitor neuromuscular function whenever neuromuscular blocking drugs are administered.

Temperature (skin, rectal, or esophageal) is routinely monitored. Some heat is lost through evaporation from the lungs and radiation from the large body surface of the infant. Measures to decrease heat loss include increasing the temperature of the operating room, using radiant heat lamps, warming the inspiratory gases with a heated humidifier, warming intravenous fluids, and keeping the child covered. Hypothermia (temperature below 35°C) can increase the potency of several drugs administered during anesthesia (i.e., muscle relaxants, narcotics, barbiturates, and inhaled anesthetics) and depress respiratory drive, especially in infants. Iatrogenic hyperthermia also occurs in small children covered with plastic drapes for a long period of time (more than 30 minutes) and should be avoided. Use of a cooling blanket and other active measures should be instituted if the child's temperature reaches 38°C.

An intravenous catheter is usually placed after induction of anesthesia when the child is asleep. The intravenous catheter should be carefully secured so it will be available for use after surgery. Stabilization of the child's arm or foot to an arm board is advisable. Principles guiding the administration of intravenous fluid are discussed later in this chapter.

The type of airway equipment used depends on the age and size of the child. The endotracheal tube chosen for most ocular surgery is a curved tube called a RAE tube, which is named for its developers Ring, Adair, and Elwyn. The advantage of this endotracheal tube is that it will not disturb the surgical field (Fig. 1). These tubes are a fixed length from the bend at the lip and thus accidental extubation or right main-stem intubation may occur after extending or flexing the patient's head.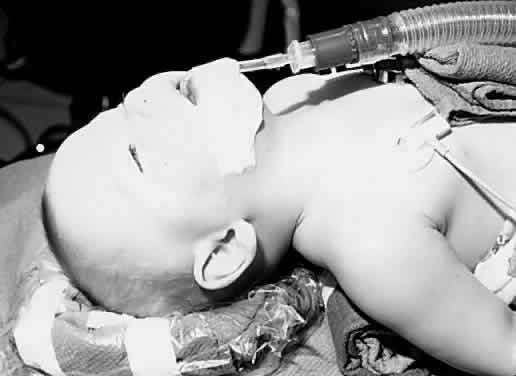 Fig. 1. An infant is positioned for ophthalmic surgery. A preformed curved endotracheal tube is in place.
An LMA is commonly used for eye surgery (Figs. 2 and 3). This mask is placed in the pharynx above the epiglottis, so it does not protect the lungs from aspiration. The LMA was developed by A. Brain in England and became popular in the United States in the 1990s. A reinforced form of LMA is also available.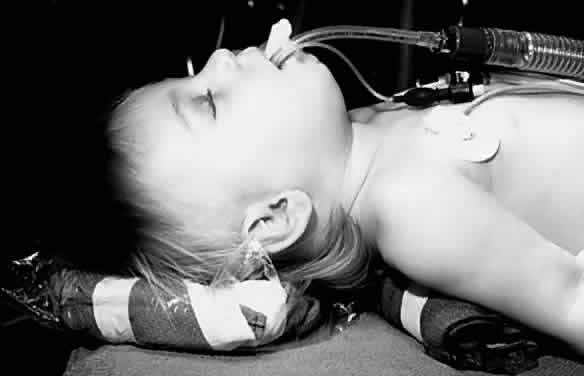 Fig. 2. A laryngeal mask airway with flexible reinforced tube is in place in this infant.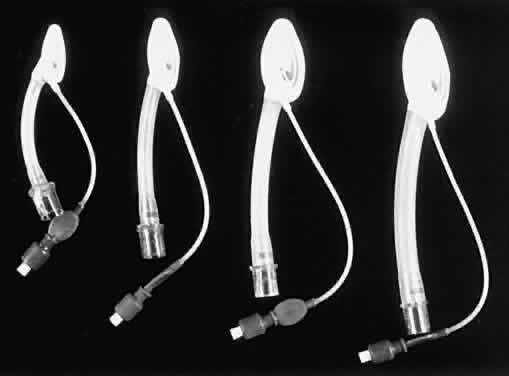 Fig. 3. Examples of laryngeal mask airways.
INDUCTION
Induction of anesthesia may be through a mask with a potent inhalational agent (halothane, sevoflurane). A pleasant flavor may be applied to the mask with Chapstick to make the mask more acceptable to the child. Other induction methods include intravenous administration of 2.5% sodium thiopental (4 to 8 mg/kg), propofol (2 to 3 mg/kg), or rectal administration of methohexital sodium (20 to30 mg/kg). Intramuscular injection of ketamine (1 to 8 mg/kg) may facilitate induction but nystagmus is common and may make ocular surgery difficult. Light levels of anesthesia may produce poor operating conditions. Bradycardia with or without hypotension may occur during inhalation induction with halothane and is caused by the cardiac effect of halothane. This is less common with sevoflurane than halothane. Bradycardia is treated by administering atropine (10 to 20 μg/kg), intravenous fluids, intravenous calcium, or epinephrine, and discontinuing the anesthetic agent. Because intravenous medication can facilitate securing the airway and establishing cardiovascular stability, an intravenous catheter should be placed as soon as possible after the child is asleep. In children, veins in the lower extremities or scalp may be used in addition to those in the upper extremities.
Intramuscular injection of ketamine is usually reserved for uncooperative children who have not been sedated adequately by premedication withmidazolam or for older children (15 to 20 years) who are unable to control themselves in the operating room setting (e.g., the severely mentally handicapped). Low-dose ketamine (1 to 3 mg/kg IM) may quiet the child sufficiently to accept intravenous or mask induction. Complications of intramuscular ketamine include a possible increase in intraocular pressure (IOP), increased secretions, loss of airway reflexes, airway obstruction, and postoperative hallucinations. Anticholinergic should be administered with ketamine to decrease secretions.
INTUBATION
Some surgical procedures can be performed without an endotracheal tube in place, such as examination under anesthesia or probe and irrigation of the nasolacrimal duct, especially if the procedure is brief (less than 5 minutes; Figs. 4 and 5). However, intubation with a properly sized endotracheal tube is a routine part of most procedures involving anesthetics, especially in younger patients undergoing surgery on the face, and this can be safely performed even for brief procedures. Intubation should be performed when the child is deeply anesthetized and has little muscular tone. Neuromuscular blocking drugs are optional. Common complications ofmask anesthesia include airway obstruction, laryngospasm, silent aspiration, and hypotension from deep anesthesia. Protecting the airway with a properly sized endotracheal tube can prevent most of these problems.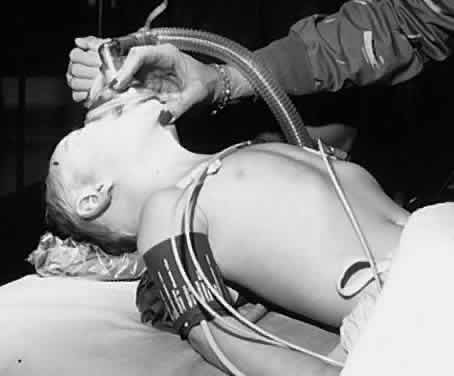 Fig. 4. A child is positioned for a brief procedure with a mask anesthetic.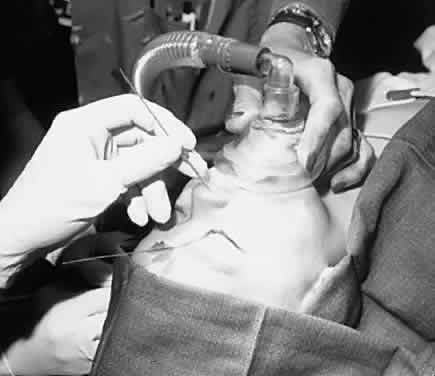 Fig. 5. Mask is positioned in this manner for a probe and irrigation of the nasolacrimal duct.
An LMA may be used instead of an endotracheal tube (see Figs. 2 and 3). This type of airway is less stimulating than an endotracheal tube and is easier to place; however, aspiration of gastric fluid into the lungs may still occur. Insertion of an LMA in an anesthetized child does not increase IOP as tracheal intubation does.
MAINTENANCE ANESTHETICS
Maintenance anesthetic drugs include intravenous propofol (50 to 300 μg/kg/min), remifentanil (0.1 to 0.4 μg/kg/min), or potent inhalational agents (e.g., halothane, isoflurane, and sevoflurane) with analgesic, muscle relaxant, and antiemetic added when needed. N2O is often added but there is some evidence that this may contribute to postoperative nausea and vomiting. Fentanyl (1 to 2 μg/kg) may be administered to those children who are likely toexperience postoperative pain. Other analgesics such as morphine (0.05 to 0.1 mg/kg), acetaminophen (10 to 30 mg/kg), or ketorolac (0.8 mg/kg with maximum of 30 mg) may also be used. Nondepolarizing neuromuscular relaxants may be administered as well. Antiemetic sedatives such as droperidol (10 to 75 μg/kg) may be administered. Other commonly used antiemetics include ondansetron (0.1 mg/kg with maximum of 4 mg) and metoclopramide (0.15 to 0.2 mg/kg) IV. Because the choice of drug may differ depending on the duration of surgery, careful estimation of surgical time helps the anesthesiologist to make an appropriate choice, thus increasing the chance of a prompt, smooth emergence from anesthesia when the surgery has been completed.
SUCCINYLCHOLINE
Succinylcholine is a depolarizing neuromuscular blocking drug that has a rapid onset (less than 1 minute) and a short duration (less than 5 minutes) of effect when 1 to 2 mg/kg is administered intravenously to a patient with normal plasma cholinesterase function. This drug is used to facilitate intubation for emergency procedures in patients with a full stomach or to treat laryngospasm; it has many undesirable side effects: arrhythmias, bradycardia, sinus arrest or asystole, hyperkalemia, noticeably increased muscle tone in the masseter, potential trigger of malignant hyperthermia, myoglobinemia, myoglobinuria, increase in intragastric pressure, and transient increase of IOP. The mechanism for the increase in IOP is unclear; possible causes include a direct effect on choroidal blood volume, increased formation of aqueous humor, or tonic response of the extraocular muscles. Muscle fasciculation is not the cause. The increase in IOP may be as great as 10 to 20 mmHg and lasts for 4 to 6 minutes. The results of forced duction tests may be altered for 20 to 30 minutes after a patient received succinylcholine. Vitreous humor may be extruded from an open globe if IOP increases after succinylcholine. Enophthalmos may occur after succinylcholine administration; this too resolves with time, but it may make an intraocular procedure more difficult to perform.
EMERGENCE
Emergence from anesthesia should be smooth. Coughing on the endotracheal tube can cause an increase in both venous pressure and IOP and can be avoided by extubating the child while he or she is still deeply anesthetized before all airway reflexes have returned. Potential complications of extubation are airway obstruction including laryngospasm, hypoxemia (even without airway obstruction), and aspiration of secretions or gastric contents. Infants younger than 6 months of age should not be extubated while anesthetized. They are more likely to have airway obstruction and hypoxemia than older infants and children are because of their relatively large tongues and irregular breathing patterns or breath holding. Some anesthesiologists advocate intravenous lidocaine (1 to 1.5 mg/kg) at the com-pletion of the procedure to reduce incidence of coughing on the endotracheal tube. This drug increases the depth of anesthesia and may be effective at blocking airway reflexes. Laryngospasm can precipitate postobstructive pulmonary edema that may require oxygen, continuous positive airway pressure (CPAP), and treatment with diuretics (furosemide [Lasix] 0.1 to 0.2 mg/kg).
FLUID MANAGEMENT
Fluids to be administered perioperatively are divided into four categories: maintenance, deficit, third-space loss, and blood replacement. The last two categories are unnecessary for most elective ocular procedures. Hourly maintenance fluid is calculated by the child's weight: 4 ml/kg for the first 10 kg, plus 2 ml/kg for each kilogram between 10 and 20 kg, plus 1 ml/kg for each kilogram over20 kg (Table 3). The ideal maintenance fluid to provide for metabolic needs is 2.5% to 5% dextrose in 0.25 normal saline (NS); however, usually Ringer's lactate (RL) is administered intraoperatively to provide both maintenance as well as deficit fluid replacement to ensure that adequate sodium is provided. Glucose solutions may be administered to infants less than 2 months of age intraoperatively because hypoglycemia is otherwise undetected under general anesthesia. In adults and healthy children who have fasted for only 3 hours, hypoglycemia is unlikely to occur during an anesthetic of short duration.9 Endogenous catecholamine release during induction of anesthesia and surgery usually increases blood glucose intraoperatively. Administration of excessive amounts of dextrose is also undesirable, because osmotic diuresis may result.

All patients have obligate fluid loses due to respiration, urination, and sweating. This loss is a large percentage of extracellular fluid volume in the child. Therefore, it is necessary to replace the fluid deficit that has occurred while fasting. Deficit fluid is calculated by multiplying the maintenance volume by the number of hours of fasting (i.e., a 10-kg child fasting for 8 hours requires: [10 kg × 4 ml/kg/hr] × 8 hr = 320 ml). Half of this deficit should be replaced in the first hour of surgery, and the remainder during the second and third hours. RL is usually administered for this purpose. Because nausea and vomiting are common postoperative complications after extraocular muscle surgery, postoperative dehydration may be avoided or decreased by administering all the fluid deficit in the perioperative period.
Acute sequestration of fluid to a nonfunctional interstitial compartment, also known as third-space loss, is usually minimal for ocular surgery but greater for thoracic or abdominal procedures. The estimated loss (1 to 10 ml/kg) is added to the maintenance rate using RL.
Blood loss must be replaced with clear fluid (RL or NS) at a ratio of 2:1 or 3:1, or with albumin, packed red blood cells, or whole blood at a lower ratio of 1:1 replacement. Which fluid is chosen depends on the expected total amount of blood loss, measured blood loss, availability of blood products, and minimum hematocrit allowable for the individual patient. A fluid challenge (RL or albumin) may be given in 10 ml/kg increments.