One of the most common questions asked by clinicians (and one of the hardest to answer sensibly) is, "What does my sample size need to be?" The answer to this grows out of the discussion above on type I and type II errors. Obviously, the investigator would like to design the study so that the risk of committing either type of error is kept small. In the simple case of a clinical trial of two therapies, a reasonable goal is to be able to reach one of two conclusions: Either (1) there is a statistically significant difference between treatments, or (2) there is no clinically important difference between the two treatments. Of course, in the first case, one would also want to report the direction and magnitude of the difference.

Unfortunately, some experiments that fail to show a statistically significant difference also fail to rule out the possibility of a clinically important difference. This result is not very satisfying to the investigator, the statistician, or the reader, but it is a definite possibility when the sample size is too small. Sample size calculations are designed to help the investigator choose a sample size that will provide a reasonable chance that the results will be statistically significant at some specified level if there is a clinically important difference between the two treatments.

To compute a sample size (or use one of the many available tables), the investigator must answer three questions:
What probability level should be defined as "significant?"

What constitutes a "clinically important difference?"

What should be used as the probability of a type II error?

These issues are discussed in the next section.
WHAT PROBABILITY LEVEL SHOULD BE DEFINED AS "SIGNIFICANT?"
The conventional 0.05 level may be chosen, or if multiple tests are going to be made on the data, it may be more appropriate to use a more stringent criterion, such as 0.01. This probability is called the α-level. When the null hypothesis is true, α represents the probability the experimenter will commit a type I error.
WHAT CONSTITUTES A "CLINICALLY IMPORTANT DIFFERENCE?"
This decision is a difficult one and not to be taken lightly. An alternative way of stating it if you are the investigator is to ask yourself what is the smallest difference you would be willing to take a chance on missing. The smaller the difference, the larger the sample size necessary to detect it.
Clinicians (and some statisticians) often make a mistake here and specify the difference they hope exists, not realizing that this policy means that should the difference between treatments be smaller than anticipated (but nonetheless important), there is no assurance that it will be found to be "statistically significant."
WHAT SHOULD BE USED AS THE PROBABILITY OF A TYPE II ERROR?
How sure does the investigator want to be of picking up a clinically important difference if one exists? Conversely, how large a chance is he or she willing to run of missing a clinically important difference? The chance of a type II error, or missing a specified difference, should it exist, is called the β-value. The complement of β, the chance of detecting the difference, is called the "power" of the experiment. Only an infinite sample size will be 100% powerful. It is common practice to design experiments with 90% power, or a β-value of 0.10. This means that if the difference between treatments is really as large as that specified as "clinically important," the experiment has a 90% chance of yielding results that are statistically significant at the specified level. At first, 10% may seem like a large risk to take of missing the difference. In actual practice, the risk is not as great as it would appear. Even if the results are not "statistically significant" at the end of the experiment, any important differences are likely to show up as strong trends that suggest that further investigation is warranted.
When the above-mentioned assumptions are in hand, standard formulas and tables are available for computing the required sample size. The exact formula to be used depends on the type of variable to be observed (e.g., Is "effectiveness" to be evaluated by comparing percent successes or average values of a quantitative variable?) and the statistical tests to be employed (Will we use a two-tailed test? Will we adjust for lack of continuity?).
As an example of how sample size calculations are done, consider a clinical trial with two groups of patients to be randomly assigned to treatment A and treatment B, and some immediate effect will be observed to determine "success" or "failure." Table 1 could be used to find the required sample size as follows: Suppose treatment A is known to have a 50% failure rate. Suppose further that this is a simple short-term experiment with a straightforward one-time analysis so it is reasonable to use 0.05 as the cutoff point for "significant." Although the investigators have great hopes that treatment B will reduce the failure rate to 10%, cutting failures in half would be important clinical news. Therefore, the experiment might be designed to have a high (90%) probability of detecting a difference in failure rates at least as large as 50% versus 25%. Furthermore, if it should turn out that treatment B is actually worse, that would also be an important finding, so a two-tailed test should be employed. Table 1 shows that the required sample size is 77 patients in each group for a total of 154 for this set of assumptions (α = 0.05, β = 0.10, p1 = 0.5, p2 = 0.25). Formulas appropriate to other situations are available in standard texts.
Table 1. Sample Sizes: Number of Patients Needed in Each of Two Groups*

P1
P2
0.05
0.10
0.15
0.20
0.25
0.30
0.35
0.40
0.45
0.50
0.05
581
187
100
65
46
35
28
22
19
0.10
581
916
266
133
82
56
42
32
25
0.15
187
916
1210
334
161
96
65
47
35
0.20
100
266
1210
1462
392
184
108
72
51
0.25
65
133
334
1462
1672
439
203
117
77
0.30
46
82
161
392
1672
1840
476
217
124
0.35
35
56
96
184
439
1840
1966
502
226
0.40
28
42
65
108
203
476
1966
2050
518
0.45
22
32
47
72
117
217
502
2050
2092
0.50
19
25
35
51
77
124
226
518
2092

* p1, p2 = binomial proportion groups 1, 2; alpha = 0.05, beta = 0.10


DESCRIBING DATA FROM FOLLOW-UP STUDIES

A common problem encountered in ophthalmology is describing the results of a long-term follow-up study in which patients enter at various points in time and are watched for months or years for the occurrence of some event such as retinal detachment or loss of vision. Too often, the results of this type of study are summarized with a statement such as the following: "110 patients with disease x were observed for periods ranging from 1 to 3 years (mean follow-up, 24.0 months). Twenty-five of the 110 patients (22.7%) became blind during the follow-up period."

Unfortunately, statements like those in the last section are not as informative as they sound and do not use the available data to the fullest. Indeed, the type of summary illustrated above may even be misleading, especially if interpolations (such as approximating the blindness incidence rate as 11% per year) and comparisons are made using the results as stated.

A much better method for summarizing follow-up data is the technique commonly called survival or life-table analysis. In this type of analysis, an "event" such as blindness or death is defined and all patients are followed until the event occurs or until the date of analysis. The length of follow-up is then computed for each patient as the time elapsed from entry into the study to the event or date of analysis, whichever comes first. The cumulative proportion with an event is calculated for each point in follow-up time, as shown in Figure 4 from the Diabetic Retinopathy Study.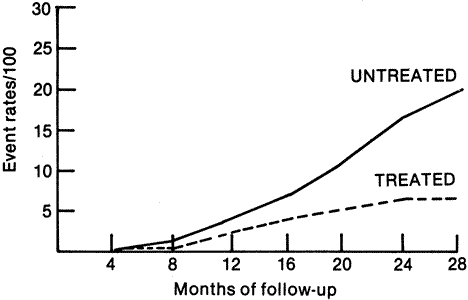 Fig. 4. Cumulative event rates of visual acuity less than 5/200 at two or more visits for all patients. (Redrawn from Diabetic Retinopathy Study Research Group: Preliminary report on effects of photocoagulation therapy. Published with permission from The American Journal of Ophthalmology 81:383–396, 1976. Copyright © The Ophthalmic Publishing Company.)
One easy method of computing the cumulative probability of an event is illustrated in Table 2, which contains real data on the occurrence of severe visual loss in untreated senile macular degeneration. The first step is to compute some probabilities of not having an event. (In life-table terminology, not having an event is called "survival," an unfortunate choice from the ophthalmological viewpoint.) First, an interval survival is computed for each point in follow-up time as the number of patients (eyes) "surviving" that time point (passing through without an event) divided by the number at risk (those followed up to the interval without an event). It is easy to show that the cumulative survival at any time is the product of all preceding interval survivals. The cumulative survival for time zero (start of the study) is not shown on the table but always equals one.
Table 2. Life-Table Computations: Development of Severe Visual Loss in Eyes With Parafoveal Neovascular Membranes Due to Senile Macular Degeneration

Interval
(i)
Number of Eyes in "No Treatment" Group
B
At Risk
C
With Event
D
Interval Survival
1 – C/B
E
Cumulative Survival
D (E1–1)
F
Cumulative Event Rate
1 – E
6
84
24
0.71
0.71
0.29
12
39
11
0.72
0.51
0.49
18
13
3
0.77
0.39
0.61

(Adapted from Macular Photocoagulation Study Group: Argon laser photocoagulation for senile macular degeneration. Arch Ophthalmol 100:912–918, 1982. Copyright © 1982, American Medical Association)


Life tables have the advantage of using the full information on patients followed for various lengths of time. Patients who entered the study too late to be observed for the full time of the analysis are called "withdrawals" in life-table terminology because they are withdrawn from the computations for certain time intervals. Clearly, they are not withdrawn from the study, however, and are considered at risk for as long as they were observed. True dropouts (i.e., patients who refuse to or are unable to return) are analyzed the same way as withdrawals, but the investigator needs to remember that one important requirement of life tables is that all withdrawals be subject to the same probability of an event as nonwithdrawals. No method (including life tables) can adjust for the bias inherent in failure to obtain complete follow-up.

Life tables are usually presented in the form of a graph. Either the cumulative proportion with an "event" or the proportion "surviving" without an event may be illustrated.