DISTANCE VISION
Ranges of Vision Loss
Vision loss is not an all or none phenomenon. Since the 1970s, the WHO has recognized this by replacing the simplistic dichotomy between those who are considered legally blind and those who are considered legally sighted with a set of ranges. In ICD-928 and ICD-9-CM,30 the range of low vision took its place between the ranges of normal (or near-normal) vision and blindness (or near-blindness). The word low indicates that these individuals do not have normal vision; the word vision indicates that they are not blind. The ranges used in ICD-9-CM are listed in Table 3.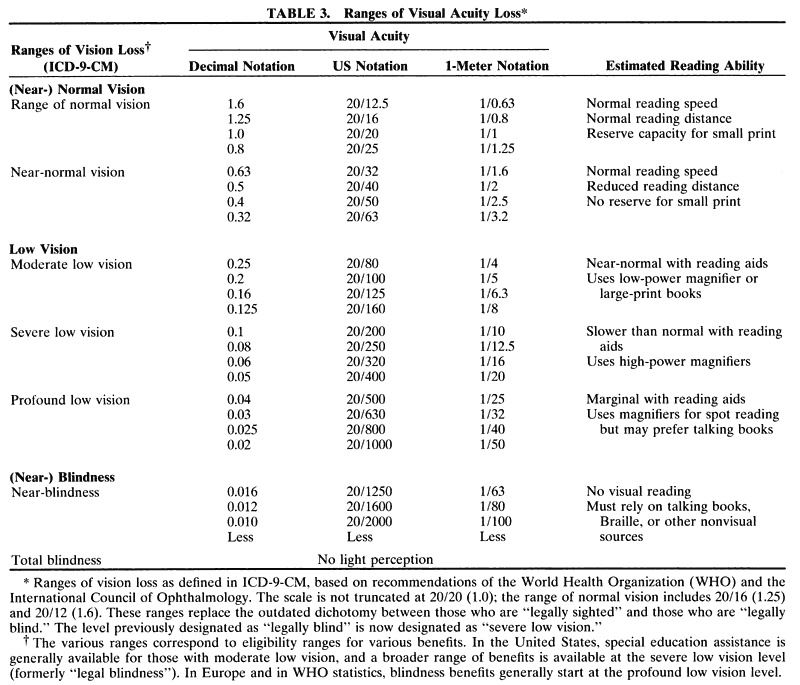 Although these changes were made a quarter century ago, the use of the term blindness to denote partial vision loss is still prevalent. This is regrettable, since it fosters misconceptions among patients and practitioners. Patients tend to accept the statement that they are legally blind as an irreversible verdict of hopelessness. Telling them that they have severe low vision (the corresponding ICD-9-CM term) tells them that they have a problem but that there are ways to cope with it. To call a patient with a severe vision loss "legally blind" is as preposterous as calling a patient with a severe heart ailment "legally dead."
Measurement Considerations
Letter recognition, on which clinical visual acuity measurement is based, is a rather complex function that involves not only optical factors but also cognitive and motor abilities. When choosing our test parameters, we strive to keep the cognitive and motor requirements minimal so that we measure mainly optical factors. Within the group of optical factors, we strive to keep factors such as contrast and illumination optimized so that the main remaining variable is magnification.
Visual acuity can be thought of as the reciprocal of the magnification threshold for letter recognition. Magnification is the factor on which Snellen's formula is based. If a subject needs letters that are twice as large or twice as close as those needed by a standard eye, the visual acuity is said to be 1/2 (20/40, 0.5), if the magnification need is 5× , the visual acuity is 1/5 (20/100, 0.2), and so forth.
It is not always possible to avoid the cognitive factors. This is the case for infants and preschool children who do not yet know the entire alphabet. For them, we often use other methods, such as grating detection or picture recognition. It is important to realize that these are different tasks, which may have different magnification requirements. Similar considerations exist for developmentally delayed individuals. Sometimes it appears that the motor concept of directionality that is required to respond to tumbling Es is a limiting factor. Testing with different modalities may help to give an insight into these nonoptical factors. In elderly stroke patients with macular degeneration, the question may arise whether inability to read is the result of the macular degeneration or of the stroke. Failure to respond to larger print may point to cognitive rather than optical factors. In the following discussions, it will be assumed that cognitive and motor factors are indeed trivial. Even so, many choices remain to be made, including test distance, letter size progression, criterion, contrast and illumination, visual acuity notation, and test symbols.
CHOICE OF TEST DISTANCE FOR NORMAL AND NEAR-NORMAL VISION.
Most patients seen in ordinary practice have visual acuity in the range of normal and near-normal vision (20/60 or better, ICD-9-CM; see Table 3). For these patients, the most commonly used testing distances are 20 feet, 6 meters, and 5 meters. These distances were chosen not because they are especially appropriate for visual acuity measurement but because at these distances the optical difference with infinity may be ignored. The stimulus for the development of the letter chart came from Donders' work on refraction. Traditional chart designs reflect the emphasis on screening and on refractive use. In the near-normal range, the steps between letter sizes are small; for lower acuity they become larger (see Fig. 10); for acuity worse than 20/200 (0.1), vague statements such as "count fingers" and "hand motions" are used.

Fig. 10. Various letter size progressions. The spacing in this chart is proportional to the step sizes. Only a geometric progression maintains the same step size throughout.
In 1973 Hofstetter proposed the use of a 4-meter test distance34 for use in smaller rooms. For visual acuity measurement, this distance is as valid as any other distance, provided that it is properly entered into the Snellen formula. Sloan liked the 4-meter distance because it made for easy conversion to a 40-cm reading distance. The ETDRS charts adopted it because charts with the Bailey-Lovie layout would have to be substantially wider if designed for 5 or 6 meters. At 4 meters, however, the accommodative demand becomes 0.25 diopter and can no longer be ignored. Another option for small rooms is the use of mirrors.
For young children, a test distance of 10 feet or 3 meters is often recommended, because it is easier to hold their attention at the shorter distance.
CHOICE OF TEST DISTANCE FOR LOW VISION.
A much smaller group of patients has visual acuity in the low-vision range (less than 20/60, ICD-9-CM; see Table 3). For this group, the magnification need for visual rehabilitation becomes an important objective. Kestenbaum35 pointed out that the magnification need can be found by taking the reciprocal of the visual acuity (e.g., 20/100 requires 100/20 = 5× , 20/200 requires 200/20 = 10× ). Bringing the chart from 20 feet (6 meters) to 10 feet (3 meters) can double the measurement range, but bringing the chart to 1 meter extends it by a factor 6× . Measuring at 1 meter has the additional advantage that the Snellen fraction is as simple as possible (1/ …) and can be converted easily to an equivalent for any other distance by multiplying numerator and denominator by the same number (e.g., 1/20 =20/400 = 5/100 = 6/120 = 0.05). The 1-meter column in Table 3 shows that a 1-meter chart with letters up to 50 M can cover the entire low-vision range down to 1/50 (20/1000, 0.02). Taking the same chart to 10 feet would extend the measurement range only to 20/300 (0.06).
At short distances, such as at 1 meter, it becomes critically important to maintain the viewing distance accurately. A movement of only 10 cm (4 inches) would introduce a 10% error. This can be prevented with a 1-meter cord attached to the chart (Fig. 9). Such charts can be homemade or purchased commercially.36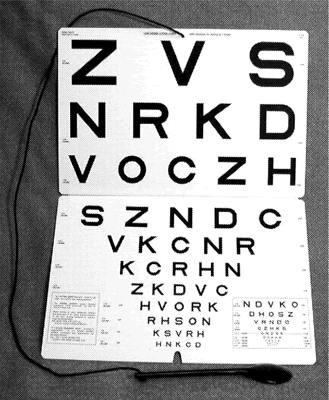 Fig. 9. One-meter chart. This chart is designed for measurement at 1 meter in the low-vision range. It allows accurate measurement of visual acuity from 1/50 (20/1000, 0.02) to 1/1 (20/20, 1.0). A 1-meter cord is attached to maintain the viewing distance.36

Optical correction for refractive error is important for this group, but the question "better or worse?" looses significance when the patient cannot see the letters on a chart at 20 feet. Being able to see several lines on a 1-meter chart can provide major encouragement and better responses to subjective refraction. Presbyopic patients need a 1 D correction for the 1-meter distance. This is easier to provide than a 1/3-D correction for a 10-foot (3-meter) distance.37,37a

CHOICE OF LETTER SIZE PROGRESSION.

Snellen's original charts had small steps for the normal range and larger steps for the lower ranges. Introduction of the decimal acuity notation19 led to charts with visual acuity steps in 0.1 increments. On these charts the steps at the top of the scale, such as 0.9 → 1.0 → 1.1, are too small to be practical. If equal increments of the denominator were used, the steps at the bottom of the scale would be too small to be useful. The only scale that can span the full range is a logarithmic scale, based on equal ratios between each pair of successive lines. This is in accordance with Weber-Fechner's law,38 which states that geometric increments in stimulus give rise to linear increments in sensation. Westheimer39 has shown that this also holds for visual acuity. Figure 10 compares various progressions.

Use of Preferred Numbers.

Various geometric progressions are possible. The one that fits best with the decimal system is one in which 10 steps equal 10× , so that the same numbers repeat in each 10× interval, with only a shift in decimal place. A very convenient feature of this series is that 3 steps equal 2× . When this series includes the values 1 and 10, it is known as the preferred numbers series. It is extensively used in international standards* and, indeed, is the subject of an international standard itself.40 This is the series that Green used in 1868.


Its use in standards goes back to Renard, a French army engineer, who used it in the 1870s to reduce the number of cables for hot-air balloons from 400 to 17. In his honor, the series is also known as Renard series.

An important characteristic of the preferred numbers series is that the product or quotient of two preferred numbers is again a preferred number. Thus, if letter sizes and viewing distances follow the series, so will the resulting visual acuity numbers. A visual acuity chart based on this feature was published by M.C. Colenbrander41 in 1937.

Sloan and Bailey both used the progression but apparently were unaware of the preferred numbers standard. For the Sloan and ETDRS charts, this does not make a difference, since 20 feet and 4 meters are both preferred numbers. Bailey anchored his series at a 6-meter viewing distance, which is 5% off the closest preferred number (6.3); therefore, his letter sizes include values such as 19, 48, and 95 instead of 20, 50, and 100 (Table 4). For clinical use, these 5% differences can be ignored. The tables and figures in this chapter are based on the use of preferred numbers.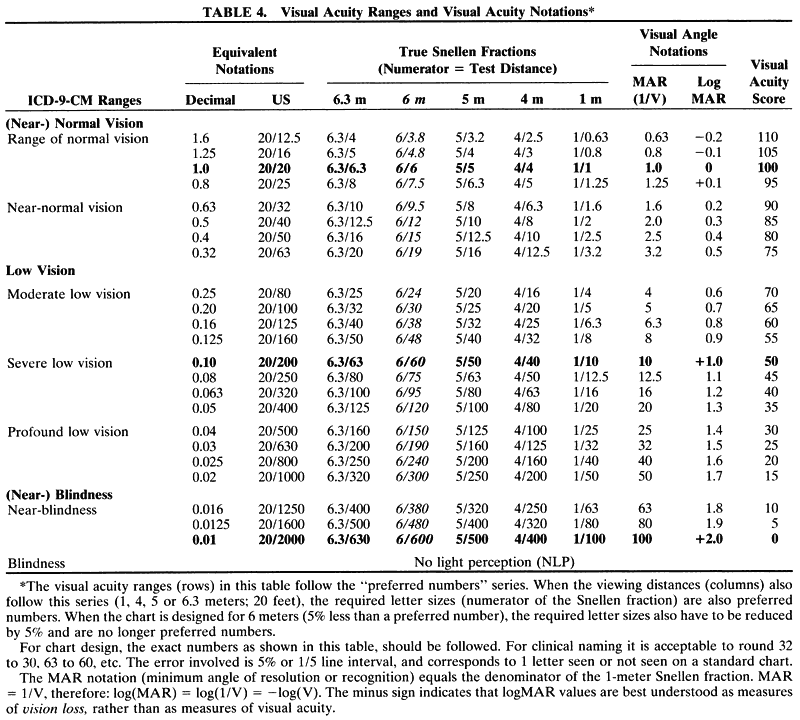 CHOICE OF CONTRAST AND ILLUMINATION.
Contrast and illumination both influence visual acuity. Fortunately, in the range of commonly used values, this influence is minimal. If contrast is reduced to a level where it affects visual acuity, we speak of a contrast sensitivity test, which is discussed elsewhere. If illumination is lowered to threshold values, we may speak of a dark adaptation test.
Visual acuity is usually not affected until contrast drops below 20%. Normal visual acuity charts have contrasts of 80% or better. For use in a routine eye examination, projector charts in a dim or darkened room are generally preferred. In the United States, the average projector chart has a luminance of about 85 cd/m2; European charts are generally brighter, up to 300 cd/m2. The lower luminance has the advantage that the pupil may be wider, so that refractive errors may be more obvious; the brighter charts have the advantage that they suffer less from stray light, which causes contrast degradation. The ICO Visual Acuity Measurement Standard23 recommends a range that includes both the lower and the higher values.
To predict the everyday performance of patients, a lighted printed chart in a lighted room is preferred. Front lighting is easiest to implement. Back lighting of a translucent chart on a light box gives the most even and most reproducible illumination. The usual backlit ETDRS chart has an illumination level of about 200 cd/m2. For patients with conditions such as albinism or rod dystrophy, it should be possible to reduce the illumination, which may result in a significant increase in visual acuity.
A presentation method, which undoubtedly will gain more widespread use in the future, is presentation on a computer screen. This allows presentation of single letters, as well as presentation in a letter chart format. It also allows control over parameters such as crowding, contrast, and brightness.
CHOICE OF VISUAL ACUITY NOTATION.
The result of the visual acuity measurement can be recorded in a variety of ways.
True Snellen Fractions.
The notation promoted by Snellen was that of a true Snellen fraction, in which the numerator indicates the actual test distance and the denominator indicates the actual size of the letter seen. The advantage of this notation is that it indicates the actual test conditions. The disadvantage is that it becomes awkward to compare visual acuity values measured under different conditions. This is especially true for projector charts, where the projector magnification is often adjusted to accommodate fractional viewing distances.
Snellen Equivalents.
To overcome this difficulty, Snellen equivalents are used. In Europe, the decimal equivalent of the Snellen value is used most often. This notation is clear because there is no numerator or denominator. The notation becomes confusing when the decimal notation is converted back to a pseudo-Snellen fraction. For example,5/25 = 0.2 = 2/10; the 2/10 fraction would suggest that the subject saw a 10 M letter at 2 meters, instead of a 25 M letter at 5 meters.
In the US Notation, a 20-foot fraction is usually used as a Snellen equivalent. For example, in an examination lane of 18 or 21 feet, the true Snellen fractions would be 18/18 or 21/21. Instead, the visual acuity is recorded as 20/20 in both cases. Thus, seeing 20 as the numerator of a visual acuity fraction rarely implies that the actual measurement was made at 20 feet.
In Britain, the 6/6 notation is similarly used as a Snellen equivalent.
Visual Angle Notation was used by Louise Sloan. It refers to the visual angle of the stroke width of 5 × 5 letters. Thus, 1 minute equals 20/20 (1.0), 2 minutes equals 20/40 (0.5), and so forth. The visual angle is the reciprocal of the visual acuity value and equals the denominator of the 1-meter Snellen fraction. Others have used the acronym MAR. In the context of physiologic optics, this term is usually interpreted as "minimal angle of resolution" and best describes grating acuity; in the context of psychophysics and clinical testing it might be better interpreted as "minimum angle of recognition," while in the context of vision rehabilitation it might be interpreted as "magnification requirement." Because higher MAR values indicate poorer vision, MAR should be considered a measure of vision loss.
LogMAR Notation was introduced by Bailey.31 As the name implies, logMAR is the logarithm of the MAR value, thus converting a geometric sequence of letter sizes to a linear scale. Like MAR, logMAR is a notation of vision loss, since positive logMAR values indicate reduced vision, while normal vision (better than 20/20, 1.0) is indicated by negative logMAR numbers. Standard vision (20/20, 1.0) equals 0. On a standard chart, each line is equivalent to 0.1 logMAR; thus + 1.0 logMAR means 10 lines lost or 20/200 (0.1), and + 2.0 logMAR means 20 lines lost or 20/2000 (0.01).
Since Bailey used the logMAR notation with a geometric progression of letter sizes, the term logMAR chart is often used to imply a geometric progression. This is not necessarily so; a logarithmic scale could be applied to any progression. The decimal values and reverse scale do not make the logMAR notation particularly user-friendly. For everyday clinical practice, Snellen equivalents are easier, since they relate directly to the measured quantities of letter size and viewing distance.
The logMAR notation has gained widespread use in psychophysical studies, for statistical calculations, and for graphical presentation of the results of multicenter clinical studies. It provides a more scientific equivalent for the traditional clinical statement of "lines lost" or "lines gained," which is valid only when all steps between lines are equal.
Visual Acuity Rating (VAR; Bailey42) and Visual Acuity Score (VAS; Colenbrander43) are two names given to a more user-friendly equivalent of the logMAR scale. On the VAR or VAS, 20/20 (1.0) is rated as 100, 20/200 (0.1) is rated as 50, and20/2000 (0.01) is rated as 0. On an ETDRS-type chart, each line thus represents a five-point increment. The score can therefore be interpreted as a count of the total number of letters read, starting from 20/2000 (0.01). See Table 4 to relate the VAS/VAR, MAR, and logMAR notations to various visual acuity levels. The VAR relates only to visual acuity; the VAS is part of a broader scoring system.
The VAS, VAR, and logMAR notations convert the geometric sequence of visual acuity values to a linear scale. This is important if visual acuity values are to be averaged or subjected to other statistical calculations. The difference between averaging on a geometric scale and averaging on a linear scale is best demonstrated with an example. What is the average of 20/20 and 20/200? Averaging the denominators yields 20/110, a value too close to 20/200 (see Table 4). Averaging the decimal equivalents (1.0 and 0.1) yields 0.55, a value too close to 1.0. On the VAS scale, the average of 100 and 50 is 75, which can be converted back to 20/63 or 0.32 (rounded to 20/60 or 0.3), exactly halfway.
CHOICE OF CRITERION AND ROUNDING OF VALUES.
The recorded visual acuity value can be influenced by the choice of completion criterion and by rounding. Most clinicians record visual acuity in line increments and consider a line read if more than half of the letters are read correctly (e.g., three of five on an ETDRS-type chart). A suffix such as -1 or + 2 may be added to indicate one letter missed or two letters read on the next line. These suffixes are most meaningful if the number of letters on each line is constant. On most charts, the test-retest confidence limits are about ±2 letter increments or about 0.5 line increment.44 For routine clinical use, in which the patient generally reads each line only once, rounding to line values is common practice. It is appropriate, since the rounding errors are of the same order as the confidence limits.
For a finer gradation on an ETDRS-type chart, letter increments can be counted. The total number of letters read, starting from 20/2000 (0.01), is the VAR or VAS discussed above. Letter increments are appropriate in research settings, where measurements are repeated and then averaged to detect smaller changes.
Another factor that can affect the score is whether subjects are encouraged to guess. Since different subjects may vary in their willingness to guess, forcing all to guess will produce more homogeneous results.
When a subject cannot read a line on a chart, some clinicians present an isolated line or an isolated letter. This reduces the crowding effect, makes fixation easier and can improve the VAS. Pointing to a letter may also make the task easier. One should be aware that using different presentation modes at different times reduces the comparability of the scores.
CHOICE OF TEST SYMBOLS.
Most visual acuity charts use letters. For the patient, this choice gives a sense of immediate validity when the primary objective is to read. For the practitioner, errors are easy to spot, since most practitioners know their chart by heart. Use of letters, however, is warranted only if the assumption may be made that familiarity with the alphabet plays a trivial role. The Sloan letter set is shown in Figure 11.
For less literate adults, the use of a number chart may be more appropriate.
For illiterate patients and preschool children, pictures may be used. However, it is difficult to judge the equivalence of letters and pictures, and a child's performance may depend on whether naming of pictures is a game that is played at home.
LEA symbols (Fig. 12) were devised by Lea Hyvärinen.45 They form a set of four simple symbols (square, circle, house, apple) that require little naming ability. They are left-right symmetrical, so that left-right reversals in young children will not influence the results. They have been designed to blur equally and have been calibrated against Landolt Cs46 (Fig. 13). They form excellent tests for children and can also be used for adults. The same symbols are used in a variety of tests—as a letter chart, as a contrast sensitivity chart, in a reading format, on single symbol cards, on a domino game for older children, and as a jigsaw puzzle for the very young.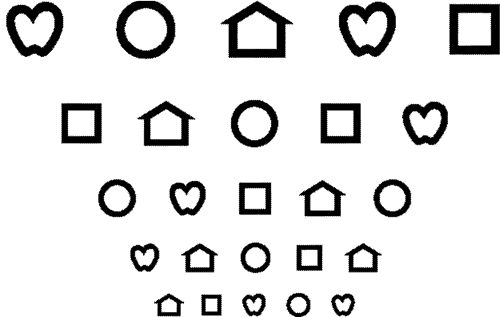 Fig. 12. Segment of a chart with LEA symbols. This chart combines the Bailey-Lovie layout with LEA symbols for use with children and illiterate subjects.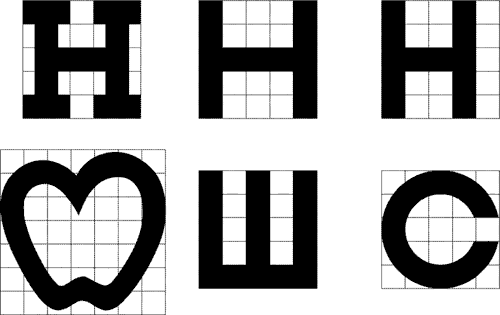 Fig. 13. This chart depicts a selection of commonly used optotypes. Top: Snellen H (with serifs, 5 × 5), Sloan H (no serifs, 5 × 5), British H (no serifs, 4 × 5). Bottom: LEA symbol, tumbling E, Landolt C. The latter groups have only four symbols each so that the guessing level is higher than with letter charts. Most optotypes approximate the recognizability of Landolt Cs; they represent 20/20 (1.0) acuity when their height subtends 5 minutes. Recognition within the LEA symbol set is more difficult; calibration experiments established that the symbols needed to be about 35% larger.
The HOTV test contains four symbols—H, O, T and V—also chosen because they have no characteristics that require a sense of laterality. To standardize the effect of contour interaction when the symbols are presented singly, they may be surrounded by crowding bars.
Tumbling Es are probably the symbols most often used for the testing of children. They do require a sense of laterality, which can be a stumbling block for young and for developmentally delayed children. They can be presented in a chart format or as single symbols. When comparing findings, it should be remembered that presentation as single symbols is an easier test than presentation in a chart format. Comparison of these different conditions and of findings on a closer spaced chart may give insight in the importance of crowding and of lateral contour interaction, which can be particularly informative in the treatment of amblyopia.
Tumbling Es also are the basis for the WHO low-vision training kits, which are widely used in developing countries and in countries where the Roman alphabet is not used.
Landolt Cs22 have become the symbols of choice for many scientific measurements. They are much less frequently used in a clinical setting, except in Japan, where the characters of the Kanji alphabet are too complex. When used in a chart format, it is harder to detect errors unless the observer points to the symbol. However, pointing, like single presentation, affects the difficulty of the test.
The Visual Acuity Measurement Standard of the ICO23 requires that letter charts in non-Roman alphabets (e.g., Cyrillic, Arabic, Hindi, Kanji, Hebrew) be calibrated against Landolt Cs for equal recognizability.
Grating acuity is another visual acuity measurement that is used mostly in the laboratory and mostly in connection with contrast measurements. For infants it can be used on cards as a preferential looking test. Preferential looking is a detection test and thus not strictly equivalent to a recognition test.
Summary
When recording visual acuity for patients in the range of normal vision, the preferred measurement tool will often be a projector chart at 5 or 6 meters or 20 feet in a darkened room. The preferred notation will be a Snellen equivalent. In continental Europe this is most often decimal notation; in Britain it is the 6/6 equivalent; in the United States it is the 20/20 equivalent.
When recording visual acuity for patients in the low-vision range, the preferred tool is a lighted chart in a lighted room at a distance of 1 meter. The preferred notation will be a true Snellen fraction with 1 as the numerator. It is often useful to add the commonly used Snellen equivalent in parentheses. Thus, the ability to recognize an 8 M letter at 1 meter would be recorded as 1/8 (20/160) or 1/8 (0.125). If the same patient were tested on an ETDRS chart at 4 meters, the notation could be 4/32 (1/8, 20/160).
NEAR VISION MEASUREMENT
Although the testing of reading vision predated the development of letter charts to measure distance vision, the methodology to accurately measure reading acuity has lagged behind. This is in part due to the fact that the prescription of a reading correction for normally sighted individuals is aimed more at achieving reading comfort than at accurate measurement. It is also due to the lack of accurate measuring tools. Reading distances are more often estimated than measured, while the "Jaeger numbers," which are widely used in the United States, have no numerical meaning. Under these circumstances, it is not surprising that many practitioners believe that reading acuity and distance acuity have little in common. We will show that this is not so.
As is the case for distance vision, accurate determination of near vision acuity requires measurement of two variables—letter size and viewing distance. For distance vision, the viewing distances are standardized, so that only the letter sizes vary. For individuals in the normal visual acuity range, reading distances may be standardized, but the standards vary. Some use 40 cm (16 inches, 2.5 D reading), or 14 inches (35 cm, 2.75 D), others use 33 cm (13 inches, 3 D) or even 30 cm (12 inches, 3.25) or 25 cm (10 inches, 4 D, the reference point for the power of magnifiers). Individuals in the low-vision range often need distances that are even shorter and certainly cannot be handled with a "one size fits all" distance. They need a formula in which both the letter size and the viewing distance can be varied easily.
Modified Snellen Formula
The standard Snellen formula, V = viewing distance ÷ letter size, becomes awkward to use when the numerator (viewing distance in meters) is itself a fraction within a fraction. This can be overcome by using the reciprocal value of the viewing distance. The reciprocal of a metric distance is known as the diopter (e.g., 2 D = 1/2 meter, 5 D = 1/2 meter).20 The traditional formula

thus becomes

or

1/V = M × D = letter size (in M-units) × viewing distance (in diopters)

Use of this modified Snellen formula has several advantages:
Use of reciprocal values turns the usual Snellen fraction into a multiplication, and the viewing distance changes from a fraction into a whole number. Both changes make the formula far easier to calculate in one's head.

The value 1/V relates directly to the letter chart acuity measured at 1 meter; the numerator indicates the amount of magnification needed to bring the subject to standard performance.

Expressing the reading distance in diopters relates directly to the amount of accommodation or the reading add that must be used for this distance.

The results of these calculations are listed in Figure 14. This figure is based on the use of preferred numbers, so that the same values appear for the viewing distances, the letter sizes, and the resulting visual acuity values.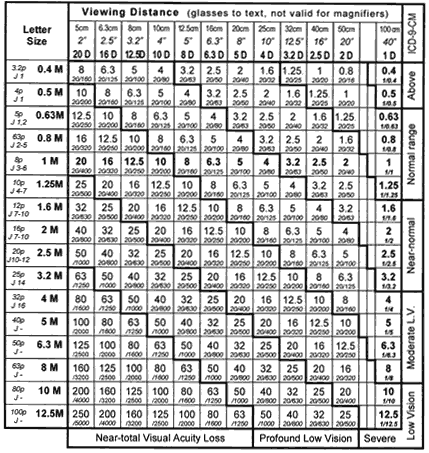 Fig. 14. Modified Snellen formula (1/V = M × D) for near vision. Columns indicate reading distances. Rows indicate letter sizes. The resulting reading acuity values are found at the intersections. The large number in each box represents the M × D value (magnification requirement). The small number represents the visual acuity value. The visual acuity values are arranged in diagonal bands. The same visual acuity value can be represented by many different combinations of viewing distance and letter size. For each diagonal band, the outer edge of the figure indicates the ranges of vision loss in ICD-9-CM. The J designations in the first column refer to values found on current charts. These are different from Jaeger's original sizes, which are shown in Figure 7.
Many reading cards are calibrated for a specific reading distance (i.e., for a specific column in Fig. 14). This has led to the habit of using visual acuity values to refer to letter sizes. For instance, a letter size that would represent 20/100 at 40 cm might be referred to as a 20/100 letter. Figure 14 shows that the same letter at 25 cm would represent an entirely different acuity value. A 20/100 letter on a 20-foot chart is very different again.
As visual acuity drops (M × D increases), subjects can compensate in two ways: they may move to a different column, bringing the same print size closer by increasing the reading add (or the amount of accommodation in younger people), or they can move to a different row, thereby enlarging the print size while maintaining the reading distance. Large-print books enlarge the physical print size; various magnification devices enlarge the virtual print size.
Under most circumstances, letter chart acuity and reading acuity—if measured appropriately and with the proper refractive correction—are similar. However, when measuring letter chart acuity, subjects are often pushed for threshold or marginal performance, whereas reading tests more often aim at a level of comfortable performance. For this reason, the magnification requirement for reading acuity may be somewhat greater than that for letter acuity. The difference, known as the magnification reserve,47 is needed for reading fluency.
While 20/20 (1.0) acuity implies the ability to read 1 M print at 1 meter, comfortable reading of newsprint (1 M) is generally done at 40 cm, indicating a 2.5× magnification reserve (four line intervals). Traditionally, the power of magnifiers is referenced to the ability to read at 25 cm (10 inches). One M at 25 cm denotes 20/80 (0.25). This is the top value in the low-vision band (see Table 3).
To verify the relation between reading acuity and letter chart acuity, the two values were compared for 150 consecutive patients from my low-vision service. The results are shown in Figure 15. I found that a close relationship exists between letter chart acuity and reading acuity and that this relationship holds up at all visual acuity levels. Usually, the two are within one line from each other (diagonal gray band in Fig. 15); for some patients the magnification need for reading is larger than the magnification need for letter recognition (spread to the right of the diagonal). This difference is the magnification reserve, defined above. Since the objective of visual acuity measurement in the low-vision range is to help patients function with their own fixation ability, I do not push patients for maximum letter chart acuity by pointing to letters or by isolating letters (see the earlier discussion under choice of criterion). If I had used these techniques to improve the letter chart acuity, the magnification reserve for reading fluency would probably have appeared somewhat greater.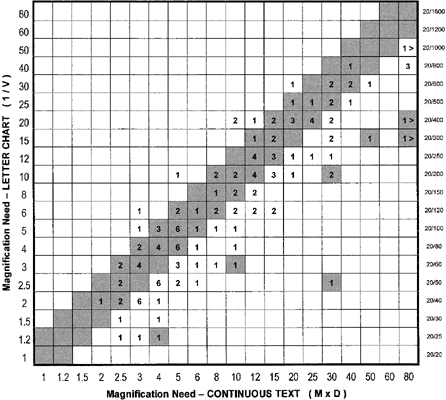 Fig. 15. Magnification need for letter chart acuity and reading acuity. The chart compares the magnification need found for letter chart testing (1/V) with the magnification need for continuous text reading (M × D) for 150 consecutive low-vision patients. The numbers indicate the number of patients in each cell. For most patients, the two values are the same or differ by only one line interval (gray diagonal band). For a number of patients, the magnification need for continuous text is somewhat greater; this is known as the magnification reserve needed for reading fluency. For a few patients, the magnification need for continuous text was significantly greater (isolated gray cells). These patients represent exceptional cases; for most of them, letter acuity was obtained in a small island surrounded by scotoma, while reading acuity used a larger, more eccentric area, requiring more magnification.
Letter Size Notations for Continuous Text
For letter charts with metric notation, the unit for letter size measurement is the M unit, as it was defined by Snellen and named by Sloan. A corresponding F unit for charts with feet notation was never defined and would probably only lead to confusion since calculating with nonmetric measurements is so much harder. The situation for continuous text letter sizes is more diverse.
JAEGER NUMBERS.
In the United States, Jaeger numbers are widely used. We have seen that these numbers have no numeric meaning since they refer to item numbers in a printing house catalog in Vienna in 1854. They cannot be used for calculations. Furthermore, since Jaeger did not establish an external reference, those who wanted to produce similar samples had to approximate Jaeger's samples with fonts that happened to be available at their local print shop. The result is great inconsistency in the use of Jaeger numbers. The first column in Figure 14 indicates the range of Jaeger ratings that were found to represent the same physical letter size on a number of contemporary Jaeger cards.
Other countries have used similar samples, such as de Wecker samples in Germany and Parinaud samples in France.
PRINTER'S POINTS.
The need for a numeric designation lead some practitioners to the use of printer's points. This might have been useful if printer's points referred to the letter height; instead they refer to the height of the slug on which letters used to be mounted. On average, lowercase letters tend to be about 50% of the slug height. Thus,
  1 point (slug height) = 1/72 inch
  1 point (letter size) = about 1/144 inch

However, this relationship varies with the type font. For example, in the TrueType (TT) family of computer fonts, an Arial letter of 8 points has the same size as a Times New Roman letter of 9 points. Another problem is that the point notation does not apply to the optotypes used for distance vision, so that comparison of far and near measurements is impossible.
A AND N SERIES.
On British type samples the size inprinter's points is designated by the notation N = .British cards often also carry an A = notation. The A series is based on the logarithm of the letter size. As such, it is related to the "letter size credit" mentioned in Figure 7 (A = 17 - [letter size credit] ÷ 5).
M-UNITS.
The M-unit is the only letter size unit that applies to distance charts as well as to reading samples, so it is the only unit that allows comparisons between the two tests. The M-unit is used in this chapter and on an increasing number of newer reading cards. It is convenient that 1 M is the size of average news print.
By definition, 1 M-unit subtends 5 minutes of arc at 1 meter and equals 1.454 mm. Useful equivalents include the following: 7 M = 10 mm (error -2% or 0.1 line interval) and 1 M = 1/16 inch (error + 10% or 0.4 line interval). Based on the size of lowercase letters without ascenders or descenders (x-height), 8 points = 1 M for the TT Arial and TT Courier computer fonts, but for the TT Times New Roman computer font, 1 M = 9 points.
Reading Fluency
For reading tests, it is important to record not only the letter size and the distance at which the subjects can just decipher the text but also the level at which they can read with reasonable fluency. Most reading cards have short paragraphs with large letters and longer paragraphs with smaller letters. On such cards only a subjective comparison of reading fluency with different levels of magnification is possible.
Cards on which all paragraphs have the same length offer the opportunity to measure the reading speed objectively. This layout was pioneered by the MN-read cards48 and is now also available in other cards in multiple languages (Fig. 16).36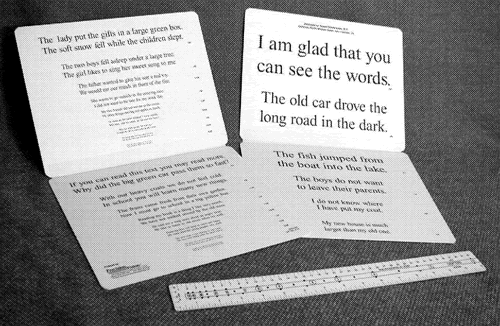 Fig. 16. Reading card with proportional paragraphs. All paragraphs on this chart have the same length so that reading times and reading fluency can be compared. The set of smaller paragraphs is duplicated to avoid memorization. A ruler with a diopter scale is provided to compare the reading distance to the reading add and to facilitate the use of the modified Snellen formula (1/V = M × D). Various languages are available. The same text appears on the back of the chart in Figure 9.
When the reading time is recorded for each print size, the usual pattern is that the subject reads at a reasonably stable rate at larger print sizes. At smaller sizes, reading becomes slower and then impossible (fast—fast—slow). The print size just before the reading speed starts to drop off is the critical print size. Providing magnification of ordinary print to the critical print size will give the best reading performance with the least magnification (largest field of view).
Some subjects show a pattern that can be characterized as slow—fast—slow. This pattern occurs when macular degeneration patients read in a small island of vision within a pericentral scotoma. For large text, the island is not large enough to cover a whole word; this slows reading down. At medium print sizes, more letters are covered and reading speeds up. At the smallest sizes, reading slows down again. The same pattern can be seen in patients with extreme tunnel vision in end-stage glaucoma or retinitis pigmentosa. In these cases, it is important not to prescribe too much magnification. Using the underlining technique to facilitate tracking along the line may also be beneficial.
Occasionally, the pattern is slow—slow—slow. This pattern, which can be seen in patients with scattered drusen, indicates that magnification alone will be of limited benefit. In these patients, other means, such as underlining to facilitate tracking, together with training and practice in the most effective use of the available retinal areas can lead to more improvement than magnification alone.
Infant Vision Testing
In infants, both the physical basis of visual acuity and the cognitive skills to use it are still developing. Standard visual acuity testing is impossible, yet early detection of deficits is extremely important. Not acting on a suspicion of vision loss may cause developmental delays, since it deprives the infant of its most abundant source of stimulation.
Instead of adult vision testing techniques, we must use behavioral observations. The list in Table 5, supplied by Lea Hyvärinen, provides a transition to the discussion of the next aspect of vision loss: functional vision.