Loose lens is identified by (1) excess movement with eye rotation or blink; (2) poor centration; (3) variable vision, especially after a blink; and (4) discomfort. The treatment for a loose lens is a steeper base curve or larger lens diameter.

Tight lens is identified by (1) fluctuating vision that clears after a blink; (2) circumcorneal compression; (3) minimal movement after a blink; (4) circumcorneal indentation; and (5) difficulty removing the lens. The treatment for a tight lens is a flatter base curve in a lathe-cut lens; with spin-cast lenses, switch to thinner or a smaller-diameter series.

When fitting soft lenses it is best to fit from the flatter side. Soft lenses may tighten with time as a result of either dehydration or protein accumulation on their surfaces.

Spin-cast lenses have an aspheric posterior surface. Therefore, K readings are not as useful as with lathe-cut lenses. A better indication of lens selection can be based on the measurement of the horizontal visible iris diameter. The fit of the lens should be assessed 20 minutes after insertion because the base curve can steepen after 5 to 10 minutes of wear.

LENS CLASSIFICATION SYSTEMS

Soft contact lenses are classified in several ways. The most common classification is based on water content. Lenses are said to be of low water content when they contain 37.5% to 45% water; these lenses are usually suitable for daily wear. Lenses that are of medium water content contain 46% to 58% water; they are suitable for either daily or extended wear. Lenses with a high water content consist of 59% to 79% water and are primarily used for extended wear.

Soft lens materials have been classified by the US Food and Drug Administration (FDA) into four groups based on water content and ionicity. The purpose of the FDA classification system is to evaluate the safety and efficacy of the various disinfection systems and solutions with different preservatives.

Another classification system is based on the process used to manufacture the lens. The first soft contact lenses were produced by spin casting. Bausch & Lomb adopted and perfected the technology and still produces many lenses this way. In spin casting, the liquid lens material is dropped into a small mold that spins at various controlled rates of speed. The shape of the mold and the rate of spin determine the final characteristics of the lens. Lathe cutting, developed later, involves cutting solid polymer rods to form lenses. The control available in lathe cutting makes possible the production of complex lens types, and lathe cut lenses are available in a range of designs from single-cut to toric and lenticular configurations. A method of cast molding, is now used by some manufacturers because it provides lenses with smooth surfaces, free of the marks that may be produced in the lathe-cutting process.

Finally, lenses are classified by their design (e.g., spheric, toric) or function (e.g., daily wear, extended wear). This classification describes lenses in such terms as daily wear spheric, extended wear spheric, daily or extended wear toric, bifocal, or therapeutic. Of course, different lens classification schemes can be combined; thus it is possible, for example, to describe a particular lens as being a low water content, lathe cut, daily wear spheric lens. In the following sections some of the major categories are examined.

Daily Wear Spheric Soft Contact Lenses

Daily wear spheric soft contact lenses can correct up to 1.25 D of astigmatism. They are manufactured in a wide range of diameters to allow the fitter to optimize alignment and centration and to accommodate varying lid apertures and sensitivities. The center thicknesses available range from 0.4 to 1 mm. (Center thickness is important to both patients and fitters. Thinner lenses are more comfortable and allow for greater oxygen transmission; thicker lenses provide better correction of astigmatism and are easier for the patient to handle.) Spin-cast, lathe-cut, and cast-molded lenses are available to meet the fitting characteristics required.

Daily wear spheric lenses are available in tints that enhance eye color and facilitate handling. Daily wear spheric soft lenses are ideal for patients who wear their lenses on a limited basis, such as for sports or social activities.

Extended Wear Spheric Soft Contact Lenses

Extended wear spheric lenses are available in low-, medium-, and high-water-content models. All other things being equal, the higher the water content the greater the oxygen permeability of the lens. Most of the extended wear soft contact lenses fitted today are of relatively high water content. As with daily wear lenses, extended wear lenses are available in tints and may be spin cast, molded, or lathe cut. In general, extended wear soft contact lenses of spheric design will not correct more than 0.5 D of astigmatism.

Single vision spheric soft contact lenses may be the correction mode of choice for presbyopic patients who want extended wear, because there are no extended wear bifocal soft contact lenses on the market yet. Presbyopes who will not tolerate eyeglasses for reading but who still want extended wear may be best served by a monovision fit.

Bifocal Soft Contact Lenses

When discussing bifocal lenses, visual design available as lens design must be considered. Two bifocal visual designs are available: alternating vision and simultaneous vision. In alternating vision, light that reaches the patient's retina passes through either the near vision or the distance vision portion of the lens, depending on the direction of the patient's gaze. In distance gaze, the patient views through the upper distance portion of the lens. In near gaze, the lens translates (moves) up so that the viewing is through the lower part (near segment) of the lens (Fig. 9). In simultaneous vision designs, light reaches the retina from both the distance and near vision portions of the lens at all times. Some of the light entering the eye is focused for near and some is focused for distance, and the two foci are formed simultaneously. The brain then selects the image of regard. Aspheric and diffractive bifocals, while technically simultaneous vision designs, are so different from standard simultaneous vision lenses that they are often treated separately.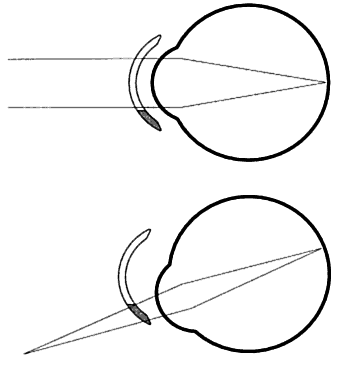 Fig. 9. Segmented contact lens showing positioning for viewing distant and near objects. (Adapted from Stein HA, Slatt BJ, Stein RM: The Ophthalmic Assistant, 5th ed. St. Louis, CV Mosby, 1988)
A number of bifocal lens designs are available. Segmented lenses have two visual regions: the distance vision portion is in the top of the lens, and the near vision portion is in the crescent-shaped segment on the inferior portion of the lens (see Fig. 9). The key to success with segmented bifocal lenses is positioning. The lens cannot be allowed to rotate, yet it must translate up and down in order to position the segments. One way to prevent lens rotation is to add weight to the inferior portion of the lens through insertion of a wedge shape (prism ballasting) or thickening the lower edge (periballasting-ballasting). Truncation (Fig. 10) involves cutting off the lower portion of the lens; this creates "corners" that hold tightly to the sclera. The flat edge also helps maintain orientation by aligning with the lower lid.

Fig. 10. Truncated contact lenses. The lenses pictured are segmented bifocals that provide alternating vision. (Stein HA, Freeman MI, Stein RM, Maund LD (eds): Basics of Soft Contact Lenses. In: Contact lenses: Fundamentals and Clinical Use, p 84. Thorofare, NJ, Slack, 1996)
The advantage of translating (segmented) bifocals is the quality of sight they provide when properly fitted, giving good vision for both distance and near. The main problem with segmented lenses is fitting them to move properly on the eye. If the lens does not translate, it will not function as a bifocal. Quick movement is required to prevent blurring. Tight lids are needed to make the lens move properly. Obtaining a good fit requires skill and patience.
In annular (or concentric) lenses, the different portions of the lens are configured in concentric circles or rings (annular means "ring shaped"). That is, if the distance correction is in the center of the lens, the near vision part of the lens forms a concentric ring around the center (Fig. 11). Alternatively, the distance correction may be located in the concentric ring and the near correction located in the center. Unlike segmented lenses, annular lenses are not affected by lens rotation problems.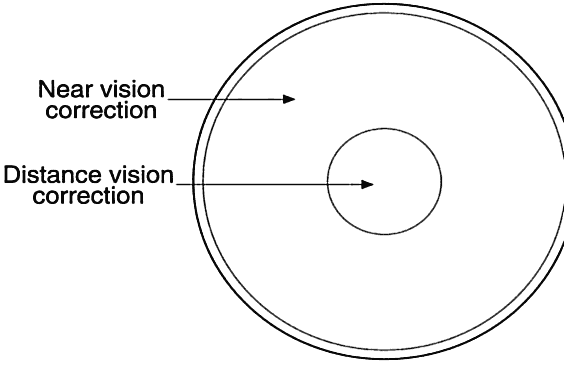 Fig. 11. Annular bifocal lens. In some annular designs, the near vision correction is in the center of the lens; in other designs, distance correction is in the center. (Stein HA, Freeman MI, Stein RM, Maund LD (eds): Basics of Soft Contact Lenses. In: Contact lenses: Fundamentals and Clinical Use, p 85. Thorofare, NJ, Slack Inc, 1996)
The advantage of the annular design is that the lens does not have to translate, as both foci are formed simultaneously. (Because lens orientation and position are less critical than with segmented designs, annular lenses are easier to fit.) A disadvantage of the design is that it is dependent on pupil size. For example, in the center-near design, the pupil will constrict in bright sunlight, so that only the center portion of the lens is used; this effectively limits the lens to near vision. Another disadvantage is that visual contrast is reduced, becasue only a portion of light reaching the retina is in focus for each image. Finally, many patients have difficulty with annular lenses because they are unable to adjust to simultaneous vision.
Multifocal (or aspheric) lenses have a gradually flattening (anterior or posterior) curve from the center to the edge of the lens. The result is a progressively increasing add power from the center to the periphery (Fig. 12). In effect, the multifocal lens is a concentric design in which there is no sharp zone of transition between the near and distance portion of the lens.

Fig. 12. Multifocal lens with distance correction in the center and near correction at the periphery. (Adapted from Stein HA, Slatt BJ, Stein RM: Fitting Guide for Rigid and Soft Contact Lenses, 3rd ed. St. Louis, CV Mosby, 1990)
Bifocal designs are either anterior or posterior, depending on manufacturer and type. Anterior designs have the power manufactured into the front surface of the lens; posterior designs have the power manufactured into the back surface.
An alternative for the correction of presbyopia is monovision. Monovision techniques employ either one or two single-vision lenses to correct near and distance vision separately. That is, one eye is corrected for near vision, and the fellow eye (with or without correction) is used for distance. Because there are no lenses designed specifically for monovision, standard single vision lenses are used.
With bifocal soft contact lenses, the in-office verification of lens power and lens design is often difficult. In slit-lamp examination, multifocal lenses appear as spheric single-vision lenses. A few bifocal lenses have features that allow them to be distinguished.
Toric Soft Contact Lenses
There are a wide variety of toric soft contact lenses on the market, and fitters must familiarize themselves with what is available on a lens-by-lens basis. In the following paragraphs, specific lenses are not described because there are excellent manufacturers' fitting guides available; however, a word of caution is offered: before choosing a specific lens for fitting, the fitter must make sure that the lens is available in parameters to match the patient's refractive error.
Some "off-the-shelf" toric lenses are available, but only in a limited range of cylinders and axes. Manufacturers make and stock lenses in the most commonly requested power ranges, and these are available immediately on request. Off-the-shelf lenses are available in powers from -6 D to + 4 D, with cylinder powers of -0.75 D, -1 D, -1.25 D, -1.75 D, and -2 D. (Lenses with -3 D of cylinder are available, but usually in a more limited axis range, generally 20° on either side of the 90° or 180° meridians.) Limited fitting sets are available. A diagnostic lens of the selected toric design must be evaluated on the patient's eye for fit and position of axis.
For custom work, one must also use a fitting set. The fitting lenses are spheric designs, but with the diameters and orientation systems of the toric lenses the patient will eventually wear. Toric lenses that can be fit in this manner are available in powers from -20 D to + 20 D, with axes of rotation available in 5° increments. A few manufacturers provide made-to-order toric lenses with even greater powers and cylinders and with axes of rotation in 1° increments.
There are several design alternatives used to maintain the orientation of toric lenses. Double slab off, the creation of thin zones on the inferior and superior parts of the lens, allowing the eyelids to hold the lens in position (Fig. 13). As with bifocal soft contact lenses, prism ballasting (Fig. 14), periballasting, and truncation are also used to maintain orientation.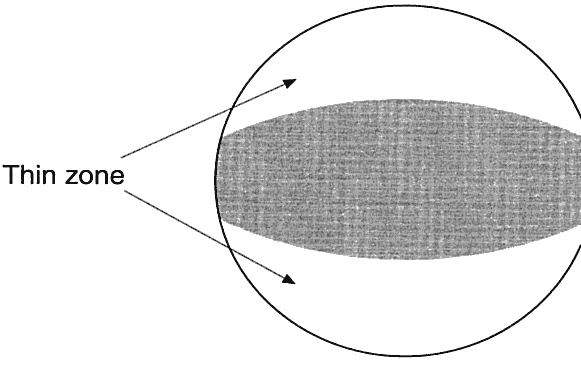 Fig. 13. Double slab-off lens with thin zones inferiorly and superiorly that cause the lens to rotate to the proper position and then remain in place. (Stein HA, Freeman MI, Stein RM, Maund LD (eds): Basics of Soft Contact Lenses. In: Contact lenses: Fundamentals and Clinical Use, p 88. Thorofare, NJ, Slack, 1996)

Fig. 14. Lens orientation with prism ballasting. The weighted portion of the lens rotates to the inferior position. (Adapted from Stein HA, Slatt BJ, Stein RM: Fitting Guide for Rigid and Soft Contact Lenses, 3rd ed. St. Louis, CV Mosby, 1994)
Toric lenses have orientation (or scrib) marks near the lens edge: some at the 3- and 9-o'clock positions, and others at the 6-o'clock position. The manufacturer is sometimes identified by these marks (or by laser marks on the lens).
Therapeutic Soft Contact Lenses
Therapeutic soft contact lenses have many uses and are made from a variety of materials. In most cases, this kind of lens is used as a short-term corneal "bandage" to protect the eye during treatment for nonhealing corneal ulcers or recurrent erosions. Occasionally, therapeutic lenses are used to cover small corneal lacerations that do not require suturing. In this case, extended wear lenses must be used.
Therapeutic lenses are generally of low to medium water content; however, lenses of higher water content, although not designed specifically as therapeutic lenses, are sometimes worn by patients with bullous keratopathy. Tinted lenses (usually of low to medium water content) can be used to improve cosmesis when the cornea is scarred.
The use of therapeutic contact lenses is contraindicated in patients with corneal exposure and dryness, because in these situations therapeutic lenses may simply aggravate the problem. It is mandatory that therapeutic-lens patients be carefully selected and monitored.
Aphakic Soft Contact Lenses
Soft contact lenses, particularly extended wear lenses, can be a great help for aphakic patients who do not achieve correction with intraocular lenses. Aphakic soft contact lenses are available in spin-cast and lathe-cut designs and with medium and high water contents. The lathe-cut lenticular designs have the best stability on the eye and provide the sharpest and most stable vision (Fig. 15).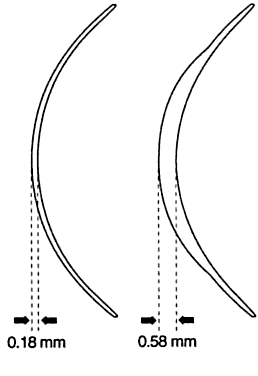 Fig. 15. Regular (left) and aphakic (right) soft lenses. The lens at right is a lenticular design. (Adapted from Stein HA, Slatt BJ, Stein RM: Fitting Guide for Rigid and Soft Contact Lenses, 3rd ed. St. Louis, CV Mosby, 1990)
As with therapeutic soft contact lens patients, aphakic patients must be carefully fitted and followed. Aphakic patients (who tend to be elderly) have an above-average incidence of microbial corneal ulcers associated with contact lens wear. With careful patient selection and fitting, however, it is possible to rehabilitate an aphakic patient quickly and without further surgery.
Soft Contact Lens Candidates: Patient Selection
Soft lenses are the contact lenses of choice for the following classes of patients:
Rigid lens dropouts: These are patients who are unable or unwilling to tolerate a rigid lens adaptation and wearing schedule, as well as those with rigid lens overwear reactions or rigid lens—induced irritation.

Intermittent lens wearers: These are patients such as actors or athletes who may want to wear contact lenses on an occasional basis only.

Workers in occupations where losing a lens must be minimized: Rigid lenses are much more likely to fall off the eye than soft lenses.

Aphakic patients not fitted with intraocular lenses.

Elderly persons: These patients may have difficulty with various aspects of rigid lens wear.

Patients requiring relatively small amounts of correction (i.e., correction less than 1.50 D).

Extended Wear Soft Contact Lenses
Extended wear soft contact lenses for the correction of myopia were first approved by the FDA in 1980. Since then, their popularity has increased, but so has the awareness of problems associated with extended wear. The fitting of extended wear lenses is not difficult; however, it requires a basic understanding of the physiologic needs of the cornea and the potential complications of extended wear.
The cornea adapts in different ways to different types of contact lenses. For example, the movement of non—gas-permeable PMMA contact lenses that occurs on blinking promotes tear exchange beneath the lens, bringing dissolved oxygen to the corneal surface. (PMMA lenses are also small in diameter, which minimizes the area affected.) Despite tear exchange under the lens, overwear of PMMA lenses will produce corneal edema. Rigid gas-permeable and hydrogel lenses attempt to solve the problem by allowing gases to pass directly through the lens to the cornea. Movement of these lenses helps to bring nutrients to and remove waste products from the corneal epithelium.
At night, when the eyes are closed for sleep, the cornea gets the oxygen it needs by diffusion from capillary blood vessels in the palpebral conjunctiva. However, the oxygen available from the conjunctival capillaries is limited and just barely sufficient to meet corneal needs. Gas-permeable (hard and soft) contact lenses that allow an adequate supply of oxygen to the cornea when the eyes are open may not provide an adequate oxygen supply when the eyes are closed, and the amount of oxygen available is greatly reduced. The major challenge of extended wear is creating lenses that allow sufficient gas transfer during the closed-eye state.
Other challenges of extended wear include producing a lens (1) with adequate movement to promote tear exchange and removal of debris; and (2) that resists spoilage from deposit formation.
What allows some hydrogel contact lenses to be worn on an extended wear basis is primarily their high degree of oxygen transmissibility (i.e., their ability to let oxygen pass through to the cornea). Enough oxygen must pass through the lens to allow normal or near-normal corneal metabolic activity, even with the eyes closed during sleep. In addition, adequate lens movement is required to remove metabolic waste products from the corneal surface.
Most daily wear soft contact lenses do not supply enough oxygen to the cornea to allow them to be used for extended wear. However, modifications of the lens polymer or the lens design can improve the lens' oxygen transmission characteristics. Specifically, oxygen transmission through a soft contact lens may be increased by:
Increasing the water content of the lens: As lens hydration increases, so does the lens' permeability to oxygen.

Markedly thinning the lens: As lens thickness increases, oxygen transmission decreases. Conversely, thinning the lens creates an increase in oxygen transmission.

Thinning the lens and moderately increasing the water content (i.e., a combination of the above techniques).

Based on the means used to enhance oxygen transmission, hydrogel soft contact lenses for extended wear can be divided into three types:
Very high water content: Lenses with 70% to 79% hydration (e.g., Permalens, Permaflex)

Ultra thin, low water content: Lenses with 38% to 45% hydration (e.g., Soflens O3/O4, CSI)

Thin, medium water content: Lenses with 46% to 58% hydration (e.g., Acuvue, NewVues, Softcon, Durasoft 3)

In short, the higher the water content and the thinner the lens, the greater the gas exchange through the polymer. One must consider that lens thickness is usually measured in the center of the lens. In a high minus power lens (thin in the center and thick at the edge) the edge thickness may be such that oxygen transmission is considerably decreased, causing corneal edema at the periphery. Conversely, central corneal edema may occur if insufficient oxygen is reaching the cornea through the thick center of a high plus lens. (This is a consideration in fitting the high plus power lenses needed by aphakic patients.)
LENS SELECTION. Each of the various extended wear soft contact lens types has certain advantages and drawbacks. Lenses with a high water content tend to be more comfortable, particularly when the eye is slightly dry; however, these lenses are also more easily damaged than those with a low water content, are more prone to deposit formation, and may offer less stable vision. Ultra-thin lenses with a low water content present handling problems and are susceptible to damage during care procedures.
Thin (not ultra-thin) lenses with a medium (46% to 58%) water content offer something of a compromise: more durability and more stable vision than high-water-content lenses, as well as a lower tendency toward deposit formation. Medium-water-content lenses are durable enough to be used for daily wear.
PATIENT SELECTION. Success in fitting extended wear soft contact lenses is a function of the proper screening of prospective lens wearers. General health, anterior segment health, tear function, hygienic habits, motivation, visual requirements, manual dexterity, and financial commitment represent a partial list of patient selection criteria. Patients considering extended wear must understand and accept the fact that this mode of lens wear carries considerable added risk of complications.
Because extended wear is associated with a greater risk of infection and other serious ocular conditions, extended wear patients must be seen by a practitioner more frequently than daily wear patients. Therefore, before fitting a patient with extended wear lenses, the practitioner must assess the patient's willingness to keep follow-up appointments. Also of great importance is the patient's willingness and ability to remove the lens at the earliest sign of redness or ocular irritation. Before the fitting procedure is performed, the patient must be informed that failure to follow the practitioner's instructions may lead to a serious compromise of ocular health.
Realistic patient expectations with regard to lens wear are also important. The patient must understand that extended wear does not mean the ability to leave the lens in place on the eye for unlimited periods of time. Rather, the eyes must be given regular "rest periods," during which they can resume their normal metabolic activity.
Cost is an additional factor. Compared with most daily wear lenses, the contact lenses used for extended wear are more prone to deposit formation and to damage during handling. These factors shorten lens life and increase cost to the patient. The greater frequency of practitioner visits that is necessary with extended wear also increases the cost. While the extended wear patient may spend less on lens care solutions than the daily wear patient, the greater number of office visits and the greater frequency of lens replacement combine to make extended wear more costly than daily wear.
In summary, the extended wear soft contact lens patient must:
Understand the risk

Accept the added expense

Be willing to comply with lens care regimens

Have regular follow-up visits

Be willing to remove the contact lens at the first sign of redness or ocular irritation

The ideal candidate for extended wear is an experienced daily wear lens patient who is already adept at insertion and removal techniques. If the patient is a first-time lens wearer, it is recommended that there be a daily wear adaptation period of at least 6 weeks. This promotes familiarity with insertion, removal, and care procedures and decreases the patient's fear of lens manipulation.
Available data suggest that extended wear lenses should be worn for a maximum of 6 days and removed on the seventh day to permit reestablishment of normal aerobic metabolism. Each patient must be evaluated on an individual basis to determine the appropriate wearing schedule. The lens care regimen should be compatible with the lens type being dispensed (e.g., heat disinfection may be damaging to high-water-content lenses).
The extended wear contact lens should remain off the eye for at least overnight before reinsertion. Planned lens replacement every 3 months is recommended as a form of "preventive maintenance" that tends to decrease complications associated with extended wear lenses. Disposable extended wear lenses are available for weekly replacement.
The critical need for hand washing and proper lens hygiene should be emphasized. In addition, one must communicate to the patient the need for immediate lens removal in the event of ocular redness or pain. The large number of reported infections (particularly those involving Pseudomonas aeruginosa) among extended wear patients compel the practitioner to counsel the patient in strict lens care procedures.
PROBLEMS. Recent studies suggest that no currently available extended wear soft contact lens provides adequate oxygen transmission for continued normal aerobic corneal epithelial metabolism. As a result, one sometimes sees in extended wear soft contact lens patients (1) microcysts and (2) changes in the appearance of the endothelium (morphometric changes). The long-term significance of these effects is unknown, and further research into the effects of soft contact lens extended wear is warranted. Any of the following findings is cause for immediate concern:
Acute hypoxic episodes

Microcysts of the epithelium

Giant papillary conjunctivitis

Neovascularization

Any of the these findings should immediately lead the practitioner to discontinue the patient's extended wear routine and change the patient to daily wear, which is something that can be done without refitting or dispensing new lenses.
IS THERE REALLY EXTRA RISK IN REGULAR EXTENDED WEAR? The answer to this question is a clear-cut "yes." In a study of the safety of extended wear sponsored by the Contact Lens Institute, that was published in the New England Journal of Medicine in 1989, Poggio and coworkers found the following rates of ulcerative keratitis in their very large sample group:
  Extended wear: 20.9 per 10,000
  Daily wear: 4.1 per 10,000

Thus the rate of this serious complication was five times greater with extended wear.
This doesn't mean that extended wear is not an acceptable mode of lens use. It does mean that great care must be taken in choosing suitable candidates for extended wear, and then educating patients to minimize its dangers. Patients who choose extended wear should do so knowing the added risk.
APHAKIC EXTENDED WEAR SOFT CONTACT LENSES. Aphakic patients without intraocular lenses require strong plus power lenses for visual functioning. Although aphakic eyeglasses are available, the quality of the vision these provide is limited and often unsatisfactory for tasks that require good peripheral vision, such as driving. A number of extended wear soft contact lenses are available in high plus powers for aphakic patients.
Because the aphakic population is largely elderly, particular care must be given to patient selection for extended wear. Elderly patients may not have the manual dexterity to remove, clean, disinfect, and reinsert their lenses. Before fitting such patients, it must be ascertained that if the patient cannot perform care routines alone, there is someone else at hand to render assistance. Even more important, removal of extended wear contact lenses at the very first sign of trouble can prevent (or greatly minimize) subsequent problems. If the patient cannot do this (and assistance is not readily available), the risk of serious ocular complications is greatly increased.
Diminished tear function is more likely to be present in an elderly patient, as are disorders of the corneal epithelium. Aphakic patients should be evaluated for these conditions before being fitted with extended wear contact lenses.
Flexible Wear
Because of the questions that have been raised about extended wear of contact lenses, some practitioners have decided to stop recommending extended wear to their patients and will prescribe only daily wear lenses. A middle ground exists, however, between extended wear and daily wear. This is the concept of flexible wear, which refers to the combination of daily wear with occasional or intermittent extended wear. An example of a flexible wear schedule is 5 days of daily wear followed by 1 day of extended wear. The lenses are cleaned and disinfected every time they are removed.
Contact lenses to be worn on a flexible wear schedule must be approved for extended wear. However, the more fragile extended wear lenses should be avoided in flexible wear because of the increased handling they will receive. Rigid gaspermeable extended wear lenses or thin, medium-water-content soft lenses (as opposed to ultra-thin or high-water-content soft lenses) are potentially suited to flexible wear.
It must be emphasized that contact lenses that are not approved for extended wear must be used only on a daily wear basis. Extended wear lenses can be used for daily wear, with the caveat that because of their fragility, some extended wear lenses may not stand up to the increased handling in daily wear.
Disposable/Frequent Replacement Lenses
A new era is at hand with the development of disposable extended wear contact lenses. Lenses such as the Vistakon Acuvue, Bausch & Lomb SeeQuence, CIBA Vision New Vues, Ocular Sciences/American Hydron Biomedics, and Wesley-Jessen Fresh Look have been positioned in the market as lenses that can be worn on an extended wear schedule for 1 week and then thrown away. (Alternatively, these lenses may be worn on a daily wear basis for 2 weeks and then discarded.) Recently true daily-wear disposable lenses such as Vistakon's 1-Day Acuvue and Bausch & Lomb's New Day have been introduced. These lenses are designed to be worn for 1 day. They are discarded at the end of the day. It is important that routine screening procedures be applied to candidates for disposable lenses. Ideally, these patients should be monitored as daily wear patients for up to 6 weeks and then monitored for potential extended wear over a 6-month period. Advantages are as follows:
Much less needs to be spent on lens care solutions when the lenses are used in an extended wear situation.

There is minimal deposit formation. (In most cases, the lenses will be discarded before significant deposits can form.)

A sterile lens is always inserted (when used exclusively in extended wear).

There is better patient compliance. (It is hoped that elimination of lens care routines will end the dangerous short cuts that some patients take out of ignorance or in order to save time or money.)

It must be stressed that any time a disposable lens is removed from the eye with the intention of reinserting it, the lens must be disinfected. Some practitioners recommend that disposable lenses be worn on a daily wear basis; in this case, the lenses are removed and disinfected at the end of each day.
Disadvantages include the following:
The disposable system is more expensive than traditional extended wear (which in turn costs more than traditional daily wear).

Because of cost and convenience factors, patients may decide to wear lenses beyond the recommended time period.

Finally, the disposable lenses in current use are not greatly different from normal extended wear soft lenses. Although problems with solutions and deposits may be helped by disposing of the lens after a relatively brief wearing period, the basic physiologic questions about long-term extended wear remain unanswered and will not be solved simply by disposability.
Frequent/Planned Replacement Contact Lenses
A growing proportion of soft lens patients are wearing their lenses on a frequent-replacement basis. The aim of frequent replacement is to achieve better vision with fewer contact lens—related complications. In addition, frequent replacement allows practitioners increased patient contact and better control of patient lens wear. (The terms planned replacement and programmed replacement are used interchangeably with frequent replacement.)
Frequent replacement seeks to minimize the problems related to prolonged wear of a soft contact lens. Many soft lens patients use the same pair of contact lenses for a year or more. Among the problems related to the long-term use of the same lenses are the following:
Changes in fit (e.g., lenses may tighten)

Decreased visual acuity

Increased lens awareness or discomfort

Increased risk of infection

Red eye

Increased risk of corneal abrasion or insult from lens or lens edge

Decreased oxygen permeability of lens and increased risk of corneal edema

Most of these problems are related to the formation of deposits on soft lenses. Regular use of surfactant and enzymatic cleaners helps a great deal, but does not fully eliminate deposits. In addition, deposit-related complications may begin well before decreased visual acuity or discomfort make the patient aware of the deposits. A major risk is the development of ulcerative keratitis caused by P. aeruginosa. Deposits on soft lenses may act as a focus for the growth of this organism.
Although deposits begin to form almost immediately on new soft contact lenses, frequent replacement allows for the discarding of soft contact lenses before deposit problems manifest. At the least, frequent replacement should serve to reduce deposit-related complications. Frequent replacement can be thought of as preventative care.
Incorporating the frequent-replacement concept into contact lens fitting requires the practitioner to make several choices. Decisions to be made include whether to use frequent replacement with all or just a portion of one's patients. Frequent-replacement lenses give the practitioner some options: the practitioner can dispense at one time a full year's supply of lenses or, alternatively, the patient can pick up the lenses quarterly.
Where frequent-replacement lenses are being considered, patient evaluation is performed the way one would with any soft lens candidate. A complete history and examination are required. If the patient is currently a contact lens wearer, the lenses should be examined for deposits. Tear film evaluation should be performed; this should include a break-up test and Schirmer tests. Blink rate should be at least 12 per minute.
Frequent-replacement lenses can be divided into two categories. The first is disposable lenses, which are approved for continuous wear for up to 6 days. Disposable lenses when used in this way require no lens care. This assumes that a lens that is removed from the eye will be discarded and a new, sterile lens inserted.
The second category is programmed replacement of daily wear or flexible wear lenses. This type of frequent-replacement lens must be cleaned with a surfactant and disinfected every time the lens is to be reinserted into the eye. (Enzyme cleaning may not be necessary for patients who are not heavy depositors.) Programmed replacement may be the method of choice for patients who tend to tear or lose lenses as well as those who are not candidates for extended wear. Programmed replacement is also often less expensive than disposable wear. One month is commonly used as the replacement interval for programmed replacement lenses, but intervals from 2 weeks to 6 months are also used.
The importance of patient compliance with the lens replacement schedule must be stressed when prescribing frequent-replacement lenses. Incentives such as including lens cleaning and disinfection products with dispensed cases may help increase compliance. Some practitioners have patients sign an agreement that outlines the responsibilities of the both patient and practitioner. The practitioner may reserve the right to terminate the agreement in the case of patient noncompliance.