Impact-resistant lenses may be divided into two classifications based on their function: impactresistant dress lenses (lenses to be worn for everyday use) and impact-resistant industrial protective lenses. Because most prescriptions written by ophthalmologists and optometrists are for dress eyewear, we devote most of our attention to the impact resistance of these lenses. Dress impact-resistant lenses are "ordinary" lenses. Practically speaking, there is no less safe lens available.

DRESS IMPACT RESISTANCE STANDARDS

Effective January 1, 1972, the FDA mandated that all dress ophthalmic lenses prescribed must be impact resistant. Impact resistance is a relative term; when used, it has a specific definition. Terms such as shatterproof, safety, or unbreakable should never be used because they are misleading.

To be considered impact resistant, a lens must pass the dress ophthalmic lens drop-ball test.3,15,16 The lens must be able to withstand the impact of a

-inch (15.875-mm) steel ball dropped from a height of 50 inches (1.27 m) onto the lens front surface. All prescription spectacle lenses must be tested individually, with some exceptions, and testing is performed before the lenses are placed in the frame. Some lenses, such as raised-ledge multifocal lenses and plastic lenses, which may be damaged by the drop-ball test, need not be tested individually if they have been properly fabricated by the optical laboratory and if statistical testing (batch testing) by the manufacturer demonstrates that the lenses will meet the test requirements. Special lens types, such as eikonic lenses, lenses containing slab-off prism, and prescription polarized laminated glass sunglass lenses, are exempted from testing, although these lens types still must be made of impactresistant materials. The ophthalmic practitioner also may waive testing for impact resistance, but the patient must be notified in writing. It is difficult to justify waiving the impact resistance requirement under any circumstance because of the potential for liability problems. One possible situation might be the use of flint glass for x-ray protection; another would be the need for replacement spectacles in an emergency when there is not time to temper the glass lenses.
Nonprescription sunglasses also must be impact resistant. Unlike prescription lenses, these lenses, whether glass or plastic, may be batch tested for impact resistance by the manufacturer.
The FDA further requires that the lens manufacturer, optical laboratory, ophthalmologist, optometrist, and optician all maintain records of impact resistance testing, copies of invoices, shipping documents, and bills of sale for at least 3 years. It is not necessary to maintain records of those purchasing nonprescription sunglasses or over-the-counter reading glasses at the retail level.
The FDA does not have a minimum thickness requirement for ophthalmic lenses. Lenses made from crown glass and CR-39 plastic will not reliably pass the drop-ball test unless they are at least 1.5 to 2 mm thick. Polycarbonate and some of the other high-index plastics can be made with center thicknesses as low as 1 mm in minus powers. Improvements in coating technology also allow thinner plastic lenses. One advance is the so-called primer coat, a rubber-like coating applied under the abrasion-resistant coating of a plastic lens. This coating acts as a shock absorber to disperse the energy of an impact, and it also acts to prevent a crack in the abrasion-resistant coating from propagating throughout the lens. With this technology, it is possible for essentially any minus-power plastic lens to be manufactured with a 1-mm center thickness.
SIGNIFICANCE OF THE DROP-BALL TEST
The FDA-mandated drop-ball test results in an impact energy of 0.2 joules (J) or 0.15 foot-pounds (ft-lb) on the lens front surface. Many simple accidents and sports missiles result in energies that exceed this value by anywhere from 2 to 100 times.
STRENGTHS OF LENS MATERIALS
The impact resistance of a lens is a function of the material from which it is made, any special treatment of the material, and the thickness, size, and shape of the lens. In addition, the method of support contributes to the strength of the mounted lens.
For dress eyewear prescriptions, the choice of frame is usually made independently of the lens type or material, and the lens thickness is maintained at the allowable minimum. Thus, the variables that affect the impact resistance of a lens are the material and any treatment of the material that may enhance or degrade its impact resistance.
Glass Lenses
The elementary structural units of glass are not molecules, crystals, or grains but are charged atoms (ions) that are arranged in a random amorphous relationship. The attraction between ions creates bonds that are inherently extremely strong. However, even the slightest imperfection in the surfaces, such as the abrasion caused by rubbing with paper or a small defect caused by rough handling, weakens a brittle material like glass. The abrading techniques used to surface glass spectacle lenses during the manufacturing process create minute flaws that interrupt the bonds near the surface and weaken it. The edging process also creates similar defects. Thus, a glass spectacle lens as it is commonly used has lost much of its inherent strength and requires treatment (tempering) before it can be considered impact resistant.
Because the strength of the lens surface is the determining factor in the strength of a glass lens, an obvious way to improve the strength of a lens would be to improve the strength of the surface. The surface has a certain tensile strength, and it is desirable not to put tension on the surface in excess of this strength. If a way could be found to compress the surface, then a force acting on the lens surface would need to overcome this compression before fracturing the lens. This is the mechanism of achieving lens strength for heat and chemical tempering.
HEAT TEMPERING. The heat tempering process consists of heating a lens almost to its softening point, then rapidly cooling the lens with jets of air. Heat tempering makes a dress lens approximately two to three times as impact resistant as an untreated lens, but a heat-tempered dress lens is not as impact resistant as a chemically tempered dress lens, nor is it as impact resistant as any other type of dress ophthalmic lens. For this reason, heat tempering cannot be recommended.
Heat tempering is still occasionally used for plano (nonprescription) industrial lenses and for some industrial prescription eyewear. One important reason is that a heat-tempered lens can be readily identified. Also, heat tempering works better for thicker industrial lenses than for dress lenses because there is room for a thick compression layer.
CHEMICAL TEMPERING. Chemical tempering uses a process of ion exchange to create a compressed surface layer in a lens. Crown glass lenses are immersed in a potassium nitrate bath at 450°C for 16 hours.17 Sodium ions from the glass migrate into the bath, and potassium ions migrate into the glass. The potassium ions are larger than the sodium ions they replace, crowding the ions in the lens surface and compressing it. The compression is much higher and more uniform than that obtained with heat tempering, resulting in greater impact resistance.18 Chemical tempering is the preferred method of treatment for dress glass lenses.
Glass photochromic lenses are chemically tempered by immersion for 16 hours in a bath that is a mixture of potassium nitrate and sodium nitrate at 400°C.17 A 2-hour chemical tempering process that uses a potassium nitrate bath is also available, but this process can only be used for dress photochromic lenses.19
The compression developed at the surfaces of a chemically tempered lens is higher than that for a heat-tempered lens, but the compression layer is thinner.20 A flaw or scratch that penetrates the compression zone severely weakens a lens,21,22 so the impact resistance of a chemically tempered lens is more vulnerable to compromise from a deep scratch.
IMPORTANCE OF GOOD LABORATORY PRACTICE. The process of tempering glass lenses imposes limits on the practice of lens modification. Before impact resistance treatment was available, lenses could be resurfaced to eliminate scratches or alter the prescription slightly. Often, the edging would be touched up so that the lens would fit into the frame more easily. None of these modifications can be undertaken with a glass lens that has been tempered because penetration of the compression zone weakens the lens. The lens may break during modification or be weakened such that any slight blow may result in fracture.
The sensitivity of tempered lenses to surface flaws also requires that optical laboratory personnel put proper safety bevels or "pin" bevels on a lens. These bevels are applied by hand after a lens has been edged. They are designed to remove the sharp corners at the junction of the lens surfaces and the lens bevel, and also to remove small chips created during the edging process. If these bevels are not properly applied, the lens may chip during insertion into the frame or during routine wear, compromising the impact resistance of the lens.
Tempering followed by the drop-ball test must be the last operation before a glass lens is mounted in a frame. If modification or touch-up is necessary, the lens must be retempered and retested before it is mounted.
An important problem with chemical tempering is the difficulty of identifying a chemically tempered lens. Glass that is in a state of compression or tension is birefringent or doubly refracting, a property that allows the glass to alter the polarization of light. If a light source is viewed through two polarizing filters with their axes of polarization 90 degrees apart (a polariscope), the field appears dark. When a heat-tempered lens is placed between the polarizers, birefringence alters the polarization and some light is transmitted, creating a light and dark pattern. A chemically tempered lens and an untempered annealed glass lens do not show a pattern because the compressive stresses are more uniform. Chemical tempering can be verified by immersing the lens edge in a liquid similar in index to that of the lens while viewing the lens edge through crossed polarizers.23 If the lens has been chemically tempered, the edge glows.
Plastic Lenses
The most common ophthalmic plastic, CR-39, has molecules that are long and fibrous, made up of chains of atoms. These molecules have branches and even cross-linkages between chains, so in effect, each lens is one big molecule. Most of the high-index plastics except polycarbonate have a similar structure. Lenses made from these materials are not tempered and usually pass the drop-ball test if manufactured to the proper thickness.
Polycarbonate Lenses
Polycarbonate is different from any other plastic. Its molecules are extremely long chains of atoms that can slide back and forth on each other. The result is a tough material that can be flexed and even deformed permanently without breaking. Thus, the energy of an impact will flex or deform the lens rather than break it. This property results in extremely high impact resistance relative to all other lens materials.
COMPARISONS OF MATERIALS
Figure 6 compares the impact resistance of heat-tempered glass, chemically tempered glass, and CR-39 plastic for large projectiles (B· ,- and C· v-inch drop-balls) as compiled from a number of studies. Glass lenses show a much larger range of impact resistance values than does CR-39 plastic. This variability is most likely related to damage that occurs at the lens surfaces during surfacing and edging. It is more difficult to predict the impact resistance of glass than of plastic lenses. On average, chemically tempered glass is slightly more impact resistant than CR-39 plastic for a B· ,-inch steel ball, and both are more impact resistant than a heat-tempered dress lens. However, a given chemically tempered dress lens or heat-tempered dress lens can be much less impact resistant than a CR-39 plastic lens. Drop-ball testing "weeds out" the weakest tempered glass lenses, but weak glass lenses with just enough impact resistance to barely pass the drop-ball test will always be present.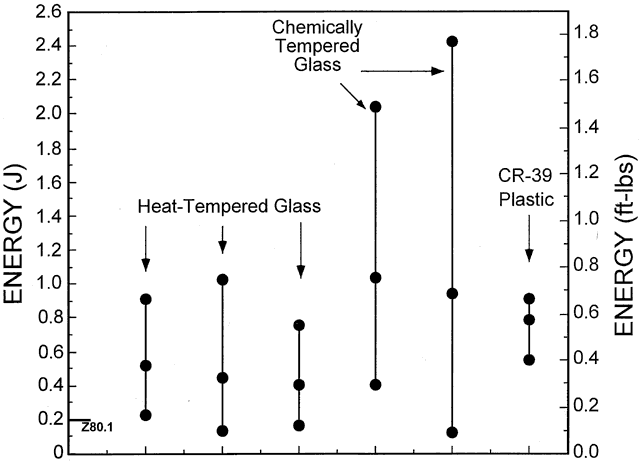 Fig. 6. Average impact energies and range of impact energies that fracture 2-mm thick spectacle lenses. Projectiles were B· ,- or C· v-inch steel balls. Z80.1 indicates the impact energy of the ANSI dress lens drop-ball test, 0.2 J or 0.15 ft-lb. (Modified from Davis JK: Perspectives on impact resistance and polycarbonate lenses. Int Ophthalmol Clin 28:215, 1988.)
The relative impact resistance of lens materials varies with projectile size, as shown in Figure 7. Heat-tempered and chemically tempered glass perform poorly relative to CR-39 plastic for small projectiles, but chemically tempered glass is superior to CR-39 for larger projectiles. This difference is related to the differences in structure of the materials. Large, relatively slow-moving projectiles that may flex a glass lens and distribute the tension over a wide area are less likely to start a fracture than are small, high-speed projectiles of the same impact energy that concentrate the force locally and increase the size of a pre-existing flaw. Also, the inertia of the glass lens prevents it from reacting and flexing in response to a high-velocity, low-mass impact, increasing the stress at the area of impact. The long molecules of CR-39 plastic hold the lens together and prevent cracks from propagating when the lens is impacted by small, high-velocity projectiles that stress a small area. When hit by a large, slow-moving projectile, the CR-39 plastic lens flexes and often breaks at a flaw beginning in the lens edge. This transfer of stress to the lens edges during impact suggests that the impact resistance of CR-39 plastic lenses may depend on the quality of the edge that is put on the lens at the optical laboratory.
Fig. 7. Average impact energies fracturing 2-mm thick lenses as a function of projectile (steel-ball) diameter. Impact energy increases with both projectile size and projectile velocity. Z80.1 indicates the impact energy of the ANSI dress lens drop-ball test (B· ,-inch steel ball). (Modified from Davis JK: Perspectives on impact resistance and polycarbonate lenses. Int Ophthalmol Clin 28:215, 1988.)
The breakage pattern of CR-39 plastic differs from that of glass. CR-39 plastic lenses tend to break into larger pieces than glass lenses when struck by both small and large projectiles.24–26 The relative merits of the various breakage patterns are subject to argument, but neither CR-39 plastic nor glass can provide the eye protection offered by polycarbonate.
The superior impact resistance of polycarbonate relative to all other lens materials has been demonstrated by a number of studies. Wigglesworth27 determined the impact resistance of 1.9-mm thick polycarbonate for 3.175-mm (Z· ,-inch) and 6.35-mm (Z· v-inch) steel balls. The impact energy needed to break polycarbonate was approximately 21 times that needed to break CR-39 plastic for the same projectile sizes. Greenberg and coworkers28 were able to break 3-mm thick polycarbonate lenses with 6.35-mm (Z· v-inch) steel balls traveling at an average velocity of 152 m/sec (500 ft/sec). CR-39 plastic lenses with a thickness of 3 mm broke at an average velocity of 45 m/sec (150 ft/sec), whereas heattempered crown glass of the same thickness broke at a velocity of 24 m/sec (80 ft/sec). Vinger and colleagues29 compared the impact resistance of CR-39 plastic, crown glass, polycarbonate and other high-index plastics. A 1-mm thick high-index plastic lens broke when struck by a tennis ball traveling at 17.8 m/sec (40 mph). Crown glass and CR-39 plastic lenses of various thicknesses broke at a velocity of 39.4 m/sec (89 mph) or less. Polycarbonate lenses of thickness 1 mm did not break when struck by a tennis ball traveling at the maximum velocity of the test equipment, approximately 68 m/sec (152 mph). All crown glass, CR-39 plastic, and high-index plastic lenses broke when struck by a baseball at the lowest velocity attempted, 42.2 m/sec (94 mph). A 1-mm thick polycarbonate lens broke when struck by a baseball at 51.7 m/sec (116 mph), but a 3.1-mm thick polycarbonate lens did not break when impacted by a baseball at the highest velocity tested, 60 m/sec, or 135 mph. Polycarbonate is the only material that should be used when eye protection is a concern.
The popularity of coatings for tints, abrasion resistance, and reduction of reflections has complicated the impact resistance picture, especially for the high-index plastics. Coatings tend to decrease the impact resistance of a lens,28,30 probably by putting a tensile stress on the lens back surface. At a 1-mm center thickness, a coated lens can still meet the requirements of the drop-ball test, but manufacturers generally warrant that their lenses are impact resistant at this thickness only if all lens manufacturing processes, including coatings, are performed by the manufacturer. For this reason, lenses with 1-mm center thicknesses in minus powers are commonly available from the manufacturer only as uncut or finished blanks. An optical laboratory using semifinished high-index lens blanks usually will not surface lenses thinner than 1.5 mm because of impact resistance considerations. The effects of coatings on impact resistance are not a concern with polycarbonate because of its great reserve of impact resistance. Polycarbonate is routinely surfaced by optical laboratories to a 1-mm center thickness in minus powers.
SPECTACLES AND EYE INJURIES
Which types of projectiles break spectacles and cause eye injuries in spectacle lens wearers? Probably the most comprehensive study was performed by Keeney and associates,31 who showed that in nonindustrial situations, most incidents of broken glasses and eye injuries were caused by relatively large, slow-moving objects (Table 5). Studies of eye injuries in children and in the general population, both with and without spectacles, show that eye injuries are caused by a wide variety of object sizes and velocities. A substantial percentage of the injuries are related to sports.32–34 Eye injuries in industry and in the military appear to be caused primarily by smaller, high-velocity projectiles.35–37
TABLE 5. Causes of Broken Spectacle Lenses*

| | | |
| --- | --- | --- |
| Cause | No. | % |
| Rocks | 73 | 24.5 |
| Sports | 53 | 17.8 |
| Basketball | 8 |   |
| Golf ball | 5 |   |
| Other balls | 8 |   |
| Fishing weights | 4 |   |
| Archery bow | 1 |   |
| Plastic hockey puck | 1 |   |
| Boomerang | 1 |   |
| Golf club | 1 |   |
| Auto crashes | 28 | 9.4 |
| Falls | 25 | 8.4 |
| Flying objects | 20 | 6.7 |
| Assaults | 18 | 6.0 |
| BB pellets | 16 | 5.4 |
| Running collisions | 12 | 4.0 |
| Tree branches | 7 | 2.3 |
| Nails | 6 | 2.0 |
| Exploding objects | 4 | 1.3 |
| Tools (screwdriver, pliers, etc.) | 4 | 1.3 |
| Auto and truck springs | 2 | 0.7 |
| Corks | 2 | 0.7 |
| Wrestling | 2 | 0.7 |
| Miscellaneous (1 each) | 11 | 3.7 |
| Unknown | 15 | 5.0 |
| Total | 298 | 100% |

*Eye injuries occurred in 157 of the 298 cases/


(Modified from Keeney AH, Fintelmann E, Renaldo D: Clinical mechanisms in non-industrial eye trauma. Am J Ophthalmol 74:662, 1972. Published with permission from the American Journal Of Ophthalmology. Copyright The Opthalmic Publishing Company)

One of us (Davis) has been involved in litigation as an expert witness in many nonsport situations. For example, eye injuries have resulted from playfully tossed crab apples, plastic drinking glasses, and a fist in a bar doorway. An eye injury may have been caused by a tossed magazine. In automobile accidents, eye injuries result from broken spectacles and sunglasses, and some eye injuries have been caused by spectacles broken during airbag inflation.38 Many injuries result from falls and collisions with objects. The impact energies in most of these cases are far beyond what is needed to break CR-39 plastic and crown glass.

The minimum energy in foot-pounds at the receiving end of a thrown object is equal to the weight of the object in pounds multiplied by the distance in feet it is thrown divided by 2. A typical magazine weighing 12 ounces thrown 6 feet provides an impact energy of 2.25 ft-lb, or 3 J. This is 15 times the impact energy of the drop-ball test, easily enough to break CR-39 plastic or crown glass, but not 2-mm thick polycarbonate.

Because of the wide variety of projectile sizes and velocities associated with broken spectacle lenses and eye injuries, crown glass and CR-39 plastic cannot provide reliable protection against all objects. Only polycarbonate can resist the high-impact energies of both large and small objects. Whenever eye protection is a concern, for example, for industrial workers, for athletes, for children, and for monocular or amblyopic patients, only polycarbonate plastic provides adequate protection. In fact, one should have a reason when polycarbonate is not prescribed in these situations.

EYE PROTECTION IN INDUSTRY

The US Occupational Safety and Health Administration (OSHA) requires that all industrial eye and face protectors meet the requirements of ANSI Z87.1-1989—American National Standard Practice for Occupational and Educational Eye and Face Protection.39–41 Protectors covered by the standard include goggles, face shields, welding helmets, and both prescription and nonprescription spectacles. A discussion of the requirements for prescription eyewear follows.

For spectacles to be considered protective in industry, both the lenses and the frame must meet the ANSI Z87.1 standard. Industrial lenses in a dress frame or dress ophthalmic lenses in an industrial frame do not meet the standard and should never be prescribed or dispensed.

The following summarizes the current requirements for industrial prescription spectacle lenses:
All lenses must be able to withstand the impact of a 1-inch (25.4-mm) steel ball dropped 50 inches (1.27 m) onto the lens front surface (the industrial drop-ball test). Lenses that might be damaged by the test (e.g. plastic lenses) are tested using an appropriate batch-testing protocol.

All lenses must have a minimum thickness of 3 mm. Lenses of power greater than + 3.00 D in the more plus meridian can have a minimum thickness of 2.5 mm. A thickness requirement is one of the main differences between the dress and industrial eyewear standards.

All lenses must be permanently marked with the monogram or trademark of the optical laboratory that provides the finished lenses.

Tinted lenses are allowed, but they should be prescribed only with knowledge of the patient's lighting and working conditions. For example, sunglasses should not be prescribed for indoor use, for driving a vehicle with a tinted windshield, or for driving at night. Older patients with smaller pupils and decreased media transmittance are poor candidates for any type of tint. A tinted lens can be a protective filter (for use in welding and other potentially hazardous situations) only if the tint meets the ANSI Z87.1 standards for visible, ultraviolet, and infrared radiation transmittance. Sunglass tints usually do not meet these standards. Protective filters also have specific marking or labeling standards. Photochromic lenses are acceptable for use in industry except for situations in which their use might be hazardous. One example of a hazardous situation would be use of the lenses while driving a forklift from outdoors to indoors. The lenses do not lighten immediately, so visual performance could be compromised.

Recommendations for prescription power accuracy are those of the ANSI Z80.1-1995 standard.3

Industrial frames are identified by the marking Z87, which is stamped on the frame front and temple. These frames may be superficially similar in appearance to regular dress (nonindustrial) frames, but industrial frames must meet specific strength and durability requirements as described in the ANSI Z87.1 standard. Nonprescription protective eyewear is sold by opticians, sporting goods stores, and hardware stores. Patients should be advised to look for the Z87 label and to read instructions that describe the intended use of the protector.
Polycarbonate plastic is clearly the best lens material for prescription industrial eyewear. The decreased abrasion resistance of coated polycarbonate relative to crown glass should not be considered reason for prescribing glass unless the work environment includes severe conditions that warrants the use of glass lenses. The use of polycarbonate can be a problem in cold, dusty work environments because static charges cause dust to cling to the lenses.
LEGAL CONSIDERATIONS OF IMPACT RESISTANCE
An increased concern with liability from breakage of ophthalmic lenses has been attributed to the development of new lens materials and to the development of national standards that have become the basis for legal decisions.42 Some suggestions for minimizing or preventing materials liability follow43:
Be familiar with the most recent ANSI Z80.1 and ANSI Z87.1 standards and FDA and OSHA requirements. A copy or summary of the Z80.1 standards should be available in the optical dispensary for reference. Both prescription and nonprescription sunglasses must meet the FDA standard for impact resistance.

Remember that the most common cause of ophthalmic materials liability is failure to prescribe the proper lens material. Most problems occur when polycarbonate lenses are not prescribed when indicated. Patients for whom polycarbonate lenses are especially recommended include athletes, monocular patients or amblyopes, patients with hazardous occupations in which eye protection is not provided by the employer, patients with hobbies that require eye protection (such as carpentry or automobile refurbishing), and children. Also, sunglasses that are likely to be worn for sports activities should have polycarbonate lenses.

Take careful case histories to determine special eye protection needs. Discuss the properties of polycarbonate with patients who have special needs. Consider special eye and face protectors for patients who are active in sports.

When prescribing specially designed sports eye protectors, especially for racket sports, be sure that the protectors meet applicable standards.

Maintain detailed records. When prescribing special lens materials, document this on both the record and the prescription form. If a patient refuses your advice, be sure to document the refusal.

Avoid terms such as unbreakable, safety, and shatterproof. The preferred term is impact resistant. Never guarantee that lenses are unbreakable.

Be certain that ancillary personnel are aware of considerations regarding impact resistance. Often, assistants and technicians are in a position to recommend lens materials and sports protectors to patients.

If a manufacturer of frames or lenses provides a warning about a product, this warning should be passed along to the patient.

Never place industrial lenses in a dress frame or dress lenses in an industrial frame. These spectacles do not meet the industrial standards.