A finished or edged spectacle lens that goes into a patient's frame is made from a lens blank. Optical laboratories buy blanks from lens manufacturers and then perform other operations such as surfacing (grinding the proper power onto a surface of a lens), edging (cutting the lens to the proper shape), tinting, and treating for impact resistance. The following three types of lens blanks are in use.

ROUGH BLANK

Glass lenses are formed by grinding and polishing a molded pressing or rough blank (Fig. 14A). A pressing is a rough, unpolished piece of glass having a meniscus shape, with the surface curves approximating those to be eventually ground on it. Its diameter is that intended for the finished lens. Pressings are usually formed immediately after a gob of molten glass is drawn from the tank where the raw ingredients have been combined. Each gob is pressed between the curved surfaces of a metal mold and allowed to cool. Alternatively, the glass can be drawn from the tank and rolled out into sheets that are cut into lens-sized squares, then shipped. In the molding room of a lens manufacturer, these squares can be reheated and formed into round meniscus-shaped pressings. Optical laboratories rarely use pressings.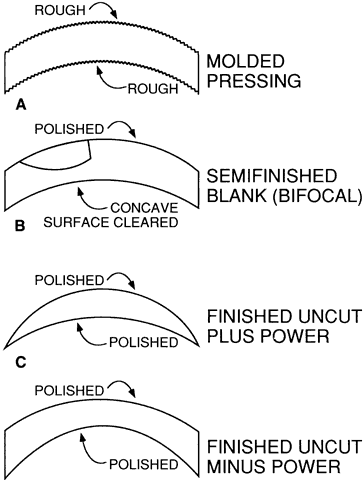 Fig. 14. Lenses are supplied as (A) molded blanks or pressings, (B) semifinished blanks, and (C and D) finished uncut lenses.
SEMIFINISHED BLANKS
A semifinished blank is a lens blank that has been finished on one surface (see Fig. 14B). Glass semifinished blanks are made from a pressing. The pressing is "blocked" or attached to a holding device so that the front surface can be ground and polished to the final power. If the lens is to be a multifocal, a segment or segments must be constructed on the lens front surface. The concave back surface is then given a short grinding and polishing to "clear" the surface. This practice improves the appearance, which is a competitive factor, and also facilitates inspection of the surface and the interior of the glass itself. After inspection, semifinished blanks are packaged and shipped from the lens manufacturer to local optical laboratories through a variety of distribution channels.
The need for a fixed orientation of the multifocal segment prevents rotation of a multifocal lens blank to obtain the proper cylinder axis. Therefore, multifocal lenses are almost universally supplied as semifinished blanks, and the back surface is surfaced by the optical laboratory to obtain the proper lens power and to position the optical center correctly relative to the multifocal segment. Some finished bifocal spheres are available. Single-vision semifinished blanks usually are used only for stronger-than-average lens powers that are not routinely available as uncut lenses.
Plastic semifinished blanks, which are usually multifocal lenses, are made by pouring (CR-39, PPG Industries, Pittsburgh, PA) or injecting (polycarbonate) the plastic into glass or metal molds, then cooling it at a controlled rate. Polycarbonate blanks are then coated for abrasion resistance.
Any one semifinished blank may be used for a variety of prescriptions, depending on what ocular (back) surface power is ground at the local laboratory. A wide range of choices are possible, depending on the thickness of the blank: the thicker the blank, the greater the latitude in curve selection. Prescription accuracy at the optical center and the control of off-axis lens aberrations restrict the choice. One of the objectives of lens design is to design a "set" of these semifinished blanks. This set or series of 10 to 20 lens blanks of different front surface powers and center thicknesses, used in conjunction with a chart of instructions, can provide for hundreds of well-designed but different prescription items. An index of the quality of a series of blanks is their number. Available series number from 4 to approximately 20.
FINISHED UNCUT LENSES
Finished lenses or finished "uncut" lenses have had both surfaces ground to the final optical quality (see Figs. 14C and D). The steps are the same as those described previously, except that thinner pressings or molds can be used because the lens power will not be further modified. The savings in lens material and the lower labor costs of mass production make this a less expensive route than semifinished blanks for popular single-vision prescription items. However, even in this procedure there are economic reasons for using a limited number of surface powers and molds. The uncut single-vision lenses provided by a lens manufacturer should be similar to those made by an optical laboratory from semifinished blanks of the same manufacturer. This provides consistent patient response.
The finished uncut lens must be edged or shaped to fit into a patient's frame. "Layout" for edging includes rotation of the lens to orient the cylinder axis properly and decentration of the lens optical center to position it properly for the patient's interpupillary distance (PD). Glass lenses are further processed after edging to increase impact resistance, whereas plastic lenses may be tinted or coated for abrasion resistance or to reduce reflections. The lenses are then inserted into the frame, and the accuracy of the prescription is verified.