Chapter 7: Uveal Tract & Sclera
Authors: Emmett T. Cunningham, Jr., J. Brooks Crawford

Uveal Tract & Sclera




I. UVEAL TRACT

Emmett T. Cunningham, Jr. , MD, PhD, MPH

The uveal tract consists of the choroid, ciliary body, and iris (Figure 7-1). Uveal tumors and inflammations (uveitis) together comprise the vast majority of diseases affecting these structures. Many neoplastic and inflammatory disorders of the uveal tract are associated with systemic diseases, some of which can be life-threatening if unrecognized. The anterior uveal tract is best examined with a slitlamp, though gross inspection can be performed with a flashlight and loupe. Examination of the posterior uveal tract requires the use of either a direct or indirect ophthalmoscope or a slitlamp.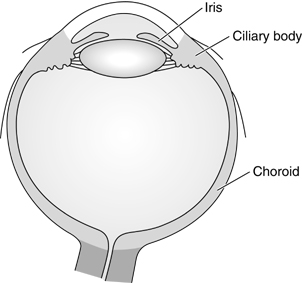 Page 1 of 7

NEXT
10.1036/1535-8860.ch7